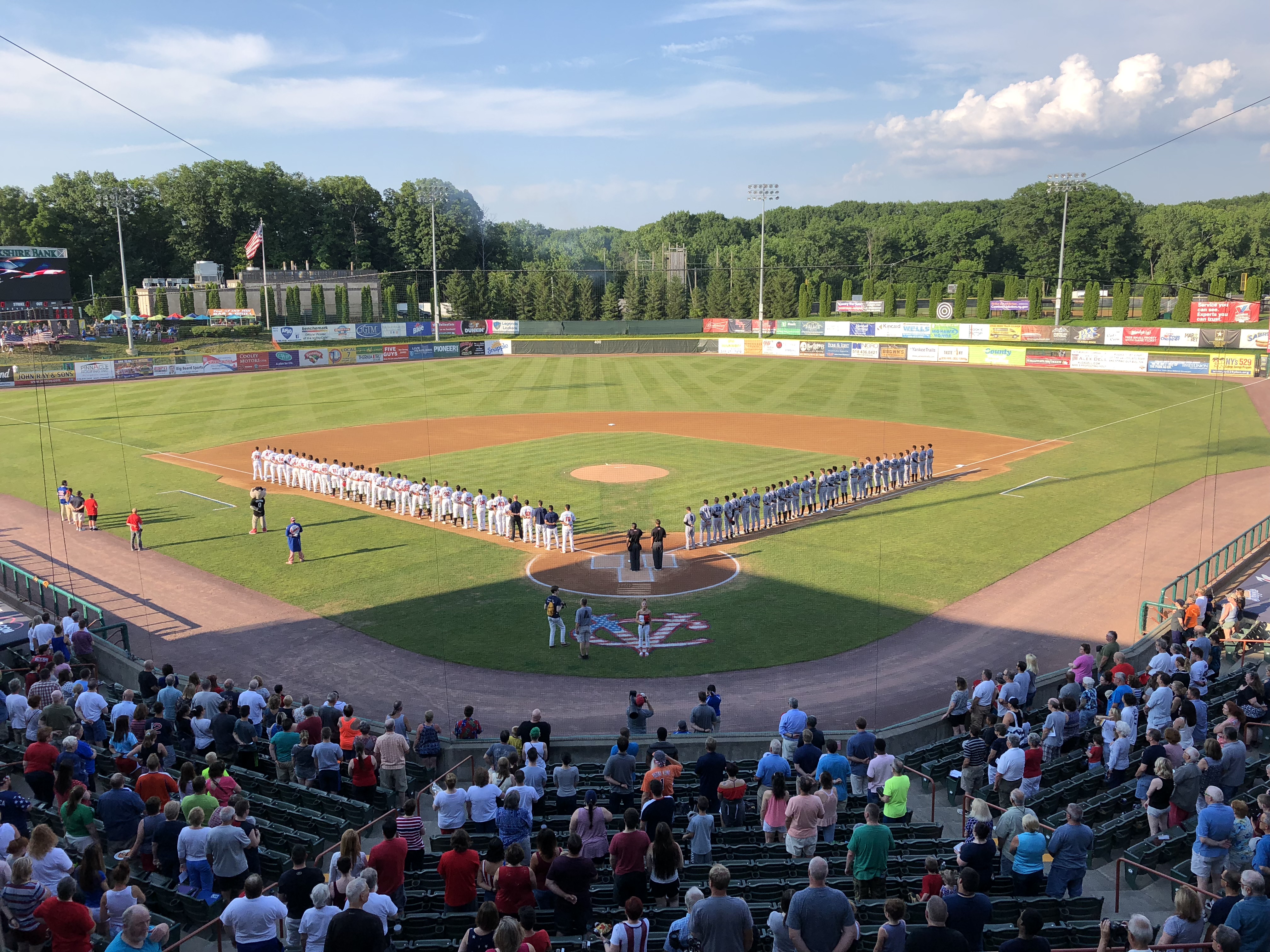 TROY — This year's annual Fourth of July home game was not kind to the ValleyCats as they fell to the Hudson Valley Renegades, only getting four hits and dropping the contest 4-0.
The ValleyCats' offense was totally shut down by a fantastic start by Hudson Valley hurler Edisson Gonzalez. He tossed the first six innings of the night, giving up only two hits and striking out 10 Tri-City hitters, recording at least one strike out in every inning that he pitched. He threw 79 pitches on the night before Shay Smiddy and Andrew Gross combined to throw the final three innings, completing the shutout.
"Young kids, they think baseball is easy and it's not. Maybe they let one at-bat get to their head and you can't let that happen. Then you let that at-bat from a week ago get to their head, or a pitch or anything. I think everybody has something different and right now that's what we're trying to work on," ValleyCats manager Ozney Guillen said.
The Renegade offense was not exactly great either as the ValleyCat pitching did well against them through the first eight innings. Peyton Battenfield started and threw the first four innings, giving up one run on four hits and was followed up by three hitless innings of relief from Derek West.
"I'm always working on stuff, so there's a couple pitches that I need to improve on. I think my command was pretty good, my change-up was working really well tonight. Just made one bad pitch, it happens," Battenfield said.
The Renegades scored their only run in the first eight innings off of an RBI single off the bat of Beau Brundage that scored Garrett Hiott in the third inning. After that they did not score until the ninth frame as Nick Sogard, Cristhian Pedroza and Greg Jones all came up with doubles, scoring three runs off of Luis De Paula. The ValleyCats did not threaten much at all, not getting a runner to third base for the entire game. They only got a runner to second once, which came in the first inning.
A bigger storyline to the game involved Grae Kessinger, the second round pick of the Astros this year. He started the game at shortstop and was removed in the middle of the first inning. Guillen pulled Kessinger aside and informed him that he had been called-up to Class-A Quad Cities. He finishes his time in Tri-City with 12 games played, batting .268 with an on-base percentage of .333.
"I had no idea what to expect. Every day, just coming to the field and getting better. All of the movement and all that is out of my control and I'm just doing what I can to get better every day," Kessinger said. He will fly out to Iowa on Friday morning to join his new team, which features many of the Tri-City players from the 2018 team.
"I haven't met any of those guys yet, but (there's) a lot of good players, and I'm excited to get up there and work with them."
The loss makes Tri-City now 7-12 on the season.
A Tri-City tradition
The ValleyCats have held an ever-popular Fourth of July home game every year since the team's inception in 2002. Their record in the game over the years is now 10-7.
Big Crowd
Thursday's game attracted 5,261 fans to the ballpark, a season-high.
Offense lacking
Thursday marks the fifth time this year that the ValleyCats have been victim to a shutout. Overall, the team has scored 54 runs for the season, last in the league (average of 2.8 per game). Their run differential of -36 is also last in the league. The closest is -20, from the 4-16 Williamsport Crosscutters.
Up next
The ValleyCats and Renegades will make the 90-minute trip down I-87 to play two games in Wappingers Falls on Friday and Saturday. A six-game homestand, with three games against the Brooklyn Cyclones and State College Spikes, begins on Sunday,