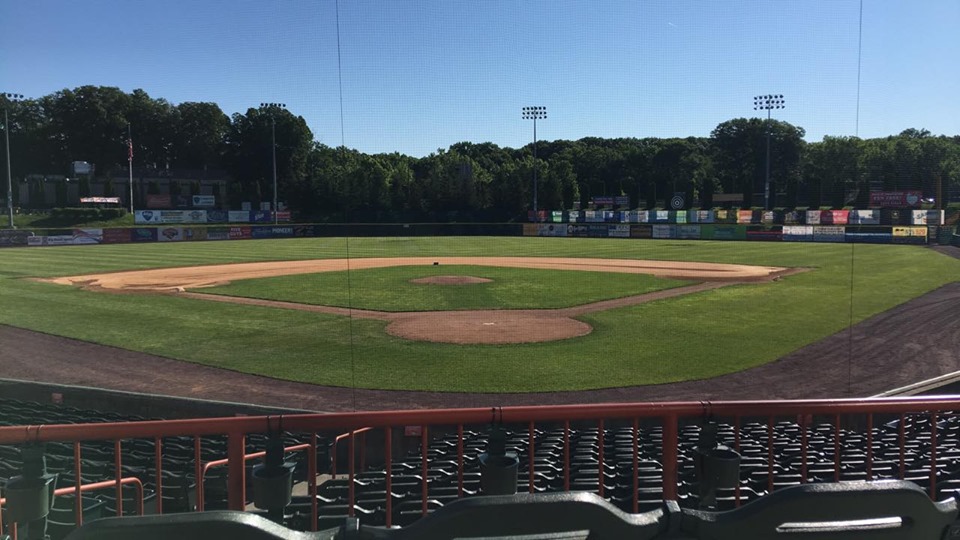 TROY — The Tri-City ValleyCats used early offense on Sunday night at Joe Bruno Stadium to carry them to a 5-3 win over the Aberdeen IronBirds, taking two of three on the series.
The ValleyCats grabbed the first lead of the night as they scored two runs in the third inning courtesy of RBI hits from Grae Kessinger and Zach Biermann to give them a 2-0 advantage.
However, Aberdeen came back with a run in the fourth and two runs in the fifth to take a 3-2 lead. In that time, Biermann, playing left field as a natural first baseman, had a tough time adjusting to the new position, letting three catch-able balls drop that led to three Aberdeen runs. There was another hit to left that went off the wall.
"I told him, 'you're going to be out there every day, you're going to be out there.' I think he can be a good (outfielder)," ValleyCats manager Ozney Guillen said.
The ValleyCats re-took the lead in the bottom half of the fifth with two more runs to give them a 4-3 lead. The RBIs came from Andres Santana, who legged out an infield single while AJ Lee scored, and the second came on a double from Kessinger.
Kessinger has been swinging a hot bat the past few days, going 4-5 with a walk-off single on Saturday night, following it up with a 2-3 day Sunday.
"I've just been seeing it well the past couple days, just trying to get my pitch and not miss it. I've been getting in the cage with (hitting coach) Sean (Godfrey) working on some things and I just feel really good in the box right now," Kessinger said.
Lee had a big day at the plate, going 3-3 with a walk and scored three of the five Tri-City runs. The ValleyCats had 14 hits on the day as a team, a season-high for a single game.
"I think we're just staying loose and having fun. Earlier in the year you could see a lot of guys stressing, then when you do that you play tight and you don't get those hits, but now we're just playing loose, having fun, enjoying it, the hits are coming and we're starting to play a little better," Lee said.
On the defensive side, Hansel Paulino and Julio Robaina were both solid in getting the final 15 outs of the evening. Paulino entered in the fifth after shakiness from Manny Ramirez, but got out of a jam, getting six outs before Robaina got the final nine, as the ValleyCats had their first home win that was not a walk-off.
"(Paulino's) done a very underrated job. People don't see him as much but every time we bring him in I feel like it's bases loaded or second and third and he's getting us out of the jam every single time," Guillen said.
The win puts the ValleyCats at 6-9 on the season.
Swingin'
With six hits in his past eight at-bats, Grae Kessinger has raised his batting average to .333, the highest on the team.
Up and down the lineup
Eight of the nine ValleyCat hitters recorded a hit in Sunday's game. Four of them, Andres Santana, Kessinger, Lee and Luis Santana had multi-hit games.
Welcome to Troy
Sunday marked the first game in a ValleyCats uniform for starting pitcher Cole McDonald. The 2019 15th round pick out of the University of Iowa threw two shutout innings while giving up two hits and struck out three. He had previously appeared in a GCL game on June 24.
Up next
The 'Cats head down to New York City for three games against the Staten Island Yankees. They come home on the Fourth of July for a single game against the Hudson Valley Renegades before playing two in Wappingers Falls in a rematch of the 2018 championship series.