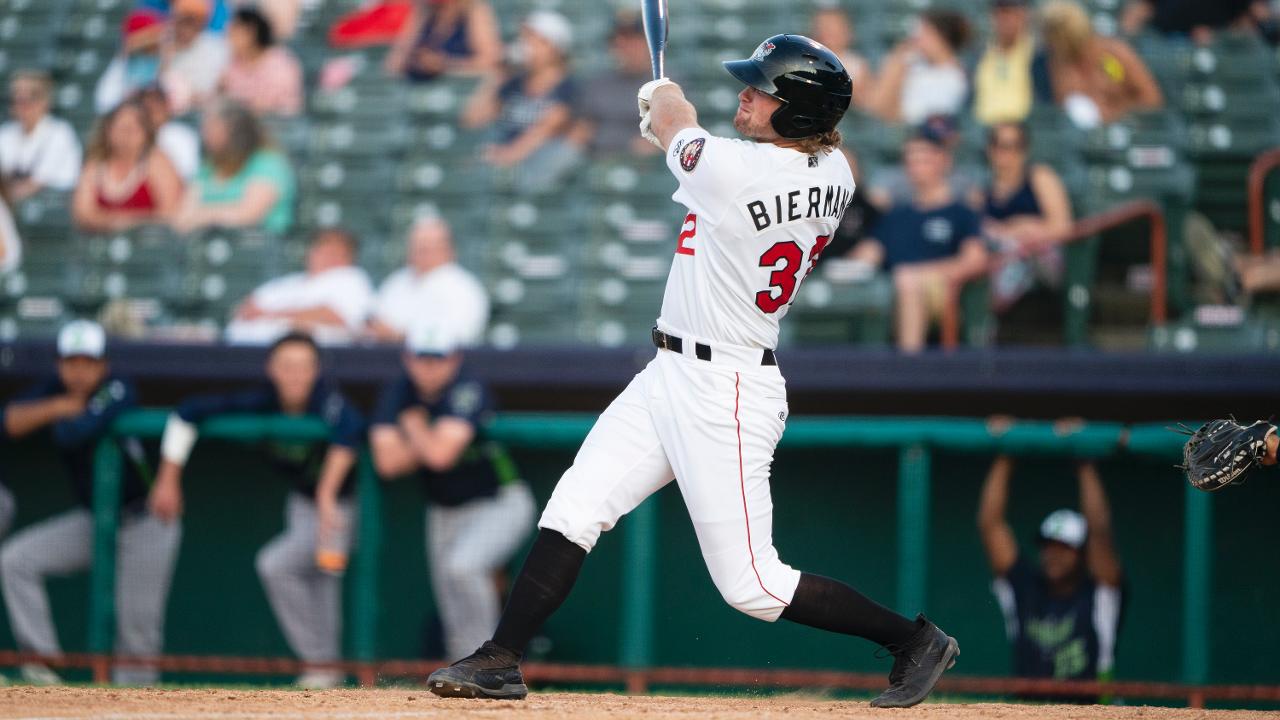 TROY — The ValleyCats had their best game of the season at the plate on Wednesday night as the scored a huge win over the State College Spikes, 14-7
The ValleyCats got going early as they scored a pair of runs in the first inning off of a two-run single by Zach Biermann. This is something they had struggled to do, having only scored four first inning runs all season prior to Wednesday.
However, they really blew the game open in the second inning courtesy of a seven-run frame. Luis Santana got things going for the 'Cats that frame with an RBI single to score Joe Perez to make it 3-0. They got a fourth run on a State College error. Later on, Korey Lee really broke it open with a two-run single that made it 6-0 with only one out in the frame. Finally, Perez, in his second at-bat of the inning, laced a double to center field with the bases loaded to score three runners, Nate Perry, Lee and CJ Stubbs. Perez was called out at third trying to stretch it to a triple, but that made it 9-0 and the damage was done.
"I thought we attacked balls within the zone really well. We had a lot of hard hit balls, even some that were caught. From the get-go we hit balls hard in the air, that's why we got a lot of doubles and a lot of good hits with runners on," acting manager Jason Bell said.
Bell, who managed the team in 2018 and is currently a fundamentals coordinator for the Houston Astros' organization was serving as the acting manager for Wednesday's game and will do the same on Thursday as manager Ozney Guillen serves a two-game suspension for his actions following an ejection on June 23.
"I don't exactly know everything that happened. It sounds like maybe there's been some sensitivity from the umpires this year because there's been a lot more suspensions around the league than normal. So really it's just one of those things that we'll move forward with and I don't think we'll have any more issues," Bell said.
The ValleyCats scored another run in the fourth inning, three more in the sixth and one in the seventh. Their 14 runs for the game was a season-high.
Lee was the headliner for the 'Cats as he has gotten hot lately after a slow start. He was 3-3 on Wednesday night with four runs scored.
"We've just been saying as long as we keep swinging good things will happen. Especially with this team, just kind of came up short a couple games and it's just a matter of time that something like this happens," Lee said,
Lee, Biermann and Stubbs each had three RBI nights.
Meanwhile, on the other side of the ball, Hunter Brown started and threw 1 1/3 innings of scoreless ball, and then Peyton Battenfield threw 3 2/3 innings of shutout ball while striking out six Spike hitters. He lowered his season ERA to 0.60.
Once the bullpen entered the late innings the Spikes scored two runs in the sixth, one in the seventh and four in the eighth, but it was not close enough to really make it a game.
With the win, the ValleyCats improve to 10-14 on the year and have won three in a row.
Best inning of the year
The ValleyCats' seven runs in the second inning marked a high for any particular inning all season. The previous high was four runs, done twice.
Season-high in runs
The 14 of runs scored by the ValleyCats marked a season-high. Before that, it was a 10-7 win over Aberdeen on June 20. It is the most runs the ValleyCats have scored in a game since August 7, 2016, an 18-4 win over Brooklyn.
Hit parade
Seven of the nine hitters in the Tri-City lineup recorded a hit on Wednesday. Five of them, Perry, Lee, Stubbs, Abreu and Santana, all had multi-hit games.
Up next
The ValleyCats and Spikes will play game two of the series on Thursday night at Joe Bruno Stadium. The probable starters are Manny Ramirez for Tri-City and Adrian Mardueno for State College.