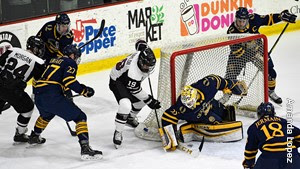 SCHENECTADY – Not much separated the No. 20 Union College men's hockey team and the No. 5/6 Quinnipiac Bobcats on Friday night, as the two teams skated to a 1-1 tie at Messa Rink.
Both teams ended the night with one goal, one minor penalty and 28 shots on net, as neither side seemed to get an edge on the other.
The game marked the ninth time that the Dutchmen have played in overtime this season, as the tie moves Union to 14-9-6 (7-8-2 ECACH) on the year. Quinnipiac now sits with a 21-6-2 overall record and a 10-5-2 mark in conference play.
Union finishes off the weekend with Princeton tomorrow night back at Messa Rink. Puck drop with the Tigers is scheduled for 7 p.m.