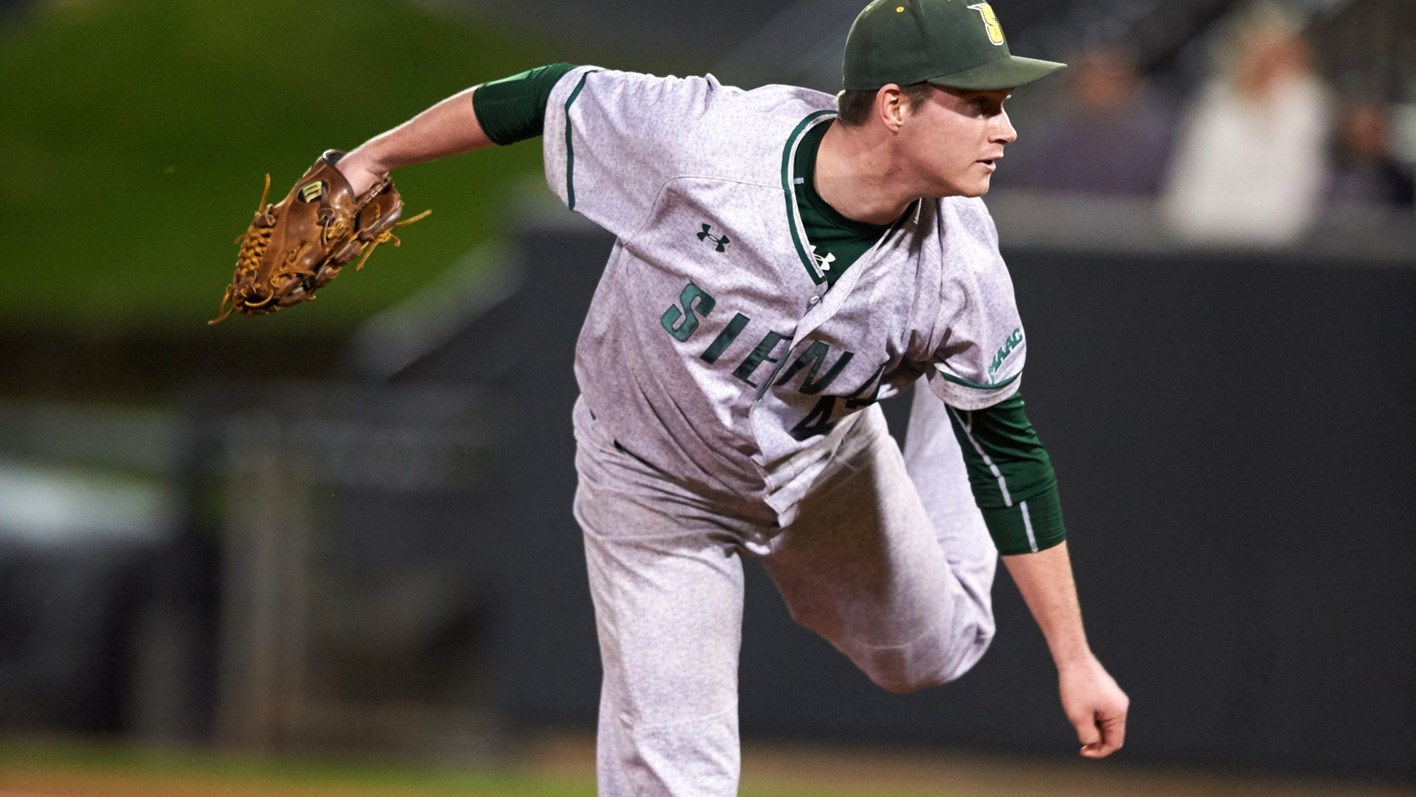 ORLANDO — Griffin Bernardo scored on a throwing error with two outs in the bottom of the ninth as UCF walked off on Siena Baseball 3-2 on Opening Day in Orlando, Florida. Freshman Alex Milone registered two of the Saints' four hits, including the game-tying home run in the top of the ninth to cap his collegiate debut.
Senior ace Tommy Miller tossed 5.2 strong innings for Siena, scattering six hits and two earned runs in taking the no-decision. He struck out five without walking a batter, to move into seventh place on the Saints' all-time strikeouts list with 183.
Graduate transfer Grant Scheurmann allowed just two hits and one earned run while walking two and striking out seven in his debut for UCF which has captured 55 of 58 all-time meetings between the programs. Bernardo paced the offense with a pair of hits including a solo home run for the Knights.
Siena struck first blood in 2019 in the top of the third inning. An RBI groundout by Brian Kelly plated Brendan Conley with the Saints' first run of the season.
Miller retired eight straight before Bernardo knotted the score with his homer to open the home half of the fifth. UCF then claimed a 2-1 lead in the bottom of the sixth inning on an infield single by Pedro Castellano to score Matthew Mika.
Down to their final two outs, Milone took UCF closer Jeffrey Hankanson deep to right to draw Siena even. The Saints threatened by getting a runner in scoring position later in the inning, but were unable to claim the lead.
Meanwhile in the bottom of the ninth, Bernardo worked a leadoff walk and was sacrificed into scoring position with one out. Following a sacrifice bunt and an infield hit in which Bernardo was unable to advance, the throw on Ray Alejo's infield grounder was off the mark as Bernardo came into score the winning run from second.
Following a strong opening night effort against a perennial regional power, Siena will look to build off its performance in the middle game of the three-game series Saturday night. First pitch is set for 6 p.m.