Local College Sports
UAlbany
Holmes and Testaverde shine, beat Saint Francis to even record at 2-2
Testaverde finds Holmes on a late touchdown to take out Saint Francis 35-28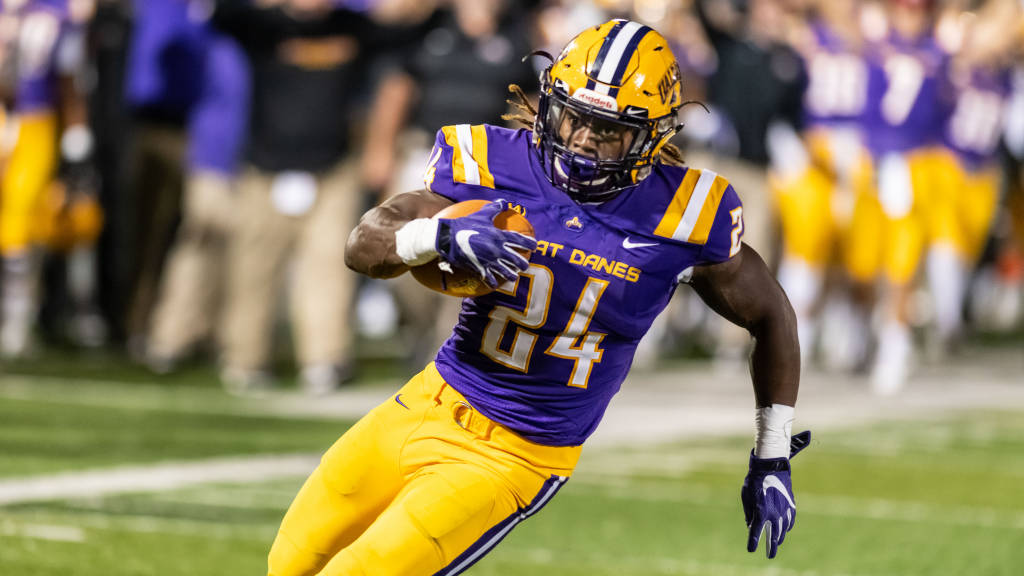 ALBANY — The University at Albany football, coming off their first win of the season last week against Morgan State, looked to continue that momentum tonight against Saint Francis University. The Great Danes offense thrived as they stayed undefeated at home and picked up a 35-28 win over the Red Flash in front of 3,840 fans.
The game started off fast for the Danes as quarterback Vincent Testaverde, who injured his left non throwing hand in last weekend's game, started the game tonight and shined from the first snap of the ball. He finished the first quarter going 5-8 with 100 yards and was in complete control as he led the Danes to an early 7-0 lead marked by running back Elijah Ibitokun-Hanks 31 yard touchdown run.
Elijah Ibitokun-Hanks has his first TD of the season, and @UAlbanyFootball has a 7-0 lead over Saint Francis (Pa.)#GreatnessLivesHere // #CAAFB pic.twitter.com/JA1y6ftXIN

— UAlbany Sports (@UAlbanySports) September 22, 2018
 "The backs had a great game," Testaverde said after the game. "Over 150 yards on the ground…all credit to them…whenever you have a good run game it opens up the pass game for me so it definitely helped out."
Saint Francis however, wouldn't go down easily. They matched the Danes stride for stride the entire game and hung around until the end. The Red Flash's completed a nice drive of their own in the first quarter which led to a tying score.
The two teams would continue to go back and forth while trading scores. No team seemed to have any momentum until the Danes recorded two field goals in the last five minutes of the first half. Place kicker Ethan Stark notched a 31-yard and a 21-yard field goal to extend the Danes lead to 20-14 heading into halftime.
21 yard field goal for Stark. https://t.co/j55sUa1qt3

— Henry Golden | 518 (@ByHenryGolden) September 23, 2018 
The Red Flash again would answer and on their first drive of the second half. Quarterback Bear Fenimore would hit receiver Cyrus Holder for a 57 yard touchdown giving Saint Francis a 21-20 lead.
The game ended up tied at 28 late in the fourth quarter as both teams were leaving everything on the field.  Testaverde would orchestrate a fourth quarter drive that led to a Dev Holmes 24-yard touchdown that would give the Danes the lead for good. The defense would force a turnover on downs on Saint Francis's next drive as linebacker Eli Mencer forced a sack on fourth down to secure the win.
That game winning score by Holmes would be his second in as many games as he secured last weeks win with an 88-yard touchdown against Morgan State.
"I saw the free safety in the middle of the field," Holmes breaking down his winning touchdown catch. "He came down blitzing and I ran a slant with a one-on-one with the linebacker and I knew I was faster than him."
LB Eli Mencer takes down Fenimore for the sack. UA ball at the SFU 23 yard line. https://t.co/RFYQh5ujna

— Henry Golden | 518 (@ByHenryGolden) September 23, 2018
Final: @UAlbanyFootball 35 – Saint Francis 28@UpstateCourier

— Henry Golden | 518 (@ByHenryGolden) September 23, 2018
 "You saw tonight what we can do on offense when we're clicking," head coach Greg Gattuso stated after the game. "It's the kind of offense we want to be. Hopefully, we can continue to play like this because we're tough to defend…that's what we want."
Testaverde finished his night going 21-28 for 331 yards, two touchdowns and two interceptions. His favorite target, freshman phenom Dev Holmes had 128 receiving yards and two touchdowns while fellow receiver Jerah Reeves contributed with 104 yards and a touchdown. Running backs Elijah Ibitokun-Hanks and Karl Mofor combined for 184 yards rushing and one touchdown.
The Great Danes will have their bye week next weekend and then travel to William & Mary to take on the Tribe on October 6.