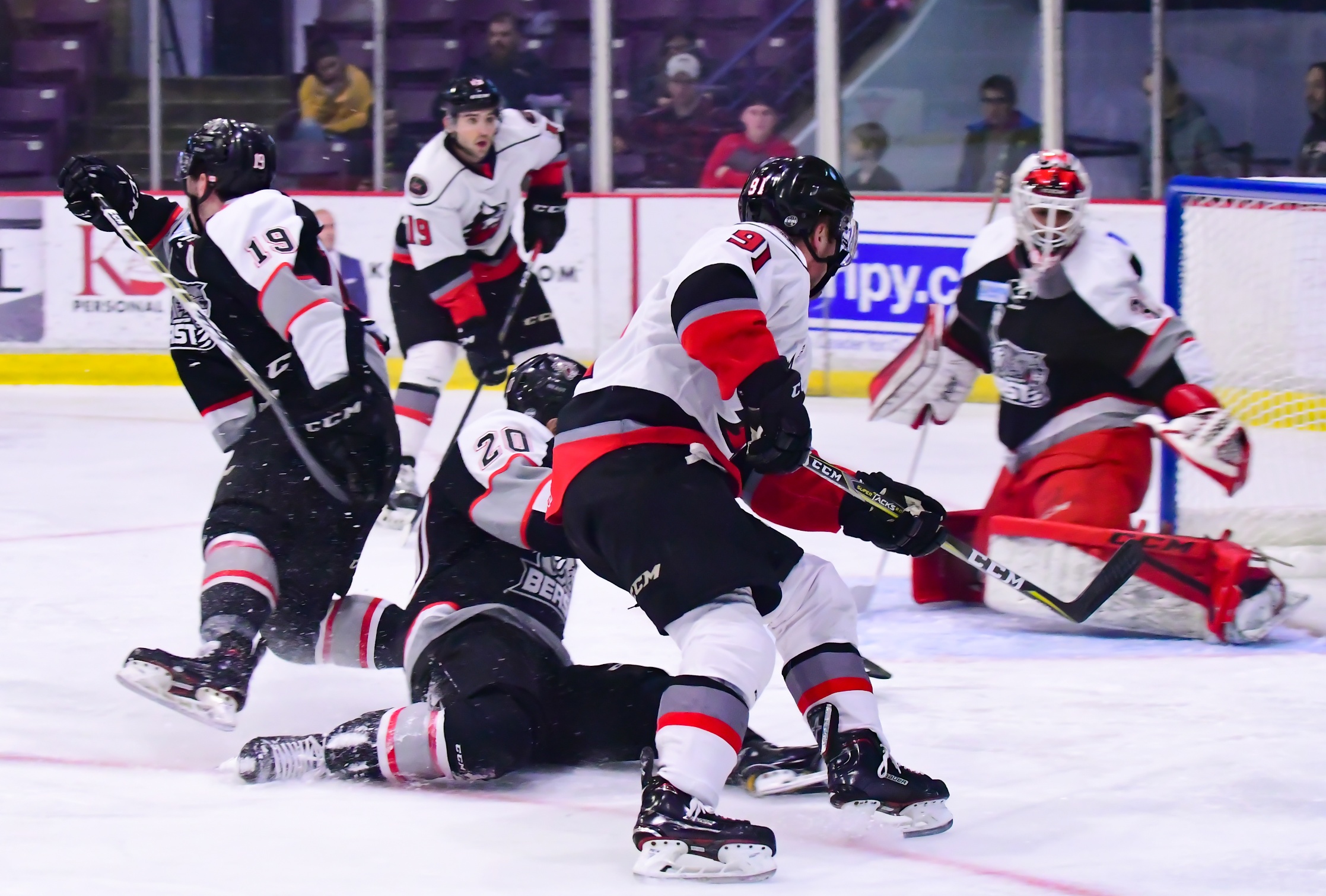 BRAMPTON, ON – Shane Conacher scored a power-play goal for the Thunder but Adirondack could not stop the Beast charge in a 4-1 loss Sunday afternoon at the CAA Centre in Ontario.
Brampton's Artur Tianulin got the scoring started at 12:41 in the first period when he broke free behind the Thunder defense and finished past Adirondack goalie Cam Johnson for a 1-0 lead.
David Pacan doubled the Beast lead with just over five minutes remaining in the second period with a power-play goal. Brandon Marino fired a slap-pass to Daniel Ciampini in front of the net. Johnson made the initial stop but Erik Bradford collected the rebound and shifted it over to Pacan for his eighth tally on the season.
Shane Conacher sparked the Thunder when he converted on a power-play opportunity less than two minutes later. James Henry won an offensive zone draw back to Jake Linhart who fed Conacher near the right faceoff circle. He fired a wrist shot by Beast goalie Daniel Altshuller for his team-leading third power-play score of the season.
Tianulin added his second of the game when he converted on a Beast 2-on-1 opportunity before the end of the middle frame. Aaron Luchuk led the break and sauced a pass over the stick of a diving Andrew Tessier. Tianluin fired a one-timer off the pass for his second score and a 3-1 Brampton lead.
Anthony Beauregard tacked on the game's final goal after he stole the puck deep in the Thunder defensive zone. Beauregard raced around the Thunder cage and swiped the puck from Blake Thompson. He turned and fired to beat Johnson to push the game to 4-1.
Adirondack returns home to face the Manchester Monarchs at 7 p.m. Wednesday. College students who show a valid college-ID receive a ticket to the game for $10.00.
Jonathan Edwards of Adirondack Thunder media relations contributed to this story.