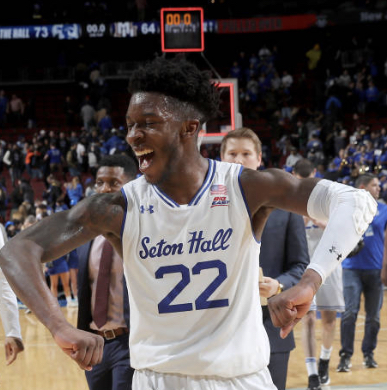 Face it. You didn't think Seton Hall would pull it off Wednesday night. Not even the optimistic dye-in-the-wool Seton Hall Pirates fan thought this would have happened. Not even the Pirates knew they could pull this one off, even with their junior star Myles Powell having another great game.
With four minutes to go in the game, it looked like a lost cause with Seton Hall trailing by nine but a funny thing happened. Seton Hall shot the ball well, and No. 16 Marquette did not score anymore. This added up to an 18-0 finish by the Hall that would give them a 73-64 comeback victory over the Marquette Golden Eagles at Prudential Center.
Remember Seton Hall trailed by 13 (59-46) at one point with 9:44 to go in the game.
Seton Hall certainly dug deep in this one. It started with (who else?) Powell. Whenever the Pirates needed a basket, he was there to provide it by scoring 10 points in a row during their 12-0 run, tying the game at 64. Whenever the Pirates needed to stay afloat against the Golden Eagles, it was him that paved the way. It was only fitting that his 3-pointer would give the Pirates a 67-64 lead that they would not relinquish. His shot was the Pirates' first lead since they took a 16-13 lead.
Powell finished the game with game-high 34 points. For good measure, he grabbed five rebounds and dished out five assists.
It has been a banner season for him, and it gets better and better each game. He has the ability to hit clutch shots when the situation calls for it. He did it against Xavier and Georgetown earlier this season despite Seton Hall losing both games. He averages 22.7 points per game.
Seton Hall knew he had the potential to score going back to last season, so they knew he would do just fine as a starter. They certainly did not think he was going to be their version of Kemba Walker when it comes to hitting the big shots.
With the way he is going right now, he has a chance to finish third in Seton Hall's all-time scoring list when he completes his senior year. He is definitely Seton Hall's best player since Terry Dehere, and he could have his jersey retired up in the rafters at Prudential Center one day.
Powell has that skill no one can teach when it comes to being the guy. The moment is not too big for him. If anything, he was made for this moment. Seton Hall has not had a player like that in a long time.
His transformation from a role player to a star player is why Seton Hall has had a good season, and it's why Seton Hall is in a position to make the NCAA tournament. He certainly saved their season in engineering that comeback victory against Marquette. If there is an illustration for a sports dictionary for leadership, it's the Seton Hall's leading scorer.
'
If Powell was the hero of the game, the unsung heroes of the game were Romaro Gill, Jared Rhoden, Michael Nzei and Quincy McKnight. They ratchet up pressure on defense that forced Marquette to turn the ball over and miss shots. They did the grunt work that set Powell up to score.
Maybe no one should have been surprised with Powell leading the Pirates to a victory on his own, but who knew Seton Hall had it in them to put on a defensive clinic in the final four minutes of the game? It took several role players to get it done. If not for Seton Hall raising up the defensive intensity down the stretch, they don't pull off this comeback victory.
McKnight held Marquette superstar and Big East leading scorer Markus Howard to six points on 2-of-11 shooting. Gill had a block and some rebounds down the stretch, and he was on the floor during Seton Hall's run late. Rhoden and Nzei had rebounds when Marquette went scoreless in the final four minutes of the game.
There's no question Seton Hall dug deep in this one. It may be enough to get them qualified in the NCAA tournament, though it would be a good idea if they can play well against Villanova at home on Saturday and dominate from start to finish if they can.
Seton Hall has had a good year in a year no one expected much out of them. There has been some building blocks for this program along with winning. We all know about Powell's rise to stardom, but Myles Cale, Sandro Mamukelashvili, Nzei, Rhoden and Gill have showed they are going to be valuable in the next two seasons. That's a credit to the job ninth-year Seton Hall head coach Kevin Willard has done when it comes to player development that go along with winning.
It's not just that they are winning and producing. It's that they know how to rise when the going gets tough.
It's been a long time since Seton Hall has had sustainable success. They have not missed a beat since Angel Delgado, Khadeen Carrington and Desi Rodriguez graduated. This is what is encouraging about this season whether they make the tournament or not.
If we want to learn about this season and Wednesday night about Seton Hall, it's that this team has moxie and the know-how to win. It starts with Powell, and it ends with the role players doing the grunt work.
This is the type of win that should make an impression with the NCAA tournament committee.