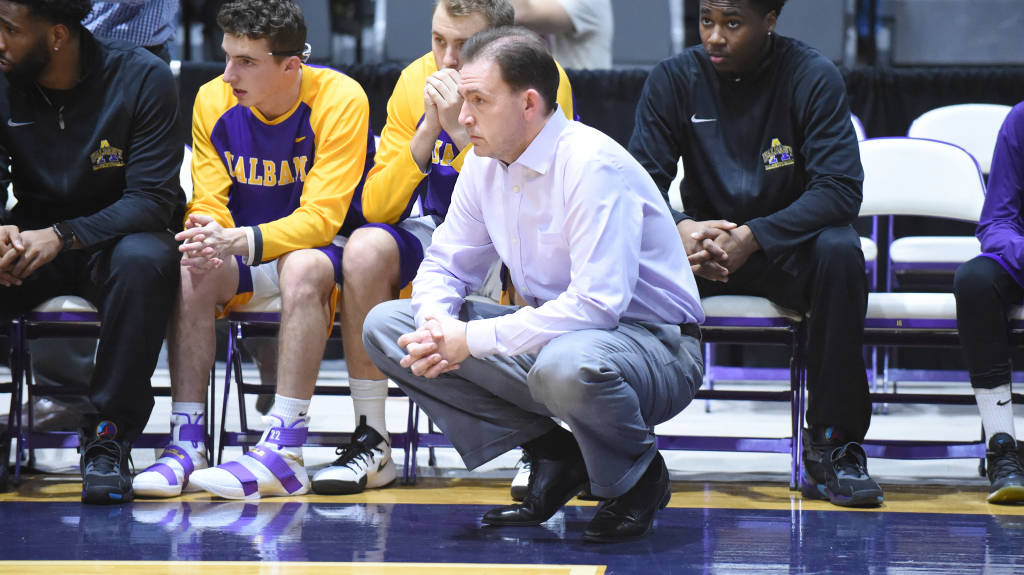 MILWAUKEE, WI — Playing in their fourth game since last Saturday, the University at Albany men's basketball team visited UW-Milwaukee Friday in their final game before heading overseas for their last two games in the Basketball Hall of Fame Belfast Classic in Northern Ireland. Against the Panthers, UAlbany clawed back from a 12-point first-half deficit to take the halftime lead but ultimately fell 79-70.
Adam Lulka scored the first five points of the game, giving UAlbany an early advantage. UW-Milwaukee responded by hitting back-to-back threes to take a one-point lead.
Trailing by 11 mid-way through the first half, UAlbany went on a 7-0 run to cut the lead to 23-19 over a period of 90 seconds.
With 3:29 left in the first, Cameron Healy hit a three to cut the lead to one. Ahmad Clark drew a foul shooting a three and hit all three free-throws to cut the lead back to two after the Panthers went back up by five.
Lulka tied the game at 35 with 1:20 left on a contested layup. UW-Milwaukee responded immediately with a basket on the other end. On the ensuing possession, Rayshawn Miller hit a three to give UAlbany its first lead since 17:08 left in the first half.
By halftime, UAlbany held a two-point, 41-39 lead, having erased a 12-point deficit over the first 20 minutes. Clark led the Danes with 11 points, while Lulka and Healy added nine apiece.
"I don't think we were focused as well as we needed to be," coach Will Brown said of his team. "We scraped and clawed back to be in a good position at halftime."
Coming out of the break, the Panthers hit two quick threes to go up by four early in the second half. The teams traded baskets over the next 13 minutes, with UAlbany tying the game at 46 with 17:09 remaining and UW-Milwaukee leading by no more than five over the stretch.
Clark drew a foul on a layup with 2:01 remaining, ending UAlbany's 0-5 drought. He hit the free throw to cut the UAlbany deficit to 75-68.
With 5:41 left in the second, Devonte Campbell successfully converted an and-one opportunity to tie the game at 63. The Panthers responded with a 10-0 run over the next 1:14. The Great Danes would close within seven but ultimately fell
UAlbany shot 29.6 percent from field goal range and went 8 for 27 from beyond the arc in the second half.
"We didn't guard well enough and when you shoot as poorly as we did in the second half and you don't guard you put yourself in a difficult situation," coach Brown said postgame.
Next: The Great Danes head overseas to play their final two games in the Belfast Tournament. UAlbany will play in the Sampson Bracket in Belfast, with LIU Brooklyn, Dartmouth, and Marist.
John Reiley of UAlbany Sports Information contributed reporting to this story.