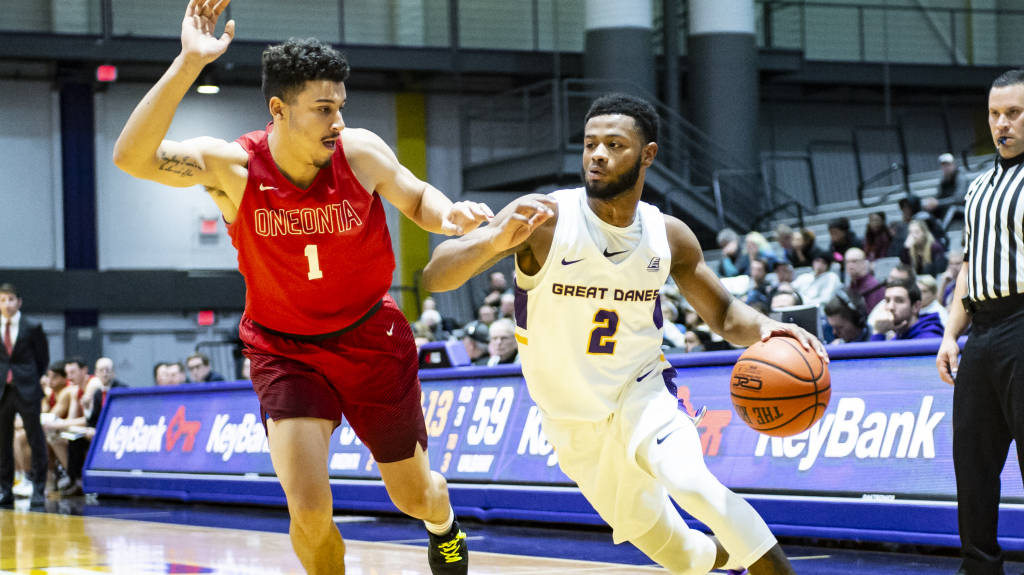 ALBANY — Playing its second of three games in a four-day stretch, and its first of two back-to-back home games, the University at Albany men's basketball team overcame a sluggish first half to roll over Oneonta 79-62 on Monday night.
Oneonta won the opening tip and hit a three on their first possession.  The Red Dragons went up 6-2 after hitting another three two possessions later.  Head coach Will Brown subbed out all five starters at this point, bringing in the second team.  UAlbany took its first lead, 7-6, after Reece Brooks hit a three from the top right corner.
The starters subbed back in with 13:47 left in the first half.  Since taking the lead, the Danes had shot 0-5 from the floor, while Oneonta had shot 0-6.  A 6-0 run for Oneonta put the Dragons up 10-7 with 11:10 remaining in the half.
Oneonta extended its lead to 18-11 before Cameron Healy hit a three to cut the lead to four. On the next possession, Ahmad Clark hit a three to cut Oneonta's lead to one. Clark forced a turnover two possessions later and put UAlbany up one with a fast-break layup.
Three minutes of game time later, UAlbany had extended its lead to five.  For the final 4:17 of the first half, UAlbany and Oneonta traded baskets, with the Danes leading by as many as seven with 2:32 left.  UAlbany took a five-point, 32-27 lead into halftime.
UAlbany shot 12-28 from the floor in the first half, and 3-8 from behind the arc.  Sasha French led all scorers, racking up nine points off the bench on 3-4 shooting from the floor and 3-4 from the line.
A quick 6-0 run for the Great Danes built a 10-point lead with 15:59 left in the game.  UAlbany's run extended to 16-0, lasting 4:10 of game time before Oneonta scored again.
After UAlbany built a 24-point lead with 8:54 remaining, Oneonta used an 8-0 run to cut the lead to 15 while UAlbany endured a 2:19 scoring drought.  Oneonta would further cut the lead to as little as 12 with 4:51 remaining, but came no closer and ultimately fell by 17, 79-62.
Clark scored 20 points for the third time in the first four games of the season to lead all scorers, including four Great Danes in double-figures.  Healy scored 12, and off the bench, Sasha French and Rayshawn Miller scored 11 and 10 points, respectively.  For the second half, UAlbany shot 51.4% from the floor.
"I thought Oneonta played really hard, I thought they played well," coach Brown said postgame. "I thought we were very flat, which is disappointing, but we also have a tough stretch here with Canisius on Saturday, Oneonta tonight, and Holy Cross tomorrow."
UAlbany will host the Crusaders on Tuesday at 7 p.m.
John Reilly of UAlbany Sports Information contributed to this report.