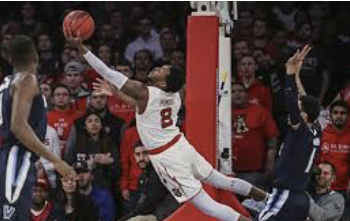 When we look back at St. John's success few months from now, there's no question we will look back at what happened in the second half on Sunday afternoon at Madison Square Garden.
When we look back at St. John's one day being a rival to Villanova for games and Big East supremacy, this game is going to be the turning point of how things have turned around.
When we look back at St. John's being a perennial college basketball powerhouse again one day, go back to Feb. 18, 2019 where it all started.
The St. John's Red Storm stunned the 13th-ranked Villanova Wildcats with a 71-65 victory after rallying from a 19-point deficit. A 10-3 run to finish the first half and a 20-5 run in the second half served as impetus to this comeback.
It was Justin Simon's 70-foot prayer shot to finish the first half that made it possible for St. John's. At halftime, they were trailing 37-26, but there was inner belief within the team that this shot could be what they needed to get it going.
For St. John's to trail by 11 at the half, it was a victory in itself after trailing 29-10 in the first 13 minutes of the game. The thought was they were overmatched against the creme de la creme of the Big East. They couldn't shoot or defend in the first ten minutes of the game. They were standing around rather than creating ball movement.
Simon's shot certainly had St. John's believing a win could be had despite playing awful.
St. John's kept the pressure going by matching Villanova shot after shot in the second half. It was then Villanova knew their counterpart was here to win rather than just being hot during the game.
It was on when St. John's had a 20-5 run to give them a 54-53 lead on LJ Figueroa's 3-pointer. The crowd sensed something good was happening for the home team, and they aroused from their slumber to get their team going.
Villanova struggled to make shots in the final few minutes of the game. It was shocking since they shot lights out to start the game, and they rarely ever go cold at any point in the game. Villanova head coach Jay Wright always has the Wildcats function well offensively every game.
Villanova clearly did not know what was coming, and they could not adjust. They are so used to making open shots and getting room to score when they play St. John's. When Marvin Clark II blocked Phil Booth's drive to the rim with 3:12 to go in the game, Villanova knew then they were in trouble.
A St. John's fan had to pinch himself or herself to make sure this was really happening.
How bad was it for Villanova's best scorers in the second half? Eric Paschall and Booth shot 2-of-11 from the field, and they combined to shoot 4-of-22 from the floor with one 3-pointer between them overall in the game.
For all that, St. John's deserved credit defensively by pressing Villanova in the second half, which was why they won the game in the end. Their press forced the Wildcats to miss shots, commit turnovers and failing to get back in transition. Their defense has been their strength all season.
After Figueroa's shot gave the Johnnies the lead with 7:28 to go in the game, the Red Storm outscored Villanova 13-8 to finish the game.
Amazing part of this win besides the comeback is St. John's did not get much out of Shamorie Ponds, who scored 11 points on 2-for-14 shooting.
But this is where you can say St. John's is more of a whole team than a one-man team. They have enough guys who can contribute on a given night to win a game rather than rely on their best player every game. It's why they will be in the NCAA tournament this season.
St. John's has showed enough that they are a legitimate team in the Big East. They can win the Big East Tournament. They can even go as far as the Elite Eight in the NCAA tournament. The potential is high for this team that they can play even better than they have showed. This victory illustrated how good they can be.
St. John's has their fans and New York thinking big things with the season they are having. Sunday's win have them thinking about the possibilities.
A signature win like this certainly means St. John's is back.