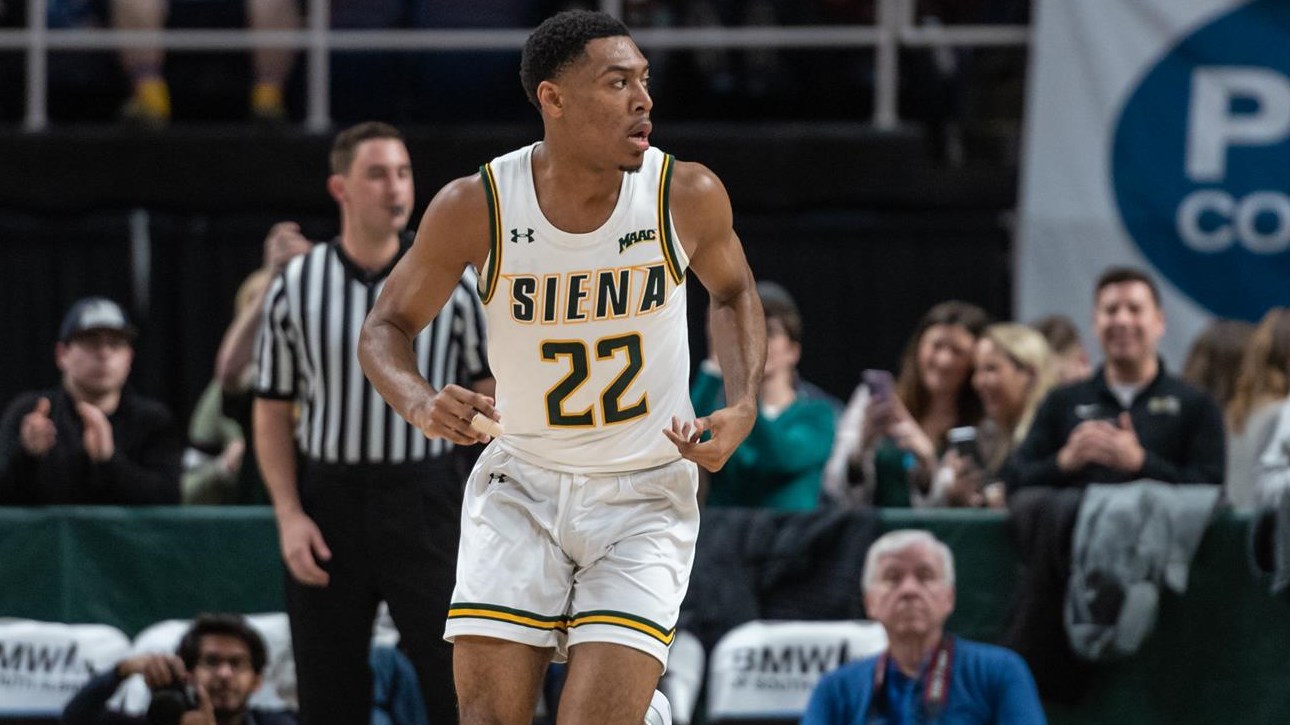 ALBANY — The sellout crowd at the Times Union Center on Sunday afternoon was treated to a game for the record books between Siena and Quinnipiac, particularly from Cameron Young and Jalen Pickett.
After a 20-point comeback by Siena, three overtimes, a ridiculous two-player battle and so many clutch shots from both teams, Quinnipiac finally came out on top, 107-100. It was the first time Siena scored 100 points in a game since 2003.
The game was not always this way. Quinnipiac was in control of the game for most of the first half and the first eight minutes of the second half, leading by as much as 20 points with just under 13 minutes left in regulation.
Slowly but surely, Siena chipped away at that deficit as Jalen Pickett and Manny Camper came up with bucket after bucket, taking the lead with 1:25 to play, and coming back from being down four with 20 seconds left to eventually send the game into overtime, with Camper laying it in with five seconds left in regulation.
Throughout the first two overtimes, the teams played pound-for-pound, with Pickett and Quinnipiac's Young coming up with shots when they needed them, consistently hitting them. The battle between the two all day was absolutely electric and neither blinked through nearly 15 minutes of bonus basketball, after both of them dominated regulation. In total Sunday, Young finished the day with 55 points, program and MAAC record and Pickett finished with 46, the second-highest total in Siena program history, only to Doremus Bennerman's 51 in the third-place game of the NIT on March 30, 1994 against Kansas State. Pickett shot 14-26, 4-8 from three and made 14 free throws. Young shot 15-24, 9-13 from behind the arc and made 16 free throws on 20 attempts.
"It's great, it was fun going into triple overtime. We came back, we fought as a team to get there and we were just living in the moment, it was a great time," Pickett said.
Perhaps Pickett's biggest score was his floater at the end of first overtime, getting a shot to go with 0.5 seconds left to tie it at 86 and send it into the second extra session.
Siena led by four at one point in the second overtime, but Young scored five points in the final minute of the second extra session, including a three that tied the game at 93 with 23 seconds left, which sent it into the third overtime.
The teams played close for the first couple minutes of the third overtime, but the biggest shot of the game came off the hands of Quinnipiac's Rich Kelly to make it 102-97 with 46 seconds left, and Siena never came within four points after that. Kelly was the biggest threat to the battle between Pickett and Young, finishing with 24 points.
"We can do a lot better as a team defensively. They do a great job, and (Quinnipiac head coach) Baker (Dunleavy) does a great putting his guys into position to score the ball, especially in isolation situations and Rich is the guy that kind of benefits the most," Siena head coach Jamion Christian said.
For Siena outside of Pickett, Manny Camper put up a career-high 21 points and Kevin Degnan had 15.
Multiple records were set in Sunday's game. It had a combined 207 points, the highest-scoring game in Division I this season. Per stats.com, Young's 55 points were the most by any Division I player this season, and the third-highest total this century. Also, Pickett had 13 assists, making it the second time this century for a player have 45+ points and 10+ assists in a single game.
Despite the loss, Christian was extremely proud of his team and the fight that they showed for the rest of the game after they trailed by the margin that they did.
"Most teams in that situation would just kind of pack it in. Our team did not do that, we had great leadership from the guys beside me (Pickett and Camper) and great leadership by upperclassmen, everybody was locked in there," Christian said.
Quinnipiac improves to 9-5 in the conference and 14-11 overall. Siena falls to 8-6 in MAAC play and 13-14 overall, and will play again on Tuesday at home against Saint Peter's, down to four games left until the conference tournament.