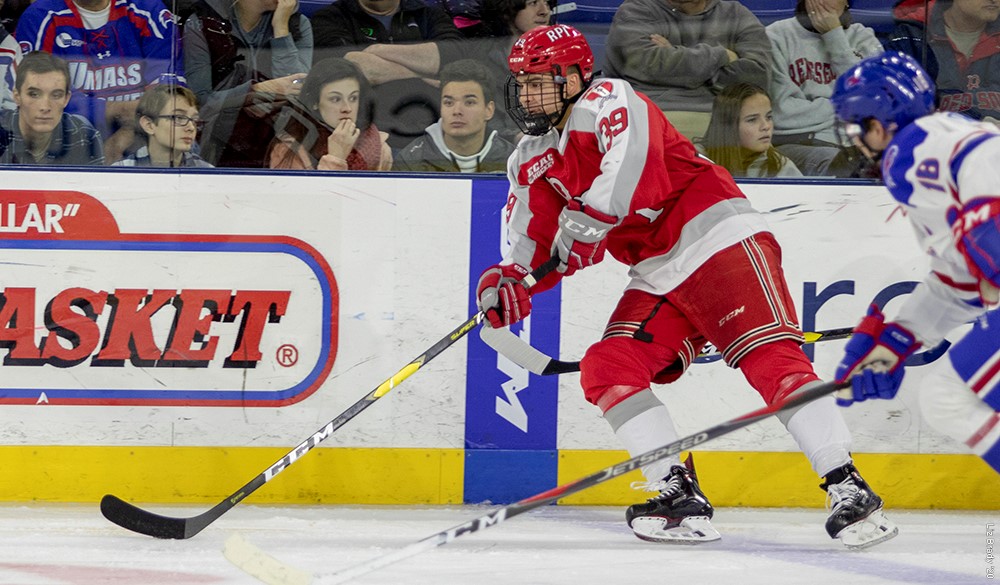 LOWELL, Mass. – RPI Junior Will Reilly scored the opening goal and assisted on the game-winner in his return to the lineup, leading the Engineers to a 2-1 victory over the University Massachusetts Lowell, on Friday afternoon at Tsongas Center. With the win, the Engineers improve to 4-6-0 overall, while the River Hawks drop to 6-6-1.
Rensselaer Freshman Jakub Lacka, who was playing in his first game since October 13, broke a 1-1 tie at 8:33 of the third period, ripping a one-timer from the top of the left circle past River Hawks junior goaltender Tyler Wall. The power play tally, which was Lacka's third in three games this season, drew helpers from Reilly and junior Patrick Polino.
UMass Lowell pulled Wall with two minutes to play, but could not get a second puck past Rensselaer freshman netminder Owen Savory, who turned away 26 of 27 shots in his first collegiate start, earning his first victory in the process. Wall had 21 saves at the other end of the ice.
With the win, the Engineers broke a three-game losing streak against the River Hawks. The two teams will meet again on Sunday at Houston Field House. Puck drop is set for 4 p.m.