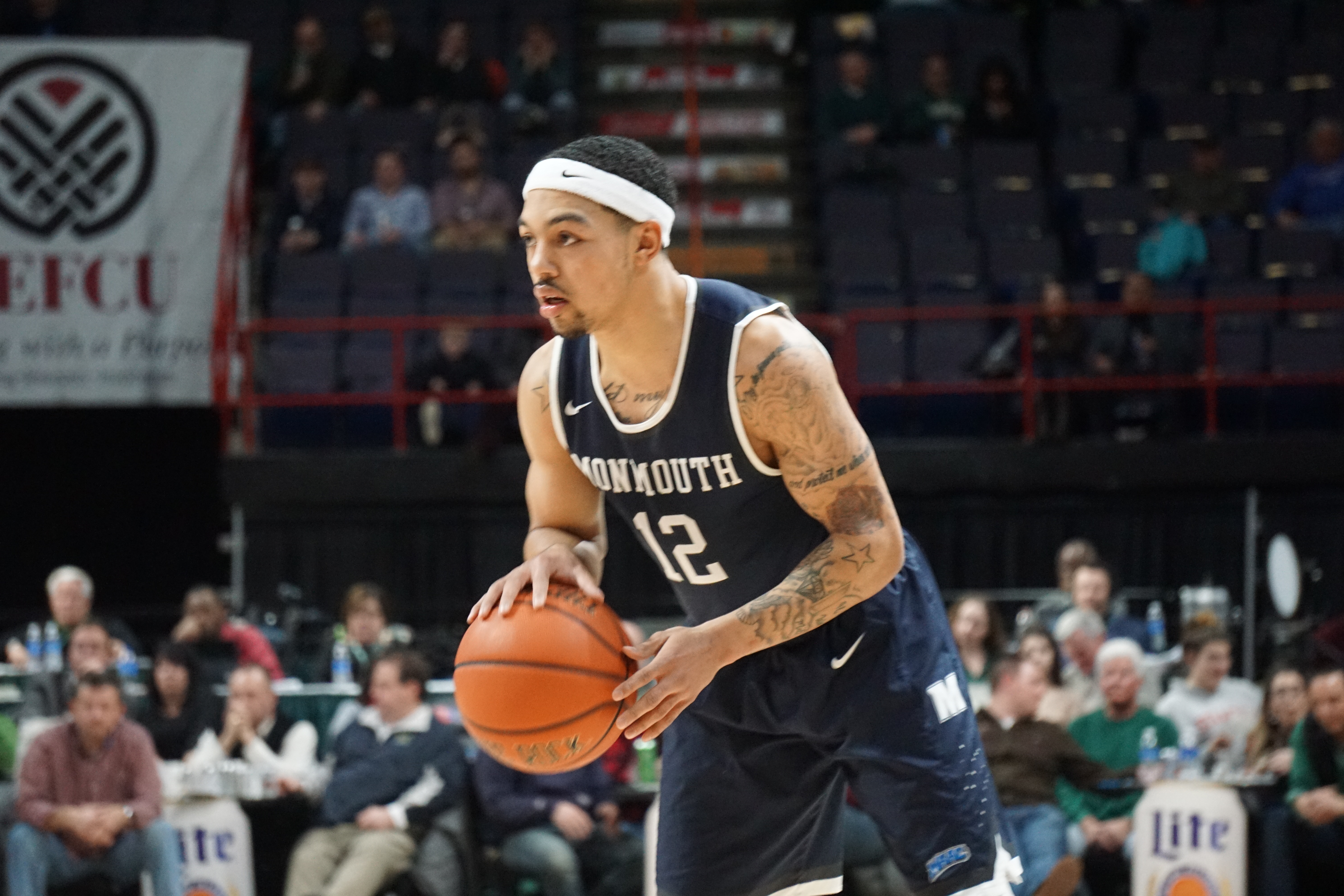 Albany, NY — After a strong first half, Siena would struggle in the second before falling to Monmouth on Monday night at the Times Union Center by a blowout final score of 102-82.
Both teams came out of the gate scorching hot, scoring at a very fast pace. Siena's first half charge was led by Marquis Wright who had 17 points in the first half, including nine from behind the three-point arc. He capped off his impressive performance in the first twenty minutes with a three with two seconds remaining in the half to make it a one-point Monmouth lead at the break after they had led by as many as 10 in the first.
However, it would be Monmouth's Justin Robinson taking over after the break. Robinson and Wright traded blows from behind the arc for the first few minutes of the second half before Monmouth pulled out to a nine-point lead after going on a 12-1 run to make it 69-60 in favor of the Hawks. After that, Monmouth would keep pulling away, eventually reaching the century mark and winning by 20.
"We had a great halftime, came out and said, 'let's dig deep.' We had a couple good defensive stances and then a couple turnovers. The thing is, you can't let the thing widen against them because they spread you out," Siena head coach Jimmy Patsos said.
Robinson finished the night with a career-high 40 points, topping his record of 36 which coincidentally came on the road against Siena last season.
"I wanted Justin to really be aggressive early in this game. I thought about really just trying to get the game going up and down, but it didn't play out that way. They were matching us basket for basket," Monmouth head coach King Rice said.
[ngg_images source="galleries" container_ids="12″ display_type="photocrati-nextgen_pro_horizontal_filmstrip" image_crop="0″ image_pan="1″ show_playback_controls="0″ show_captions="1″ caption_class="caption_overlay_bottom" caption_height="70″ aspect_ratio="1.5″ width="100″ width_unit="%" transition="fade" transition_speed="1″ slideshow_speed="5″ border_size="0″ border_color="#000000″ override_thumbnail_settings="1″ thumbnail_width="120″ thumbnail_height="90″ thumbnail_crop="1″ ngg_triggers_display="never" order_by="sortorder" order_direction="ASC" returns="included" maximum_entity_count="500″] Another key part of Monmouth's scoring was that they hit 13 three-pointers for the evening to Siena's eight. Robinson hit eight of Monmouth's threes, matching Siena's total by himself.
Besides Robinson, Monmouth's offense was helped out by Je'lon Hornbeak, who finished with 18 points. Austin Tilghman added 11 off the bench.
For Siena, Marquis Wright finished the night with 36 points. Javion Ogunyemi had 16 and Nico Clareth would finish with 11 in his first home game since coming back from his leave of absence from the team.
"Javion and Marquis certainly held up their end of the bargain, and the rest I have to watch the tape for," Patsos said.
With the win, Monmouth improves to 14-2 in the conference, 22-5 overall, and are now just one win away from clinching the MAAC regular season title. They will play again on Thursday taking on Niagara at home, with a start time of 8 PM.
Siena falls to 9-7 in MAAC play and 12-15 overall following the loss. They will also play again on Thursday, against Manhattan at home. The tip for that one is set for 7 PM.