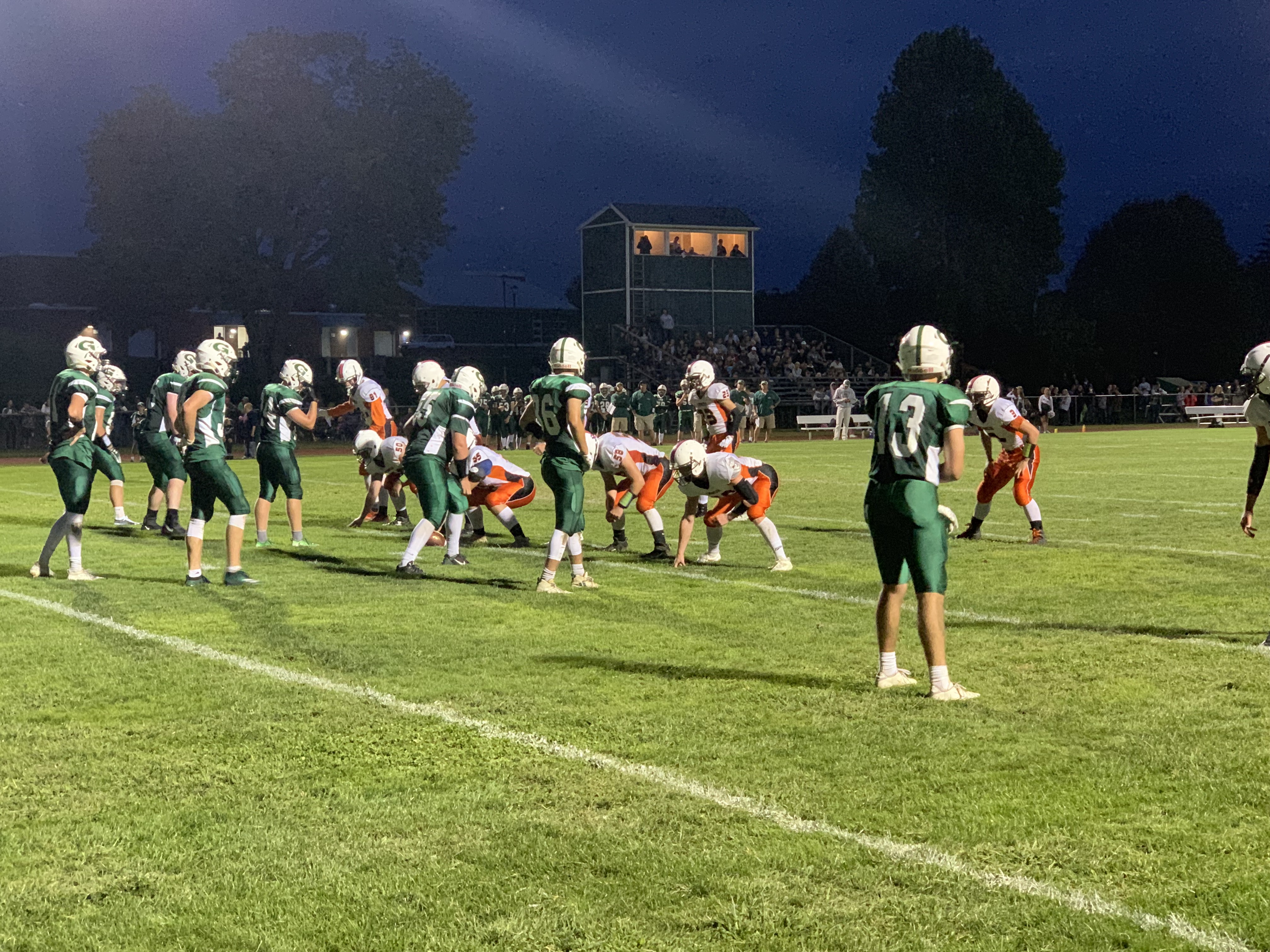 Greenwich—After a competitive first half, Greenwich couldn't hold down Cambridge's running game. Led by Kaedin Ogilvie, the Indians won their first game 26-14.
"I'm glad to be back. When you lose a game as late in the season as we did last year, you want to get back out there as soon as possible. And here we are," said Coach Doug Luke.
The Cambridge running game was clearly the most impressive piece of the game, and their feature back Ogilvie was electric. The Indians controlled the clock with a total of 62 rushing attempts in the game. These 62 attempts were good enough to rack up 468 yards. The majority of these came from their feature back Ogilvie. He accounted for 24 of the carries and 227 of the rushing yards.
"We ran the ball very well tonight," said Luke. "But offensively we made mistakes. We fumbled a couple of times and had penalties that really hurt us."
The two teams matched up well against each other for the majority of the first half. Both teams traded touchdowns in the first four drives but it was Greenwich, that had the upper hand thanks to Cambridge failing to convert either their PAT or two-point conversion. The game hit a bit of a snag as each team turned the ball over before Cambridge punched in the final score of the half on the goal line.
The Indians defense stepped up to the plate in the second half to put the game away. They held the Witches scoreless in the second half. To further their cause they also recovered a fumble on a muffed punt and picked off two passes by quarterback Jesse Kuzmich in the fourth quarter. Cambridge then used their running game to drain the clock and keep the Greenwich defense on the field, winning the game.
It was a decent all around showing for the Indians but there is plenty of room for improvement. In particular Cambridge needs to try and sure up their air attack before the game against Lake George next Saturday. Starting quarterback Jacob Ruggles went two for seven for  zero yards.
Luke commented, "They did a good job with their pass defense. It's been a weakness we've had for the past couple of years and we need to find a way to fix that."