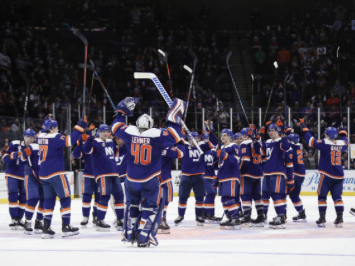 There was finally closure for John Tavares, Islanders fans and even the Islanders on Thursday night.
It was much-needed for everyone involved. It has been too long, and it had to end so that everyone can move on. It's been awhile since Tavares has been away from the Islanders, and there comes a point where everyone wanted to get it over with. It was past time.
The Islanders' 6-1 thrashing over the Toronto Maple Leafs at Nassau Coliseum was good for everyone involved. For Tavares, he does not have to answer any more questions about facing his former team or going back to Long Island. For the fans, they let it all out to a former fan favorite while seeing him and his team lose in the process. For the Islanders, they can truly move on with their season by not answering more questions about him and focusing on winning the Metropolitan Division.
The best part of last night was this game was officially over. The game really ended in the second period when the Islanders scored three goals in the second period to break the game open, and Tavares and the Maple Leafs were looking at the clock to find out when the game was over.
It's a relief that was much overdue.
The game wasn't a big deal for Tavares. He didn't seem to care one way or another. He was indifferent about the boos and the chants such as "We Don't Need You!" , "Who's Your Daddy!", "JT Sucks!", "Traitor!" and several other inappropriate chants that won't be published for this proud publication. He wasn't even moved about the Islanders' video tribute of him after the first timeout.
Still, it had to be tough to keep answering questions from the local media about his return to Long Island from warmup practice to pregame presser to after the game. It wears on a player. It's only human nature.
Tavares was what he was during his time with the Islanders. He was scared of contact. He was not assertive or aggressive enough to score. He struggled to drive to the net. He had zero interest in playing defense or getting to the puck. In other words, he played his usual Tavares game by being a non-factor and not doing the little things to win games. This was what was frustrating about watching him during his nine-year tenure with the Islanders. He was so soft, and he demonstrated it again in his forgettable homecoming return.
This is why the Islanders really don't need him. He can score 30 to 40 goals a game, but if he does not want to do the grunt work or go the extra mile to be a great player, what good those goals are? He needs to be more of a hitter. He has to hustle for loose pucks, not have pucks come to him. He is simply not a complete player, and he never will be at his point of his career.
It's why now Islanders fans should move on after Thursday night. Tavares was just another player who couldn't make it in New York. He is not worth anyone's time and trouble anymore. He was a failure here.
His awful night and Islanders' excellent night should be the point where they can move on. This season has been too good to get caught up with Tavares.
Islanders fans had every right to work out their angst on this emotional night. They had every right to be betrayed that he couldn't get it done with the Islanders, so he had to join a star-studded team to make his job easy. He announced on a Twitter picture that he was leaving rather than giving the Islanders the courtesy to tell them he is leaving. He came off looking bad, and this was a chance for fans to say their good-bye in a New York special kind of way.
It was something that was long in the making, and the Islanders fans reveled on it all night long. They kept piling it on when the Islanders were blowing the Maple Leafs out. It was a night they would never forget.
As for the Islanders, this was a chance to show Tavares what they can do without him and what he is missing out. The Islanders showed him Thursday night why they are a great team without him. This is a team that plays defense, hits, work out the boards to get the puck and so many things. They do the little things.
This is a team that is fearless, and it showed when Anthony Beauvillier was not afraid to shoot that puck to the net when he had the puck on a pass by Josh Bailey that had him score and tie the game at 1 in the first period. It could have been easy for him to pass it to Ryan Pulock, who was open to score, but he executed it. He may be frustrating to watch at times, but give him credit for not being afraid to fail.
With Tavares, it had to be so perfect for him to score. He needed to be so sure that he can score when he had the puck to shoot.  He had to really believe he can do it. This was another reason he was frustrating to watch.
When the Islanders need clutch goals, they get it from Anders Lee and Casey Cizikas. Those two did it again in the second period. Lee scored the second goal and Cizikias scored the third goal. Those two have been the go-to guys for the Islanders all season. They are the heart and soul of the team. They are the impetus to the Islanders' success. They may not be natural goal scorers like Tavares, but they work hard to use their body and strength to score goals.
Robin Lehner made his fourth start, and he was excellent. The Maple Leafs came out firing in the first period, and he made all the saves to give the Islanders a chance in this game. He has been so good all season, and his play is why Islanders coach Barry Trotz has the luxury of starting him or Thomas Greiss every game. He knows he can get great performances from either of his goaltenders, and that will help come  postseason if the Islanders participate in it.
As for Trotz, he showed why he is one of the best coaches in hockey. He coached a great game as usual. He had his team prepared from the start. His team played well defensively. He did not have his players get caught up with the emotion of the moment.
His coaching moment came in the second period when he called a coach's challenge on Zach Hyman's 2nd goal by saying it was offsides. It was desperation, and he knew it. He was trying to get fans engaged and make sure the building was not going to be deflated if the Leafs scored the second goal. Somehow, his challenge was correct as the goal was disallowed that had the Islanders keep a 2-1 lead in the second period.
The Maple Leafs were the one deflated in the end, and they basically called it a night when the Islanders had a three-goal second period.
The challenge was coaching in a nutshell. It's amazing the Islanders have a coach that knows what he is doing. It's been a long time any Islanders fan can say that. To have a stature of Trotz coaching this team is hard to believe, but it's actually happening in 2019.
It sure is a pleasure to watch a well-coached Islanders team that give it their all every night. After three bad decades of Islanders hockey, an Islanders fan wondered if it would ever happen again.
This season and Thursday night should be the time for everyone to move on altogether. It was closure at its finest. Everyone got what they want out of it. Everyone was happy.
The Islanders and Tavares have bigger goals to worry about, and so should the fans.
This season has been too good to be even thinking about Tavares anymore.
Thursday night showed why the Islanders don't need Tavares and why they don't miss him.