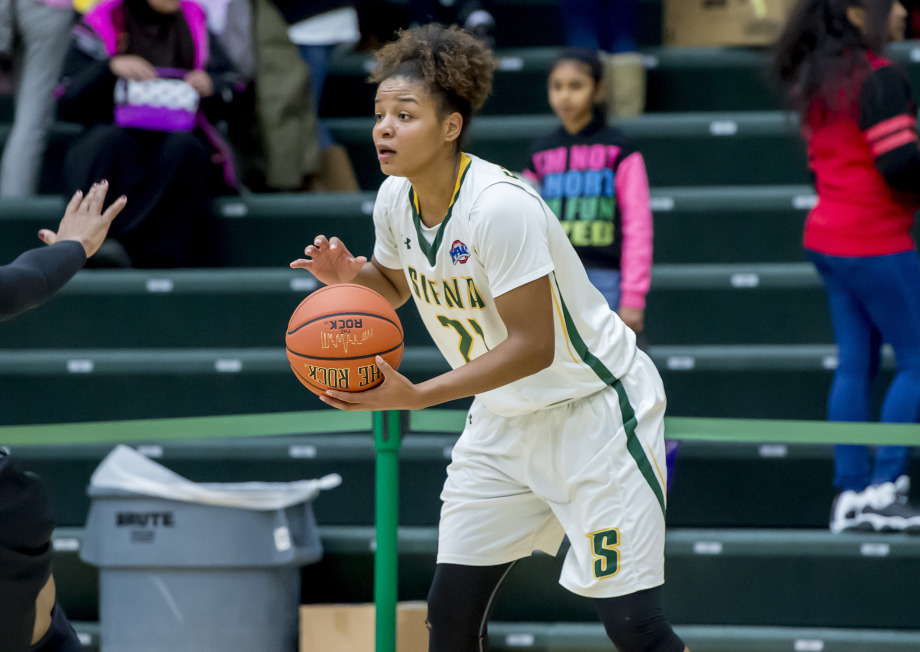 LOUDONVILLE, N.Y. – Freshman twins Rebekah and Hannah Hand combined to score 30 points to lead Marist past Siena Women's Basketball 70-59 at the Alumni Recreation Center. Reigning MAAC Player of the Week Kollyns Scarbrough led the way with 13 points for Siena which saw its six-game winning streak snapped.
Rebekah Hand scored a game-high 20 points and added seven rebounds and five assists for Marist (10-12, 7-5 MAAC) which cooled off Siena's (9-13, 8-5 MAAC) red hot offense. The Saints, which entered play averaging 78.4 points over the past five games, were held to just 33 points over the first three quarters and 36.5-percent shooting for the game, including just three-for-23 from three.
Luvi Henningsdottir added 17 points and was five-for-six from distance for Marist which shot 11-for-21 from three. Maura Fitzpatrick scored 14 points and Hannah Hand added 10 for the Red Foxes which improved to 5-1 on the road in league play.
Senior forward Meghan Donohue scored all 12 of her points in the second half, and sophomore guard Jackie Benitez added 11 points for the Saints which outscored the Red Foxes 38-14 in the paint.
Siena rallied from an early seven-point first quarter deficit to claim a 22-18 lead with 5:50 remaining in the first half. However, Marist responded with a 26-3 run spanning 10:23 to open a commanding 44-25 lead midway through the third quarter. The Red Foxes would lead by double-digits for all but a few seconds the rest of the way.
The Saints return to action on the road at Rider on Saturday, Feb. 4. Tipoff is set for 2 p.m.