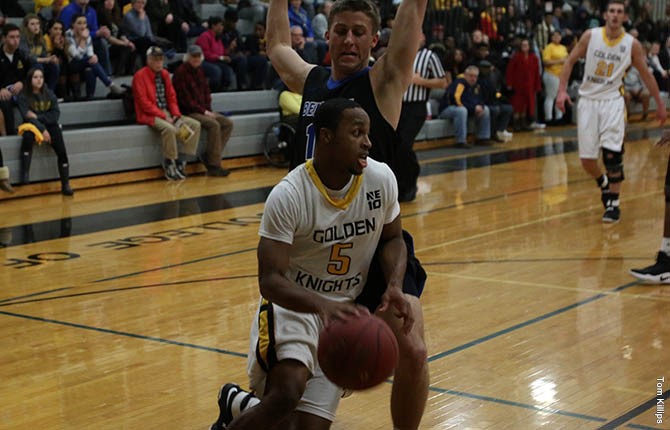 SYRACUSE, NY –Le Moyne pulled away from The College of Saint Rose to upend the Golden Knights 84-70 in this evening's Northeast-10 Conference matchup that featured two teams tied for second place in the Southwest Division.
Both teams shot well as the Golden Knights canned 50.0 percent (25-for-50) of their attempts from the floor and the Dolphins (16-5/11-4 NE10) buried 59.6 percent (28-for-47) of their opportunities, including 66.7 percent (14-for-21) from the arc. They also manufactured a 27-19 rebounding advantage.
Senior forward Tyler Sayre (Garnerville, NY/Albertus Magnus) and senior guard Chris Dorgler (Floral Park, NY/Archbishop Molloy) scored 16 points apiece and junior forward Julian Lipinski (Melbourne, Australia/Whitefriars) finished with 14 to lead the Saint Rose (18-6/10-5 NE10) attack. Dorgler also had six assists while senior guard Damon Coleman (Roosevelt, NY/Holy Trinity) handed out five helpers and came up with four steals to go along with nine points.
Le Moyne led throughout the final 29 minutes after Saint Rose had tied it on three occasions in the early going. The Dolphins eventually went in the locker room up eight, 39-31, at the break. However, the Golden Knights stood their ground to get within a bucket on two occasions throughout the opening eight minutes of the second stanza and were within three, 57-54, after Dorgler knocked down a trey off a Coleman feed with 10:50 left.
Le Moyne countered though with an 18-3 run to put itself in the catbird seat behind an 18 point, 75-57, cushion with 4:15 to play. Saint Rose was unable to get any closer than the final margin the rest of the night.
Sophomore guard C.J. Asuncion-Byrd (Greenwich, CT/Greenwich) finished with 19 points and eight rebounds to pace five Dolphins double-digit scorers.
Looking ahead, both teams return to the hardwood Saturday. The Golden Knights have a 1:30 pm meeting at New Haven, while Le Moyne hosts American International at 3:00 pm.
-David Alexander