Regional Sports
Culture change taking effect on Islanders
Emphasis on defense and preparation have made the competent Islanders under the new Islanders administration.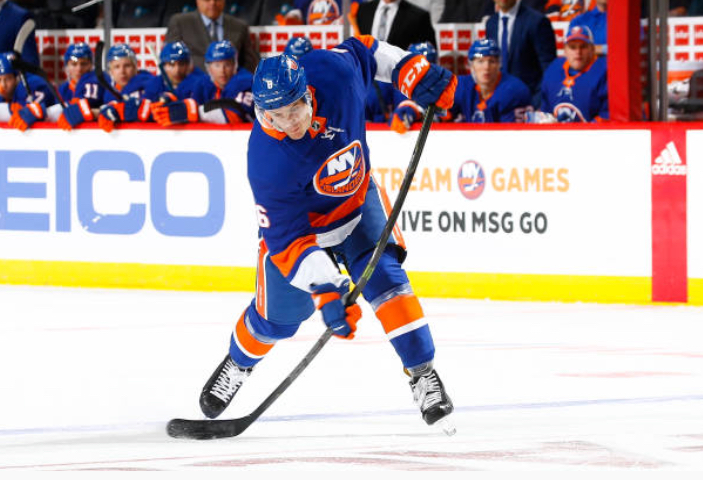 Your New York Islanders are 7-4-1 after winning their fourth game in a row by taking a 3-2 shootout victory against the Pittsburgh Penguins on Thursday night at Barclays Center. The most important stat so far in this start is they are 5-0-0 against their division for the first time since the 1982-1983 season.
Don't let anyone say it's early since that's missing the point. It isn't the wins and losses that should make the average Islanders fan happy. It's the way they are playing hockey and how they are grinding it out to win games that should make the Islanders fan excited. The little things matter when a team is building.
It's noticeable that there is a culture change brewing with this Islanders team under first-year general manager Lou Lamoriello and first-year head coach Barry Trotz. We don't have to wait until we are one-fourth of the way through this season to realize it. 12 games should be more than enough to know this is not your father's Islanders team.
When the Islanders hired two proven winners in Lamoriello and Trotz, it was clear it wouldn't be more of the same like the last three decades. This team was going to play defense and they were going to put on a quality product each game. The country club atmosphere that has killed this franchise since 1996 was finally going to be done as soon as Islanders owner Scott Malkin decided that he had enough. That's why they have done well so far, and why this start is sustainable.
The Islanders always had talent offensively. It was how they played defensively that always has been a problem. Under failed general manager Garth Snow and failed head coach Doug Weight, playing defense was optional. It was offense first all the time. It's no wonder they blew third period leads, and it's no wonder they lost often.
A new coach and a new general manager that demand disciplined hockey is going to change things rather quickly. That's why the Islanders are able to survive life without loser John Tavares, who decided to take his talent to the Toronto Maple Leafs.
Thursday night epitomized what the Islanders are about from now on. They are not going to give in when the going gets tough such as when the Penguins tied the game at 2 in the third period on Evgeni Malkin's power-play goal with eight minutes to go in the game. It could have been easy for them to be frustrated after Anders Lee received a questionable penalty for slashing on a light tap on defenseman Jamie Oleksiakin that period that set the stage for Malkin to score.
Instead, the Islanders found a way to keep this at 2 heading to overtime. From there, Islanders goaltender Thomas Greiss made saves after saves in overtime to keep it at two heading to the shootout.
Eventually, they won on a shootout goal by Josh Bailey in the third round.
The Islanders' commitment to defense since training camp has paid off in this start so far. They are blocking shots, and their defense has created offense. An example of that came in the second period when Casey Cizikas blocked Kris Letang's shot and then picking up the puck and feed it to Bailey, who had a breakaway opportunity and scored the 5-on-3 shorthanded goal in the second period, tying the game at 1.
It is their defense that helped the Islanders stay afloat all game long.
It is their defense that has made the Islanders successful in the penalty kill so far this season.
It is their great defense that has helped Greiss have a great night by making his job easy in deflecting pucks and making sure the Penguins did not have third or fourth chances that they are accustomed to having when they play the Islanders.
Yes, Greiss had to be spectacular for the Islanders to hang in there late in the third period and in overtime, but with the defense keeping its goaltender fresh, it goes a long way. With commitment to defense this season, the Islanders starting goaltender should bounce back from an awful season last season.
If the Islanders can play defense like they have had so far, they will continue to win games and make the playoffs. There's no reason to think the Islanders will not keep it up since Trotz and Lamoriello will demand it and players will listen.
It's remarkable what great coaching and strong management can do to an underachieving team. After seeing the Islanders be listless and soft for most of three decades, it's interesting to watch this team transform into a gritty team in a short time. No one questioned about the talent, but there's something to be said about structure and accountability, and the Islanders finally have that. That's the culture change we are seeing that has taken place the minute Lamoriello and Trotz were hired.
This season is about building a foundation for a better tomorrow. The Islanders are well on their way. That's why this season is enjoyable before high expectations eventually come.
The Islanders just need to keep polishing by getting better each month.
This start is no joke. The Islanders are now a team that teams won't be comfortable playing against. That's the takeaway about this start.
The Penguins found that out on Tuesday and Thursday when the Islanders had four points against them in the home-and-home series.