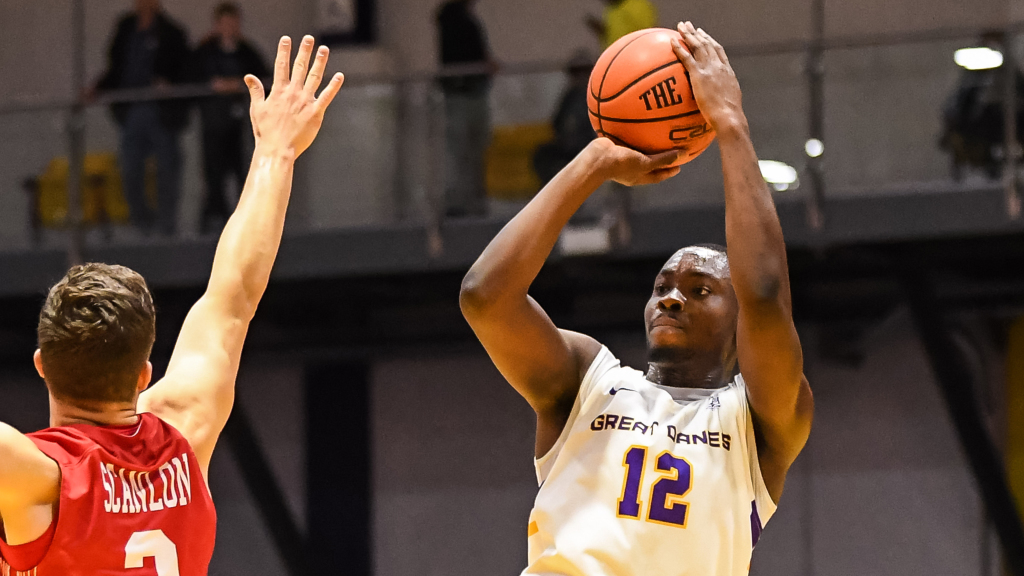 BUFFALO, N.Y. — It took UAlbany a while but they finally pulled away in the final ten minutes behind a 30-point game from Ahmad Clark as they took down the Canisius Golden Griffins on Saturday afternoon at the Koessler Athletic Center, 75-66.
After a three from Canisius' Takal Molson with just over six minutes to play that cut the Danes' lead, which had been small the whole way, something seemed to change for them. They responded with an 11-2 run that lasted almost four minutes, headlined by nine of those 11 points coming from Ahmad Clark who had a career-high 30 points on the afternoon.
"In key spots Ahmad made some really key plays and to be honest I think most of those shots that Ahmad made were good shots by a good player," Albany coach Will Brown said.
After that it was smooth sailing for Albany as they extended the lead from three to 12 during that stretch, paving the way for them to earn their first win of the 2018-19 season after an 0-2 start.
However this was not how it was all game, on both sides. The game was ugly in the first half with Albany holding a 26-22 lead at the break as both teams struggled to get a rhythm going, and neither team was able to gain an advantage of more than eight in the first half, which came just before Canisius scored the final four points before the break. The teams shot a combined 20-56 in the first and 3-23 from behind the three-point line.
Things did end up turning around in the second half. The Danes scored 49 points in the final 20 minutes to the 44 that the Golden Griffins had, with 23 of Clark's 30 points coming in the second after a slow start. Additionally, 20 of Molson's 24 points on the night came in the second, but most of them came in the final minutes after the game was in hand.
"I think the first half set basketball back about two decades. I think there was more flow and more rhythm to the second half," Brown said. "Just one of those games."
A big part of the Albany win was their ability to contain preseason MAAC player of the year Isaiah Reese, who scored 15 points in the team's season-opening win against Bucknell on November 13. He shot 0-7 from behind the three-point line and 3-13 overall, making it a frustrating night for him. Overall, 30 of the Griffins' 60 field goal attempts were from three.
"Half our shots were threes. We took 30 threes, which is fine if you're hot and you can make them," Canisius coach Reggie Witherspoon said. "But if they're two passes and a shot, it's hard to be good enough to actually make those shots."
In addition to Clark's 30 for the Great Danes, Devonte Campbell had 15 points and Cameron Healy scored 14. Kendall Lauderdale tacked on eight off the bench.
Canisius falls to 1-1 on the year with the loss.
Albany is now 1-2 on the season after losing their first two games of the year to Iona and Boston University. This is the first game of a demanding stretch for them, which sees Saturday's game as the first in a three game, four day stretch. They will play home on both Monday and Tuesday against SUNY Oneonta and Holy Cross, before traveling to play Milwaukee on Friday.
"You have work to be done that's physical work but you also have to make sure that guys are physically fresh as well as mentally fresh," Brown said.
Both home games will begin at 7 p.m., and the Milwaukee game will tip at 8 p.m.