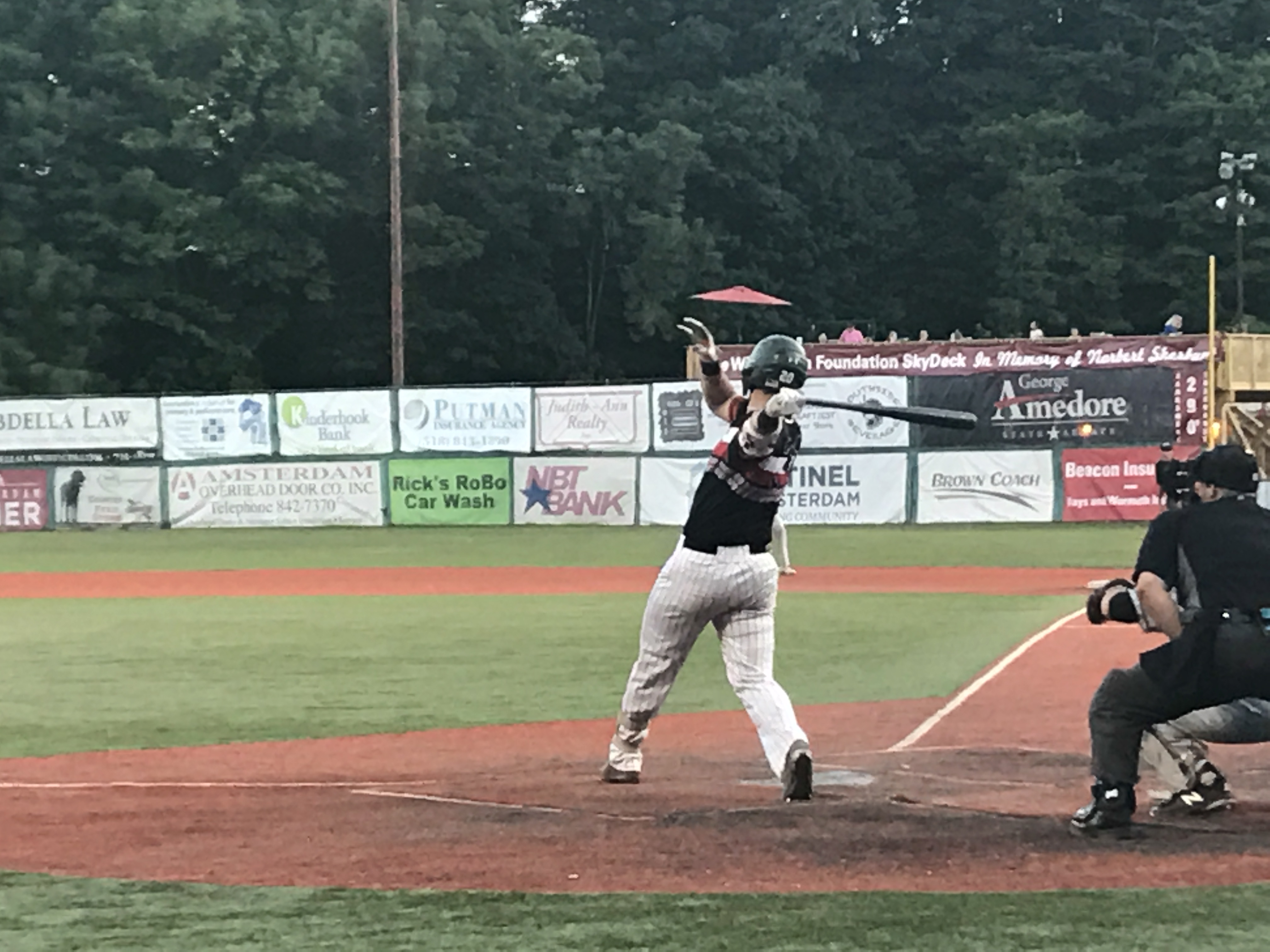 GLENS FALLS — After winning four straight games, the Amsterdam Mohawks lead the Albany Dutchmen by a game and a half for the PGCBL East title. When the Dutchmen lost earlier Saturday evening, the Mohawks felt the pressure to extend their lead. They did this by cleaning up the Glens Falls Dragons on the road 7-2.
The Glens Falls Dragons got started early when their two hole hitter Nate Cobb (Malone University) got on base with a single. The culmination of Danny Ryan's (Fairfield University) single, and a double steal on a passed ball allowed Cobb to advance to third base. This set up Josh Arndt (Cornell University) to ground out to the second baseman, allowing Cobb to score the first run.
Amsterdam got rolling after that, scoring four runs in the next three innings. The first was scored when Justin Foscue (Mississippi State) scored off of Cole Barr's (Indiana University) hit over the left fielder resulting in extra bases. Then in the fourth inning, Glens Falls' Sal Fusco (UMass Lowell Commit) allowed three walks and threw two wild pitches, letting one run score. Still having two runners in scoring position, Tanner Allen (Mississippi State) singled to right field and scored two more runners, making it 4-1 Amsterdam.
Amsterdam coach Keith Griffin said, "We did a great job in the at bats where we got ahead in the count. We got good hits and didn't let them back in it."
The Dragon's had another chance to take back the momentum in the bottom of the fourth. With two outs, Brian Hart (Marist College Commit) followed up a closely called foul ball by hitting a home run over the right field wall, cutting the deficit to two runs.
Hart said, "That first hit I thought was fair, but it wasn't. I was trying to get a good swing on the ball and just put it out."
Unfortunately, the Dragon's would fail to capitalize on Hart's home run, not getting a runner to third base the rest of the game. Glens Falls is currently last in hits by almost fifteen. They are also last in runs and RBI's, while making up five percent of the bases accumulated by the league this season.
After Amsterdam's starter Trip Lockhart (Kentucky University) left, the three relievers Coach Griffin brought out struck out five batters and did not give up a hit in their four innings.
Griffin said, "(Brad) Busald (Indiana University) and (Teddy) Sabato (Manhattan College) had not thrown in awhile and they did a great job. And (Ryan) Lanaro (Herkimer County Community College) did a great job at the end. So I'm very pleased with those guys."
Amsterdam tacked on three more runs late to put the game out of reach. After Mike Antico (St. John's University) reached base on a fielders choice, a walk and a single by Michael Ludowig (Wake Forest University) brought him home. In the ninth inning, Kyle Cutler was unable to find his command like his predecessors, allowing a walk and throwing a wild pitch. Then Matt Padre singled to left field, putting the last two runs in the books.
The Amsterdam Mohawks are now two and a half games up on the Albany Dutchmen in the PGCBL East race. They only have seven games left and one with the Dutchmen.
Griffin said, "We just have to keep improving. We'll enjoy our day off tomorrow and we will take it from there."
The Mohawks have a two game stretch at home early this week. They play the Elmira Pioneers Tuesday night, and the Utica Blue Sox Wednesday.