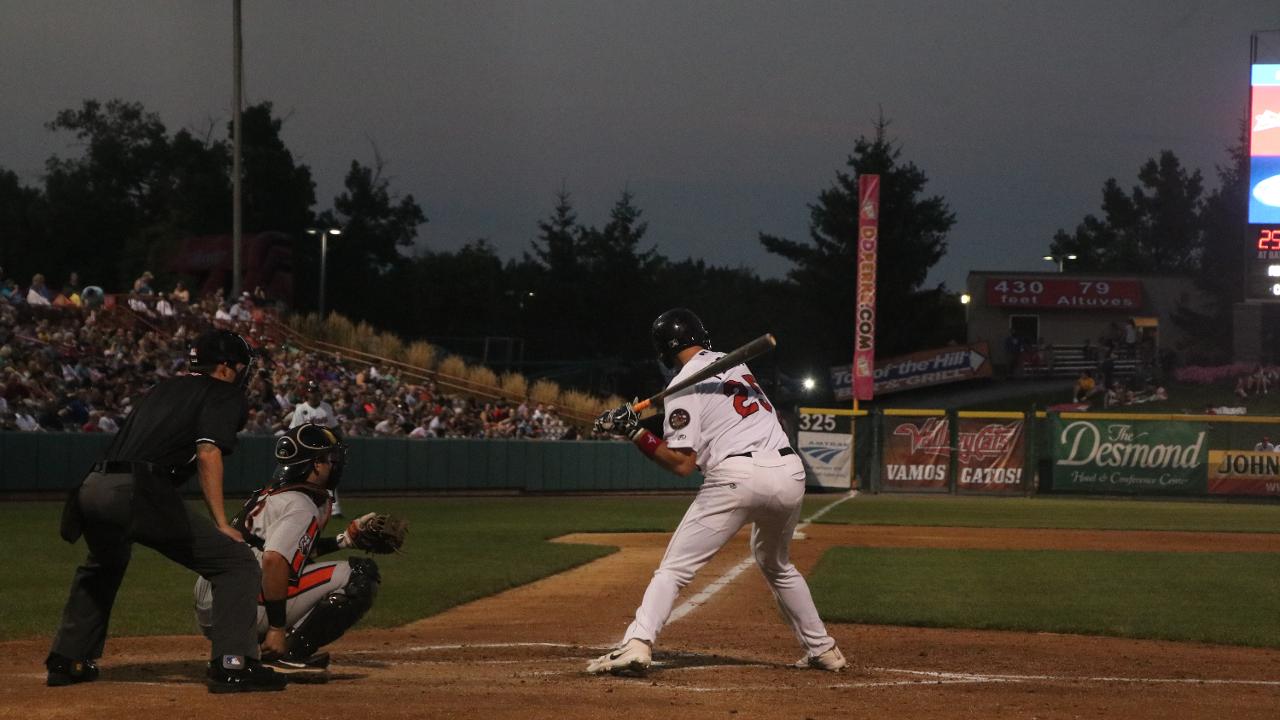 TROY — It's not often that when you have 19 of your batters retired in a row you will go on to win the game, but that's what happened on Monday night for the ValleyCats, who grinded out a 4-3 win over the Brooklyn Cyclones at Joe Bruno Stadium.
Brooklyn struck first in the top of the first inning, scoring two unearned runs off of Tri-City starter Kyle Serrano.
However, the ValleyCats came back in a big way in the second, scoring all of their four runs in that frame. With one out the 'Cats had four batters in a row reach base, with Wilyer Abreu bringing in the first run with an RBI single. Then, leadoff hitter AJ Lee sent a ball over the wall in left field for a three-run blast, the first of his professional career and giving Tri-City a 4-2 lead at the time.
"It was pretty exciting, especially at a time where we were down one after having a tough first inning, just to put us ahead there, felt really good, hopefully I can keep having success like that," Lee said. "Our offense has been a little unlucky lately, we've been putting some good swings on balls, just haven't been able to find the holes. Today we got enough across to get a W and that's all that matters."
After that, the ValleyCats struggled to get anything going on offense, not having another baserunner until the eighth inning, which was a single by Korey Lee, who had a 2-4 night. However, the bullpen held it down in the meantime. Angel Macuare threw 4 1/3 innings of one-run ball and only allowed three hits, while Lupe Chavez did not allow a run over the final three frames after Serrano was pulled from the game in the second inning. The lone run given up by Macuare was a pop-up that fell in the infield to score a run, but since it did not touch anyone's glove, it was counted as an earned run.
"This game was pretty good, a lot of hard work with everybody. I feel like we did a really good job out there. The hitters did a really good job hitting and the pitchers made adjustments," Macuare said.
Overall, this game makes the team better moving forward, as they improve to 8-14 on the year.
"We got better today, that's the whole point. When we put a full nine together, I think we'll see it, I think when we scored runs we got a little too happy and let down a little bit. I'd like to see them get runs and add a little more," manager Ozney Guillen said.
Out-hit, but win
The ValleyCats were out-hit by the Cyclones Monday night, 8-5. This marks the first time they have won a game despite being out-hit, they were 0-11 in such games previously.
Guillen worries about foul balls
Tuesday morning is Camp Day at Joe Bruno Stadium, and Guillen expressed concern about protective netting and young fans getting hit by line drives. Currently, the netting at Joe Bruno Stadium extends to the far ends of each dugout.
"I get really worried on Kids' Day with the foul balls. People don't realize how scary that is, I've been in baseball my whole life and I don't know how to feel about putting kids on the side, but it's Kids' Day so hopefully they're paying attention and they enjoy the game and nothing happens."
He went on to say that he's seen in Japan the netting wraps all the way around except one section, where tickets are sold at higher prices, and dismissed that the netting would obstruct the view of the game.
"I know the excuse is you can't see the ball. I think the way we're built now with the phones, people are here to have a good time and I don't think getting hit in the face would be a mood-breaker for anybody," he said. "Having a niece, I would never take her to a baseball game and sit down the line. You're never going to stop a 100-mile-per-hour ball off the bat. Guys with gloves have trouble catching it, imagine a father or a mother trying to protect their child."
Up next
The ValleyCats and Cyclones close out the series on Tuesday morning. First pitch is at 11 a.m.