Playoff roller-coaster new for most Devils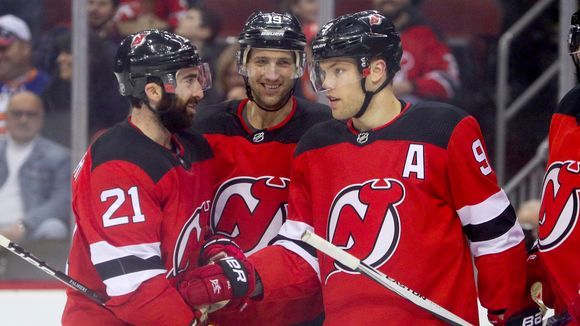 Playoffs are an interesting time of the year for NHL players and coaches.
So much thinking. So much chess-matching. So much drama. So much plots. So much highs and lows. Every playoff game has its own adventure. Not one game is the same.
Most of the Devils are getting their first taste of playoff hockey, and they can never prepare for it until they have the experience. For third-year Devils head coach John Hynes, this is all new to him, too. He has to make so much moves to counteract the Tampa Bay Lightning's attack, and that is not going to be easy. He has to be grounded, and he has to keep his players in check.
With the Devils trailing 1-0 against the Lightning in the best-of-seven first round series, it's their serve to do something about it. They had a day to think about what happened Thursday night. Now, they have to find a way to even the series at 1 Saturday afternoon at Amalie Arena.
Being down by one is not a big deal since it does not make or break the series. All it does is heighten the sense of urgency for a road team to even the series and give themselves a chance to win couple of home games when the series shifts to Prudential Center on Monday night.
How this Devils team respond today will go a long way to how they will do the rest of the series and in future playoffs. It's a test they are ready to embrace.
It's not about tools. It's about will, intelligence and adjustments that will determine if the Devils find a way to win even the series. For a veteran team, this should not be a problem. For a young team that is on its first rodeo, it's interesting to see whether they can cope and deal with a crisis like this current Devils team are in right now.
The Lightning did its job by winning their first game of the series Thursday night. It was an efficient performance from a team that has aspirations of winning the Stanley Cup. They played like a veteran team that was well-prepared for Game 1 and this series.
Now, we see what answers the Devils have. Learning how to win on the road and learning how to cope with adversity are part of the ingredients that make a Stanley Cup winner. That is the interesting aspect of this series for the Devils. Whether they win the series or not is irrelevant, but knowing what this team is made of is important since it would serve them well moving forward.
In a sick way, the Devils are better off trailing by a game. Sure in a perfect world it would be nice to see them be up by one, but for a young team like the Devils, they could be too high and too confident heading to Game 2. A loss on Thursday night has the Devils grounded and they realized they have to work much harder if they are going to win playoff games against the Lightning.
The Devils did not express concern or be astonished about what happened in Game 1. They shouldn't be being that it's one game. They know this playoff series is like a marathon, not a sprint. Of course, it could be a sprint if they don't respond in Game 2.
The Devils are likely to win at least one game at home, but they are going to have to win couple of games at Tampa for them to have a chance to win this series. Saturday is a good starting point to win. It's a good chance for them to show the Lightning that this series won't be easy as they think it is.
This playoff series is all about gaining playoff experience such as knowing how to win in the playoffs, handling adversity, handling success and dealing with the up-and-down emotions of the playoffs. Hockey players tend to be even-keel, but with this Devils group, we really don't know what they are made of. Yes, they were resilient all season, but the playoffs are a whole new ballgame where everything goes much faster.
Part of winning the Stanley Cup is handling the highs and lows of Stanley Cup Playoffs. When the Devils won the Cup three times in their franchise history, they had players such as Scott Stevens, Ken Daneyko, Scott Niedermayer, Sergei Brylin, Bobby Holik and other veterans that knew what they were doing, not to mention handling the roller coaster of playoff hockey. For guys like Taylor Hall, Miles Wood, Blake Coleman, Will Butcher and Nico Hischier, this is all new. Sure, they may not know any better, but there's no substitute for experience.
Game 2 should be a good barometer of what the Devils are all about.
No one said it was going to be easy. It wasn't easy for the Devils this regular season, so it was not going to be any different in the postseason.
How the Devils respond will determine if they have it in them to win in the playoffs.