Dean's four touchdowns lead Cambridge to Class D title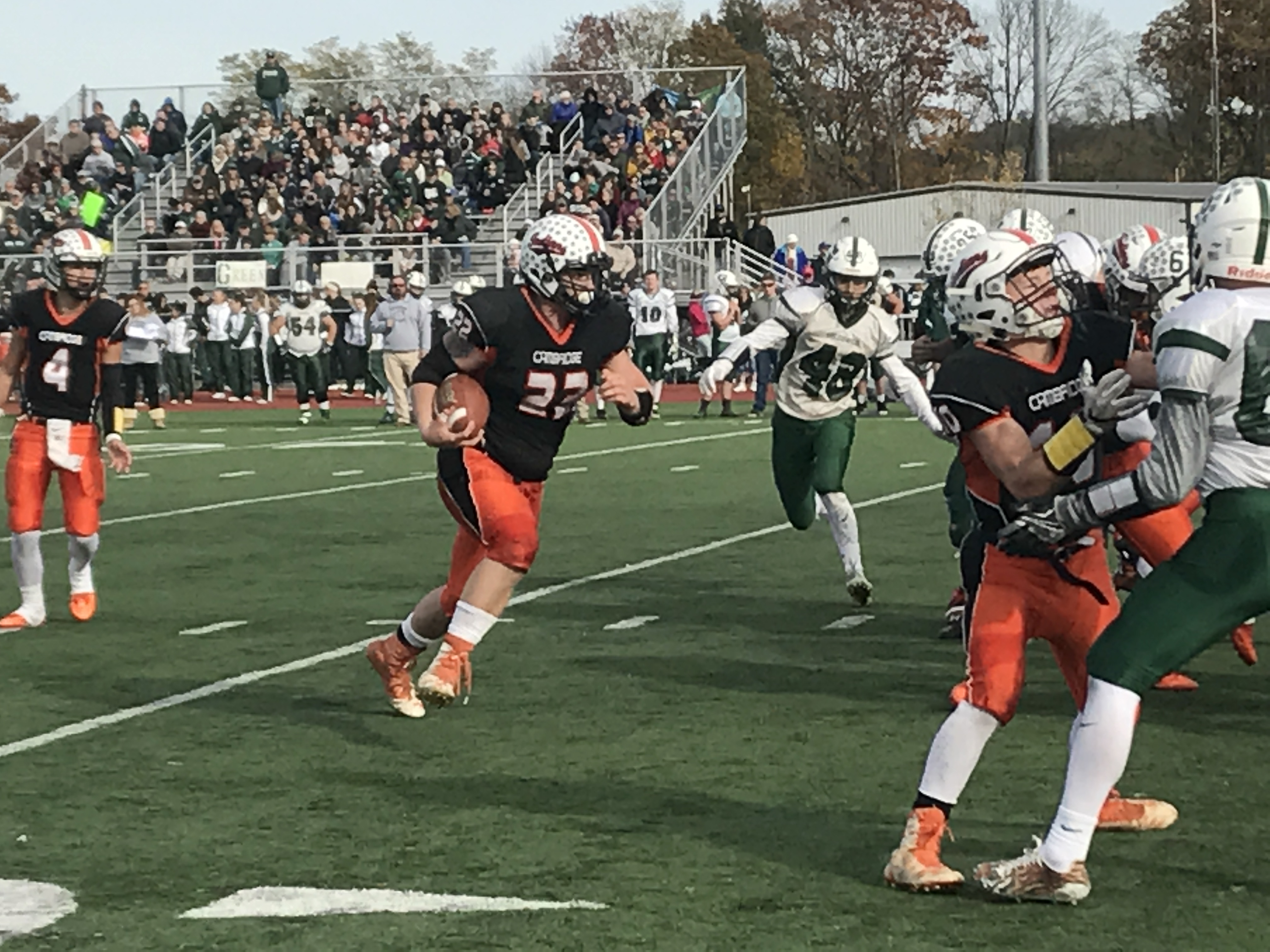 SCHUYLERVILLE– Three touchdowns in the first quarter paved the way for Cambridge as they flew past Greenwich for a statement win as they claimed the Section 2, Class D title by a final score of 40-7 on Saturday afternoon at Schuylerville High School.
The opening drive was an early indication of how the game would go for the Indians. They took under five minutes to score the game's opening touchdown on a five-yard pass from quarterback Zack Rowland to Jacob Peters.
On the first play of the ensuing Greenwich drive, quarterback Cole Burgess fumbled on a QB run and turned the ball back over to Cambridge.
From then on, the rest of the first half became the Colton Dean show. On 21 yards of offense for Cambridge, he rushed for all of them and punched himself into the end zone from five yards out for Cambridge's second touchdown of the day. It was Dean's first of four touchdowns, all of them coming in the first half. He rushed for a total of 124 yards. The running game was a huge part of the Cambridge offensive attack, as nearly all of their plays were on the ground, and five of their six touchdowns came on running plays.
They jumped onto a 33-7 lead by halftime, all but putting the game in their pockets for the rest of the afternoon.
"Our coaches said it was going to be a dogfight, as it was. But as one of our coaches said, he's seen a lot of fights. Whoever throws the first punch is going to win the fight, so we knew we had to get up early on them and just kind of maintain our momentum," Cole said.
Greenwich nearly scored a second touchdown at the end of the first half, but a Cole Burgess pass was intercepted by Cambrige's Jones Butz with 20 seconds on the clock until halftime. A second Greenwich touchdown would have made the game interesting, but it did not happen.
The game was expected to be much closer, due to the many similarities of the two teams. Additionally, they had played each other during the regular season and it was a close game. Greenwich had won 43-38.
"It was a surprise. You dream of these things, but you don't really think that they're going to come true. Today, it came true. We played as good as we can play," Cambridge head coach Doug Luke said.
Cambridge tacked on their final touchdown of the day late in the third quarter, but the lead was more than enough to hold onto the win for their 16th sectional title in program history, and their second straight Section 2 title. They won the state championship last year, and have a very good chance at doing that again this year.
The win also came as career victory number 200 for Doug Luke, as he became the fifth coach in Section 2 history to hit that mark.
"I couldn't tell you what number 100 was, but I'll remember number 200. This was a special game for us, and it's not because of a 200th win; it's because this is against Greenwich. It's always special to beat Greenwich," Luke said.
Cambridge moves on to play the winner of Section 7, Moriah, in the Class D state quarterfinal. That game will be played on Friday, November 10 at AuSable Valley High School in Clintonville. Start time is set for 7 p.m.