Cambridge captures Class D state championship for second straight year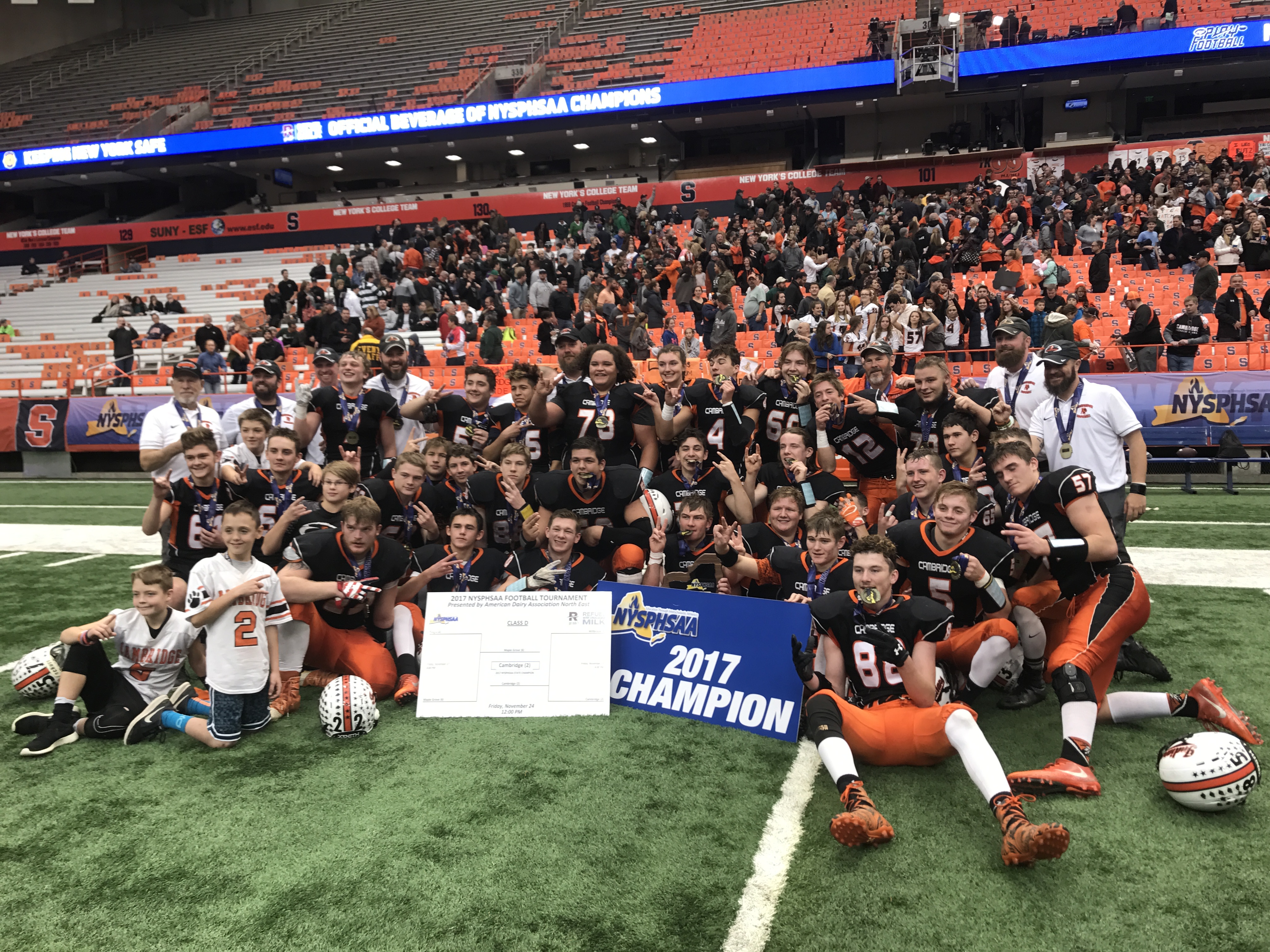 SYRACUSE — It was a scenario that Cambridge knows well at this point, being in Syracuse for the state championship. For the second year in a row, they knocked off Section 6's Maple Grove, this time by a final score of 26-14 Friday.
The Indians set the tone early, scoring on the second play of the game to give them the first lead on a 65-yard touchdown pass to Brenden Holcomb.
Cambridge held off Maple Grove thanks to a strong run defense and were up to a 19-7 lead at halftime. Maple Grove had the ball early on in the third quarter, and it looked like they would make it a one-score game. On a big fourth-and-five play at the Cambridge 12-yard line, Red Dragons quarterback Easton Tanner was sacked by Cambridge linebacker Max Hoffer for a 10-yard loss and a turnover on downs. Cambridge did not score in the ensuing possession, but it served as a big momentum-changer.
"Coming out of the first half, they started to drive, and stopping them there was great. If we could have scored, it would have been better, but we didn't. There were a lot of momentum changes," Hoffer said.
The score stayed 19-7 at the end of the third quarter but not for long in the fourth. Less than two minutes into the final frame, a pass from Zack Rowland, who was trying to throw it away to avoid a sack, was picked off by Tanner, who returned it all the way to the end zone past midfield to make it a 19-14 game.
On the next Cambridge drive, they took nearly six minutes to drive the ball nearly 70 yards, all on running plays. It ended with a nine-yard touchdown rush from Colton Dean, his second touchdown of the afternoon. He had broken a 7-7 tie early in the second quarter with his first touchdown. He finished his final high school game with 82 rushing yards and two rush touchdowns as well as tacking on 20 receiving yards. The team had 282 rushing yards in total.
"I didn't get touched, so I can't take any credit for that, but it was nice, and it felt great," Dean said of his second touchdown.
Dean's first touchdown was a one-yard rush to break the 7-7 tie after Maple Grove had scored on a five-yard pass as Tanner found Zach Fischer from five yards away. Dean had a huge role in the drive that gave Cambridge the lead with 26 rushing yards and 18 receiving yards as part of the 93-yard series.
The win in many ways is historic for Cambridge, as they have become the first team in Section 2 football history to win two consecutive state titles, and the win is also head coach Doug Luke's third career state title with the program, also winning back in 1999.
"It feels awesome for coach Luke. He's been around forever. I remember being a little tiny guy watching him coach and dreaming about playing here and winning one. It's just awesome," Brenden Holcomb said.
About being the first Section 2 team to win back-to-back titles, Luke said, "It's just exciting. We did something that Section 2 hasn't done before. Winning a state championship is great."
The win comes as the section's fourth state championship in the past two years, and teams will play for numbers five and six in this weekend's later games.