8th inning rally lifts 'Cats over IronBirds, 4-3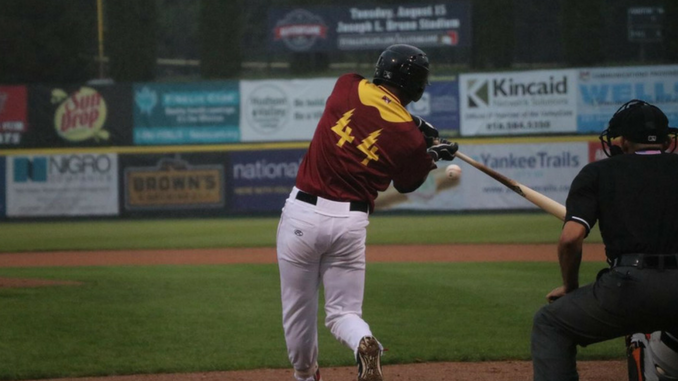 Troy- The 3,472 fans at Joe Bruno Stadium sat through rain Monday night to watch the ValleyCats defeat the IronBirds 4-3 and take the series thanks to a comeback win.
Entering the bottom of 8th inning trailing 3-1, the 'Cats scored the go ahead three runs to take a 4-3 lead. JJ Matijevic doubled with one out and later scored on an overthrow into the 1st base dugout by IronBirds shortstop Mason McCoy. Adrian Tovalin then scored on a wild pitch to tie the game at three. Andy Pineda, who pinch ran for Colton Shaver, would go on to score the go ahead run on an error by IronBirds third basenam Trevor Craport.
"We came out on top of the error game today…getting the benefit of it is a lot better than making the errors," Manager Morgan Ensberg said about the team being able to take advantage of the IronBirds mistakes.
The IronBirds took a 3-1 lead in the top of the 8th inning to break the games 1-1 tie. The two runs (one earned) came off of reliever Parker Mushinski, who pitched an inning and two thirds giving up one hit while walking and striking out three.
Starter Alex House pitched three innings allowing two hits, one of which was a leadoff home run. He also added five strikeouts and no walks to his line. Reggie Johnson earned the win pitching an inning and a third of hitless baseball while striking out three batters.
The ValleyCats (23-23) hit the road to start a three game series in Lowell on Tuesday night at 6:35 p.m.
It made it! From tonight's #ValleyCats game, @IronBirds left fielder TJ Nichting (@TJNichting) with the No.1 play of the night on SC pic.twitter.com/fgah0cnqra

— Dylan Rossiter (@ByDylanRossiter) August 8, 2017
//platform.twitter.com/widgets.js
OF NOTE: This game featured the number one play on SportsCenter's top ten plays, made by IronBirds left fielder TJ Nichting who leaped into the stands to catch a foul ball. Also another side note, the ValleyCats won this game without a player recording an RBI.