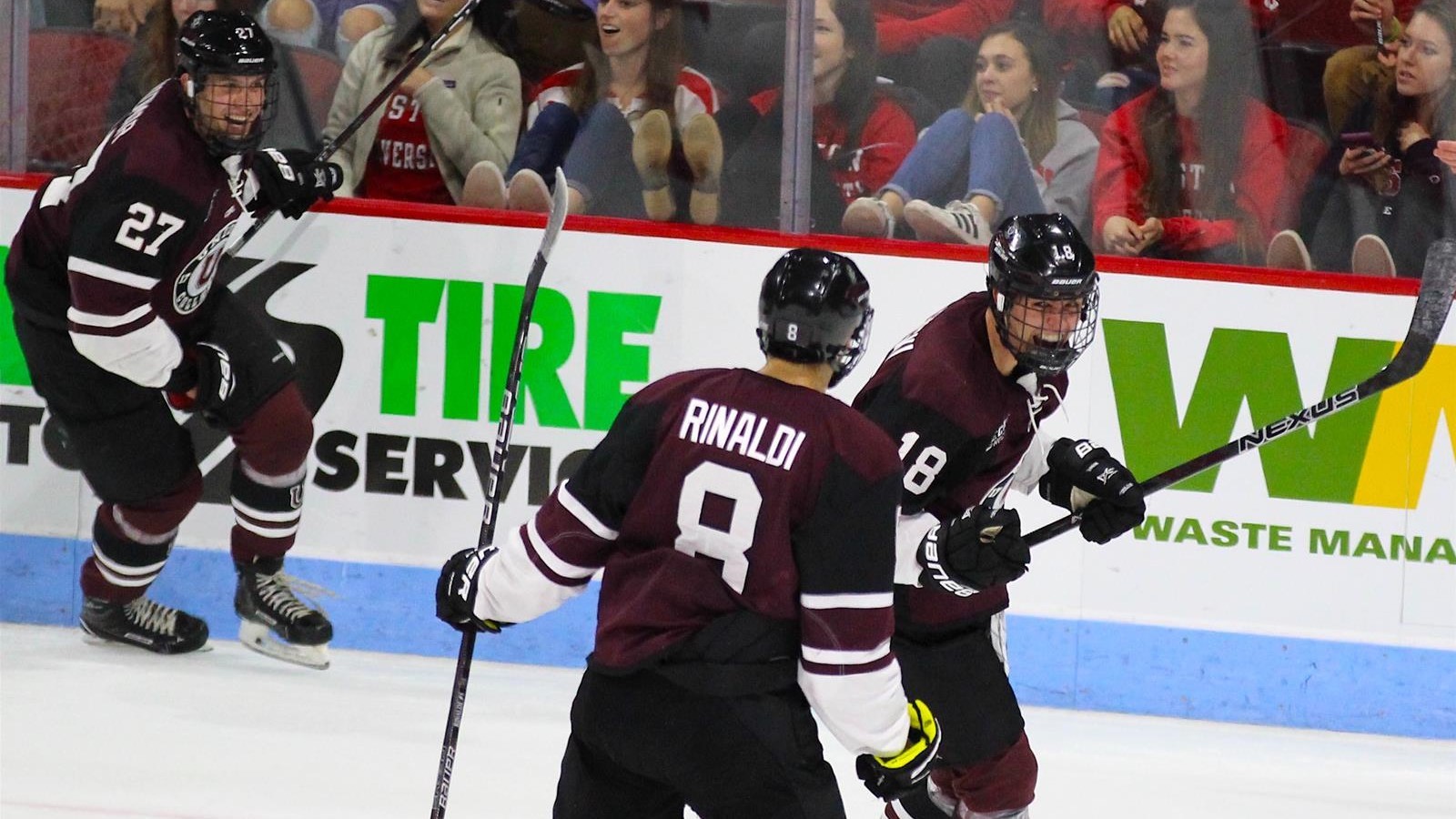 The 16th-ranked Union Dutchmen men's hockey team is set to host the Princeton Tigers this weekend, in a best 2-of-3 quarterfinal matchup.
Union is the #2 seed in the ECAC tournament, and received a bye in the first round. Princeton is the #7 seed, and they obliterated 10th-seeded Brown in the first round last weekend, winning 8-2 on Friday and 7-1 the next day. The Dutchmen swept the regular season against the Tigers, winning 4-3 in overtime at home on November 10, and picking up a 4-1 win on the road on February 17. However, this team is certainly one that Union cannot afford to take lightly.
Princeton (15-12-4) boasts two of the top 3 scorers in the entire nation, with Max Veronneau (15-35–50) and Ryan Kuffner (28-20–38). Kuffner's 28 goals also place him third in the country in that category. These two pace the Tigers, who rank 4th in Division 1 with 3.65 goals per game. The success of the top line, consisting of Veronneau, Kuffner, and junior Alex Riche, often causes teams to overlook the other forwards. However, their second line is also extremely dangerous as well. Sophomore Jackson Cressey (12-24–36), and seniors David Hallisey (16-19–35) and Eric Robinson (13-12–25) make up one of the best offensive second lines in the conference. They also get solid goaltending from freshman Ryan Ferland, who has posted a .911 save percentage in 30 appearances. This team can be polarizing, however. They've posted several encouraging games this season, such as a 4-1 win over Bemidji State way back in November, and they tied both games of a weekend set against St. Cloud State, who is currently ranked #1 in the country. They've also gotten run out of the building several times, losing 7-1 at Cornell, 6-2 at home against Quinnipiac, and 7-2 at Yale. If they're on, however, this team is extremely difficult to stop.
Union (21-13-2) is coming off of a bye in the first round of the tournament, after earning a second-place finish in the regular season. The Dutchmen's season has been a year full of up and downs. They began the season at 0-5-0, then bounced back and went 10-1-1 in their next 12 to get their record to 10-6-1. They went 2-6-0 in their next 8 after that to drop to 12-12-1, but again went 10-1-1 over their final 12 games to finish the regular season. The Dutchmen are 6-0-1 in their last 7, including a very strong 4-3 win at home against #2 Cornell in the regular season finale. They're led by senior forward Ryan Scarfo, who ranks 12th in the nation with 20 goals this season. Union boasts a very balanced offensive attack, with Scarfo, Cole Maier, Sebastian Vidmar, Anthony Rinaldi, and Brett Supinski as the main go-to guys. They have a solid group of defensemen, led by senior JC Brassard. Junior goaltender Jake Kupsky has really bounced back phenomenally after a poor start to the season, and has posted a .922 save percentage this season in his first year as the team's starter. With Kupsky shaping into the player that the San Jose Sharks envisioned when they selected him in the 7th round in 2015, a very solid set of d-men in front of him, and the Dutchmen's balanced offensive attack, coupled with the fact that the series will played in Schenectady, it's hard to go against Union here.