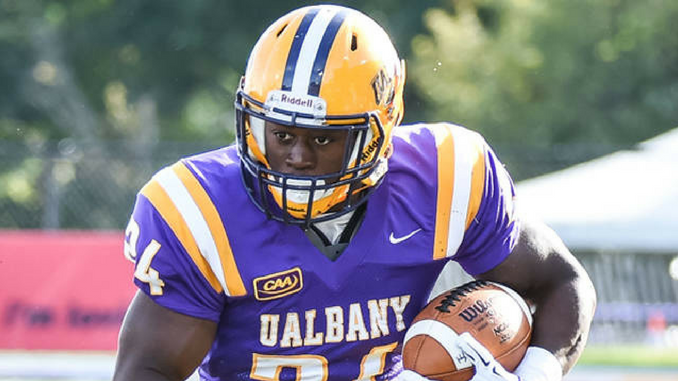 ALBANY, NY — University at Albany star running back Elijah Ibitokun-Hanks will miss the remainder of the 2017 season while recovering from a lower-body injury, head coach Greg Gattuso announced in the form of a press release Tuesday.
The junior from Newark, NJ will apply for a medical hardship waiver from the NCAA. The waiver, if granted, would give Ibitokun-Hanks two more years of eligibility upon his return.
"The health of our student-athletes is always of the utmost importance," Gattuso said. "Elijah has worked extremely hard to get back on the field, but right now it's in his best interest to focus on his recovery. He's an extremely valuable member of our program, and we'll look forward to getting him back next season."
In 2016, Ibitokun-Hanks led the Colonial Athletic Association in rushing year with 1,388 yards and scored 16 touchdowns. An injury in the season finale at Stony Brook caused him to miss all of Spring Practice.
Ibitokun-Hanks suffered another lower-body injury during training camp and appeared in just one game this season, rushing for 63 yards on 17 carries in a Sept. 16 win over Monmouth.