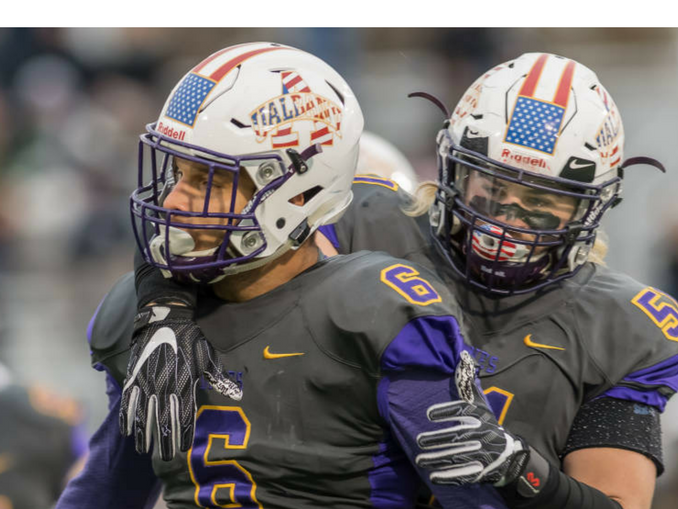 ALBANY — UAlbany's football program had their annual Salute to Service/Military Appreciation Day game on Saturday and was saluted by their 14 seniors who ended their careers with a 15-0 win over New Hampshire.
Of the 14, most of the impact players in this game came on the defensive side of the ball, like they have all season for the Great Danes.
"I can't say enough about what I just witnessed from our seniors, given the season we've had, they still came out and practiced well and played incredible," said UAlbany Head Coach Greg Gattuso.
UNH QB Trevor Knight (not the former Oklahoma QB) was sacked eight times by the Great Danes totaling 54 yards. Two of those sacks came from senior DE Malachi Hoskins, who was emotional after both because of the name on the back of his jersey.
Brandon Jackson was Hoskins' high school teammate and a best friend since he was seven years old. Jackson played football at Army and died in a single-car accident in September of 2016.
"It was an emotional night, seeing his name and playing with his name on the back of my jersey, I think we honored him the right way," Hoskins said.
Senior WR Brad Harris dedicated this game to his uncle, who he also wore the name of on the back of his jersey. Major D. Scott Harris served in the Air Force for 24 years and is an inspiration for Harris.
"I have a really strong connection with him, I call him all the time and we talk about when he goes overseas and what he's doing over there so I really just wanted to support him and show that I appreciate what he's done," said Harris.
As for senior LB Nate Hatalsky, he walks away from the game knowing he'll always have his band of brothers.
"We had our brother to play for, we've all been together for 4-5 years now, we're best friends," Hatalsky said "You can question our win/loss record but you can't question our brotherhood."
UAlbany finishes (4-7, 2-6) and the win snaps a six game losing streak. The win also puts UNH's (7-4, 5-3) 13 year consecutive playoff streak in jeopardy.
"The last thing I told my guys before we left the locker room was, 'hats off to UAlbany,' they played their game much better than we played our game today," UNH Head Coach Sean McDonnell said.
The game itself was not pretty, a stretch from the middle of the second quarter until half way through the 3rd quarter, there was seven straight three and outs from both teams and the streak ended because UNH ran a fake punt, which the punters pass attempt fell incomplete.
The lone touchdown in the game was a 54-yard strike from redshirt sophomore QB Will Brunson to redshirt sophomore WR Austin Ellis.
Ellis may be expected to take more of a leadership role next year with the absence of Harris.
"I look up to Brad (Harris) a lot, he's taught me a lot about how to block, run routes, he's the leader for all the receivers in the room," said Ellis.
The Great Danes sent their seniors off with a win, but the program still has improving to do and adjustments to make.
"We have to get better on offense, we showed some things but we have to get better on that side of the ball and I put that on my shoulders," Gattuso said "We'll be working hard for next year starting next week and we're going to miss these guys."
This season did not go the way they'd hoped, but the seniors will always hold on to being a Great Dane.
"I'm an only child, but I have 100-200 brothers from every team I've been on," said Hoskins.
"This group of guys is the best group of people you'll ever meet," Harris said.
In their last effort as part of the "Purple Family," knowing it was the final time they would wear the pads was just enough.
Hatalsky said, "We knew this was it, this was our last ride together and we weren't going out with a loss."