Local College Sports
UAlbany
UAlbany defeats Richmond to move onto the NCAA quarterfinal
Fields, Nanticoke and Reh lead UAlbany to a second straight trip to the NCAA lacrosse quarterfinal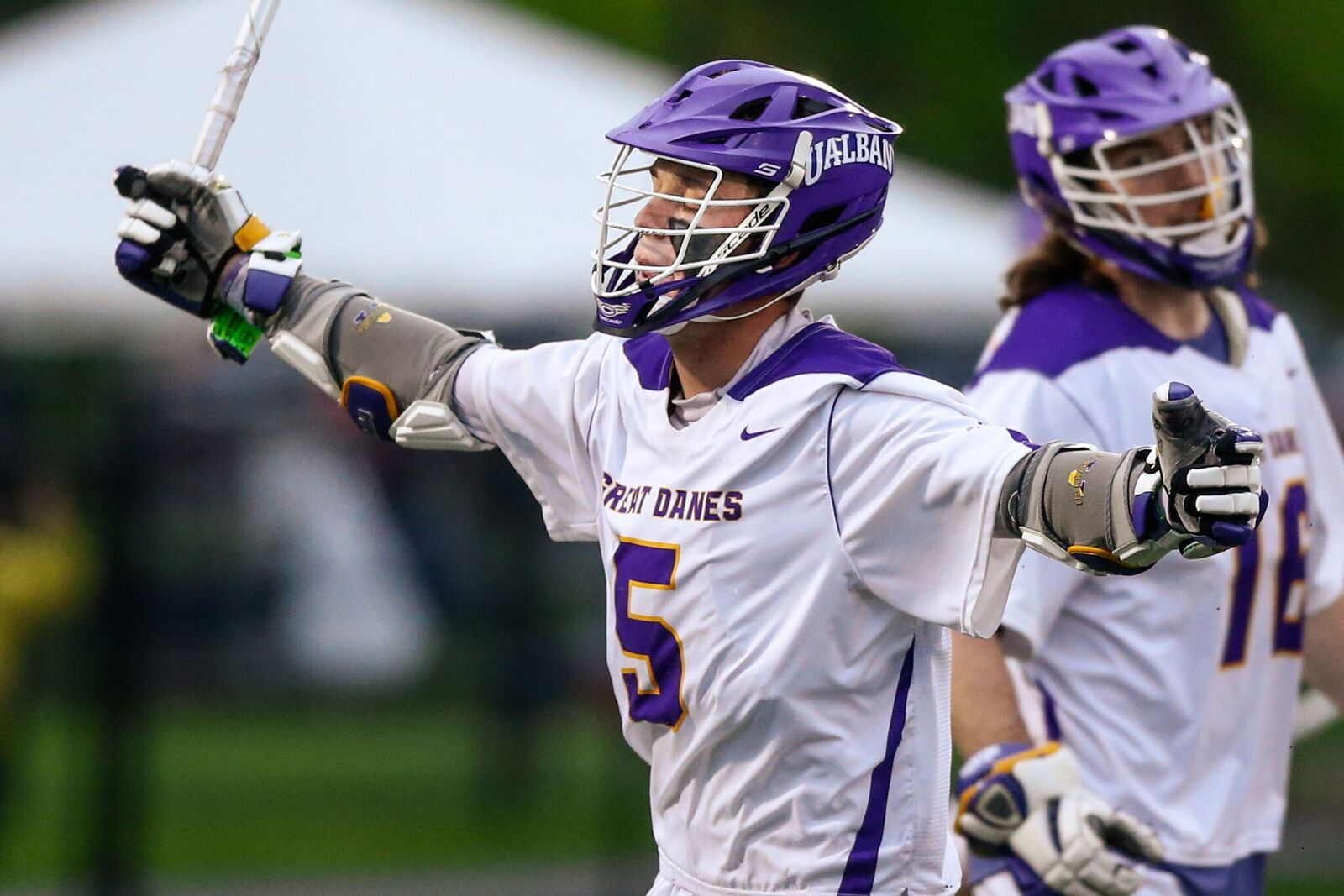 ALBANY — When it comes to organized sports, the key to success is how players work well with their teammates. When a team plays as a whole and every player can show off their particular skill set, everyone has a rhythm and the team usually executes well enough to win the game. That is exactly what the University at Albany Great Danes men's lacrosse team did on Saturday night in their first round NCAA tournament game against Richmond University.
UAlbany (15-2), who came into this matchup ranked second in the country, had high expectations coming into the NCAA tournament after they took out Vermont to win the America East conference title. Saturday night, in their last home game of the season at Tom & Mary Casey Stadium, the entire team showed how great they are and took care of business. They capitalized on Richmond turnovers and jumped out to an early 4-0 lead and ultimately defeated Richmond (11-6) 18-9 in front of 4,800 screaming fans.
The excitement did not start directly at the first whistle however. Connor Fields, who is UAlbany's standout player and senior leader of the team, was inserted into the starting lineup after being listed as "doubtful" to play that same morning. Fields suffered a knee injury (sprained medial collateral ligament) in late March and has been unable to play at full strength since. He did not play in the America East Conference championship game against Vermont because of inflammation in his knee. With him in the lineup against Richmond did however give his team the boost they needed to pull out the win especially in the beginning as he scored the games very first goal with only 1:42 off of the clock.
"He's a warrior," head coach Scott Marr said, "He just willed himself to play…he worked to get the swelling out of his knee and we're so proud of him.
Fields also set a milestone in last nights game as he tallied two goals and five assists giving him a total of seven points. With that, he surpassed Cornell's Rob Pannell for second all time in NCAA Division I scoring in lacrosse with 356 and trails only UAlbany alum Lyle Thompson who has 400 career points.
Along with Fields's expertise, freshman Tehoka Nanticoke scored four goals and dished out two assists to also lead the Danes. He did however give a lot of credit to Fields's return to the field as Fields assisted on three of his four goals. "It's nice having him," he stated after the game, "He's always going to bring his best game and having him out there helps us a lot."
Nanticoke also gave a simple answer to how it felt to play in his first ever NCAA tournament game. "It was amazing, there were a lot of fans."
Fellow senior Troy Reh also got into the action as he picked up his first career hat trick, scoring all three in the first half. Even with the outburst in goals, Reh, a defenseman, gave all the credit to his teammates.
He was also asked about what it would mean for the program if they win next weekend and make it to their first ever Final Four. "It definitely means a lot to us. We'll find out who we play tomorrow, watch Notre Dame or Denver, and I think we can play with anyone in the country. We're not really worried about who we're playing, we'll go through this week and prepare for whoever it is." Notre Dame and Denver will play each other Sunday at 2:15 p.m.
UAlbany received the outcome they wanted but it was not an easy victory for the Danes. Richmond held their own even after giving the ball away three times in first couple of minutes which led to four UAlbany goals. The team seemed to have a response to every UAlbany goal and hung around until the fourth quarter when the Danes eventually pulled away.
"That was a little disappointing," Richmond head coach Dan Chemotti discussing the beginning of the game, "Those first four minutes the guys made the moment a little bit bigger than it was." UAlbany would ultimately lead 6-2 after the first quarter and Richmond would never be closer than three goals the rest of the way.
UAlbany will play its next game on the campus of Hofstra University in Hempstead, N.Y. as they will take on either Notre Dame or Denver on May 19. Time is still to be determined.