Regional Sports
How can Yankees trust Betances?
Once again in a big spot, Dellin Betances bombs when the Yankees needed him the most.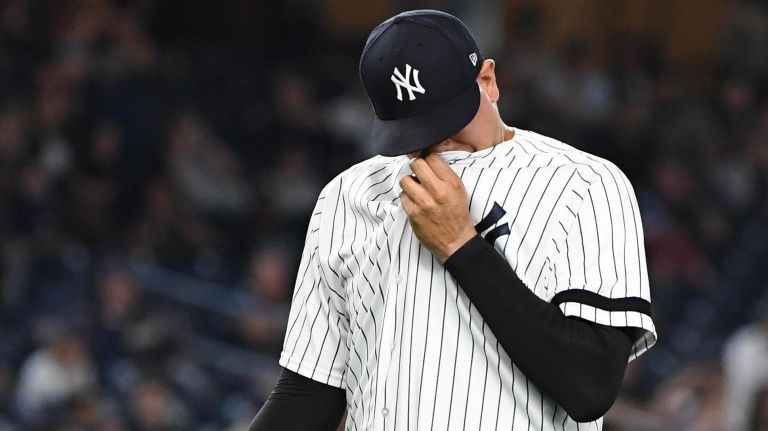 Everything has gone great for the Yankees these last few weeks. All they do is win by winning 17 of 18 prior to losing 5-4 to the Boston Red Sox Thursday night at Yankee Stadium. They hit, and their starting pitching and their bullpen are getting hitters out. It's like it's 1998 all over again in the mind of Yankees fans and some people in the New York media.
But hold on. That 1998 Yankees team was close to perfect. This team comes nowhere close to that team when they have a reliever who is always going to be a question mark when he is on the mound. That would be Dellin Betances.
He was why the Yankees lost Thursday night after he gave up a game-winning home run to J.D. Martinez in the eighth inning. This came after the Yankees tied the game at 4 in the seventh inning. He did that after his second inning of work.
In 16 innings Betances pitched this season, he allowed 11 runs on 18 hits. He has given up four home runs. He has a 5.63 ERA. In his previous two outings, he has given up four runs in his previous two outings. This is coming off from last season, which he was 3-6 while giving up 20 runs and 29 hits. He was a weak spot of that bullpen last year, and nothing has changed so far.
Yankees fans clearly don't trust him. Just listen to sports radio or observe social media when he is pitching. The Yankee Stadium crowd murmurs when he is on the mound. This has to be in Betances' head when he is pitching at home. Heck, it could also be on the road when the opposing fans give him a warm welcome.
This is something the Yankees have to worry about whether they want to admit it or not. They can say it's early. They can give you so much pap that they trust Betances. But it's May. Let's see if they change their tune in October when the stakes get higher.
Yankees manager Aaron Boone knows it's a long season, so he needs Betances now just so he does not overwork his relievers. Somehow if David Robertson was available to pitch in the finale against the Red Sox, he would be pitching the eighth inning, and maybe he does not give up the home run to Martinez.
But there has to be a breaking point, right? When a reliever like Betances constantly implodes time after time, it becomes clockwork. The one-time Yankees setup man can strike out hitters, but he is capable of throwing meatballs that goes out of that ballpark as Martinez demonstrated. There was a reason he lost his setup role to Aroldis Chapman when the Yankees acquired Robertson last year.
The Yankees won't make this an issue. They don't want to lose their reliever altogether in May, but they may have planted a seed in his head when they made the a trade deadline trade last summer.
The Yankees were better off trading Betances this offseason for a starter. He could have used a new start, and the team could have received value such as a starter in return. Maybe they can still get value for him later this year or in the offseason, but putting him on the roster is putting him and the team in a position to fail, especially when they lost confidence in him as a setup guy.
Betances shrugs off these losses publicly, but when he is on the mound and when he puts runners on base, doubt creeps in his head where he pitches carefully rather than attack the strike zone. He often falls behind the count.
Somehow he skates by because the Yankees bail him out by taking him out and putting in one of the other relievers to prevent this from going out of hand. That's where the importance of bullpen depth come to play, and that's where the Yankees have the edge of all teams in baseball. They can get by Betances' struggles.
Still, it's going to come back and haunt them sooner or later if they keep throwing him out there. It doesn't matter if he goes on a long inning scoreless streak. He's going to find a way to implode in a big spot by giving up a gopher ball. That's his M.O.
Betances is who he is. The Yankees can't change him now.
At some point, when do the Yankees say no more on Betances?