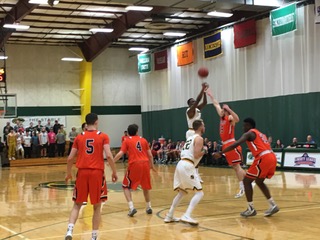 Despite a comeback effort, Skidmore was not able to come all the way back, falling to Hobart on Wednesday night at the Williamson Sports Center in the Liberty League semifinals by a final score of 70-65.
Down by 14 in the early stages of the second half, Skidmore made some changes on both sides of the ball. The Thoroughbreds would then go on a huge run in the following minutes, cutting the Hobart lead to as little as seven in just four minutes of play.
However, Skidmore was not done there. They eventually cut the lead to as little as two in the final minutes of the game but could not get over the edge and would fall after some key missed shots on their side and some clutch free throws from Hobart, especially from Colin Dougherty who made 8/9 free throws on the evening.
Another obstacle was the flat three-point shooting for Skidmore, which they shot just 10/38 on the night, just 26%.
"They dared us to shoot the ball from three which is usually a strength of ours, and tonight it just wasn't," Skidmore head coach Joe Burke said.
In the first half, it remained a very close game despite the lack of offense in the first 20 minutes of play, with Hobart leading 30-27. Neither team shot well in the first half, with Hobart shooting 11/33 and Skidmore 10/29. In addition to this, Hobart had a big advantage in rebounds, 25-18. Hobart did win the overall rebounding battle 48-39. This made things difficult for Skidmore to beat Hobart for a third time this season, as the Thoroughbreds swept the season series.
"We had two wars with them during the year, and we knew that this was going to be another one. We were going to have to play well to win," Burke said. "I looked at the game all three times as a really tough matchup. I think they match up well with us."
On the offensive side of the ball, Hobart was led by Colin Dougherty who scored 26 points, 21 of them coming in a very strong second half for him. Tucker Lescoe had 12 and Pete Drescher tacked on 10. Skidmore was led by Edvinas Rupkus who had 19. Royce Paris had 16 points in his second game back from being out for a month-and-a-half due to injury. Aldin Medunjanin and Jack Morrow added 12 each.
This loss will not necessarily end Skidmore's season, as they hope to receive an at-large bid for the Division 3 NCAA tournament. They fall to 19-7 on the season following the loss.
Hobart improves to 16-10 on the year after the win and advance to the Liberty League championship game for a bid in the Division 3 NCAA tournament. They will be playing in Schenectady against Union, who beat St. Lawrence in the other semifinal game Wednesday, taking them down 110-108 in double overtime. The conference final will be Saturday and a start time is still TBD.