Regional Sports
Hard to stop and slow down the Red Sox
There are no easy outs in the Red Sox lineup, and this lineup is relentless from start to finish.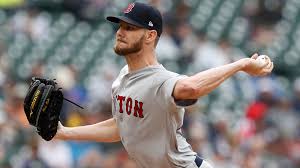 No one will ever confuse these Red Sox to the idiots' version of the Red Sox of 2003 and 2004. This current group does not have the personality of that team.
Still, one can draw a parallel between the 2003 and 2004 Red Sox team to this current team when it comes to their hitting approach and their ability to step up in big moments.
Like the 2004 Red Sox team, this current version is on its way to sweep the Los Angeles Dodgers after grinding out a 4-2 victory Wednesday night at Fenway Park in Game 2 of the World Series.
This Red Sox lineup is so relentless. It takes so much out of a pitcher to get them out. It's hard to finish them off when a pitcher is ahead of the count, and the last out is so hard to get. They know how to take good at-bats by taking pitches and making the pitchers work. They are so disciplined at the plate in which they are not free-swingers. It's like watching the Yankees in the late 90s.
They put the fear and hurt in pitchers, and that has been the case this entire playoff run. Clayton Kershaw, Hyun-Jin Ryu and Ryan Madson can attest to this in the first two games of the World Series. They struggled to finish off the Red Sox with two strikes and two outs, and in the end, they got beat. That's why the Red Sox are up by two in the Fall Classic heading to Los Angeles.
Ryu slowed the Red Sox down by only allowing a run through five innings. The Dodgers hoped he would give them two more innings before going to their bullpen.
It seemed like he was on his way to finish the fifth inning with a 2-1 lead after getting Ian Kinsler to ground out and Jackie Bradley Jr. to pop out. That's where things got interesting and that's where things went haywire.
Christian Vazquez and Mookie Betts were on base by hitting singles, and Red Sox postseason sensation Andrew Benintendi worked the count full before walking to load the bases.
That was the end of Ryu's night, and Dodgers manager Dave Roberts went to the bullpen to get that last elusive out.
Madson struggled to find the strike zone in facing Steve Pearce, and in the end, he walked him to have Vazquez score the tying run. Then, J.D. Martinez hit a two-run single to give the Red Sox a 4-2 lead.
Second-guess Roberts for not taking Ryu out when two men were on base with two outs if it makes you feel better. But the reality is it wouldn't have mattered. The Red Sox are so relentless all across the board in their starting lineup. When their role players are setting the table for their stars to hit, it's a no-win proposition for the pitcher. The Yankees learned that the hard way this season.
Unlike the Yankees, the Red Sox don't rely on home runs for their offensive output. They can manufacture runs, and they can get bloop hits that drives in runs. It's why the Red Sox lineup is tough to stop.
We always talk about great pitching stopping great hitting. Sometimes, great hitting can beat great pitching if a team knows how to grind out at-bats and get that key hit. There's a reason the Red Sox have beaten Luis Severino, Gerrit Cole, Justin Verlander, J.A. Happ, Kershaw and Ryu. Their hitters do not beat themselves out by swinging at bad pitches. They have a clue on how to attack pitchers and they don't stray from it.
It's a credit to the Red Sox coaches and the folks in their farm system for teaching the hitters to be smart at the plate. It's something other teams admire. It's just that's easier said than done. Hitters are creatures of habit, and they will go by what their instincts tell them when it comes to being a free-swinger or not.
The Red Sox won 108 games for a reason. They are in the World Series for a reason. They are two wins away from celebrating their fourth championship in 15 years for a reason. They know how to hit, and there's no one to stop them. The Astros had a good starting rotation, and the Red Sox made their starters look like amateurs by scoring off them.
One can even make a case this lineup is better than the 2004 lineup. That's hard to believe.
The Red Sox hitters are not even well-known guys that you see with the Yankees lineup. These guys are grinders that don't seek attention. They just do their job and go home. They don't need the spotlight to get noticed. They let their performance speak for itself.
The Red Sox are so fun to watch when they are hitting. They make everyone wonder what their hitters will do next. The impression is they are going to do something when their hitters are at the plate. There is so much spunk in them.
All the Dodgers can do is envy the Red Sox en route to a championship.
Certainly, the Yankees are watching at home with envy.