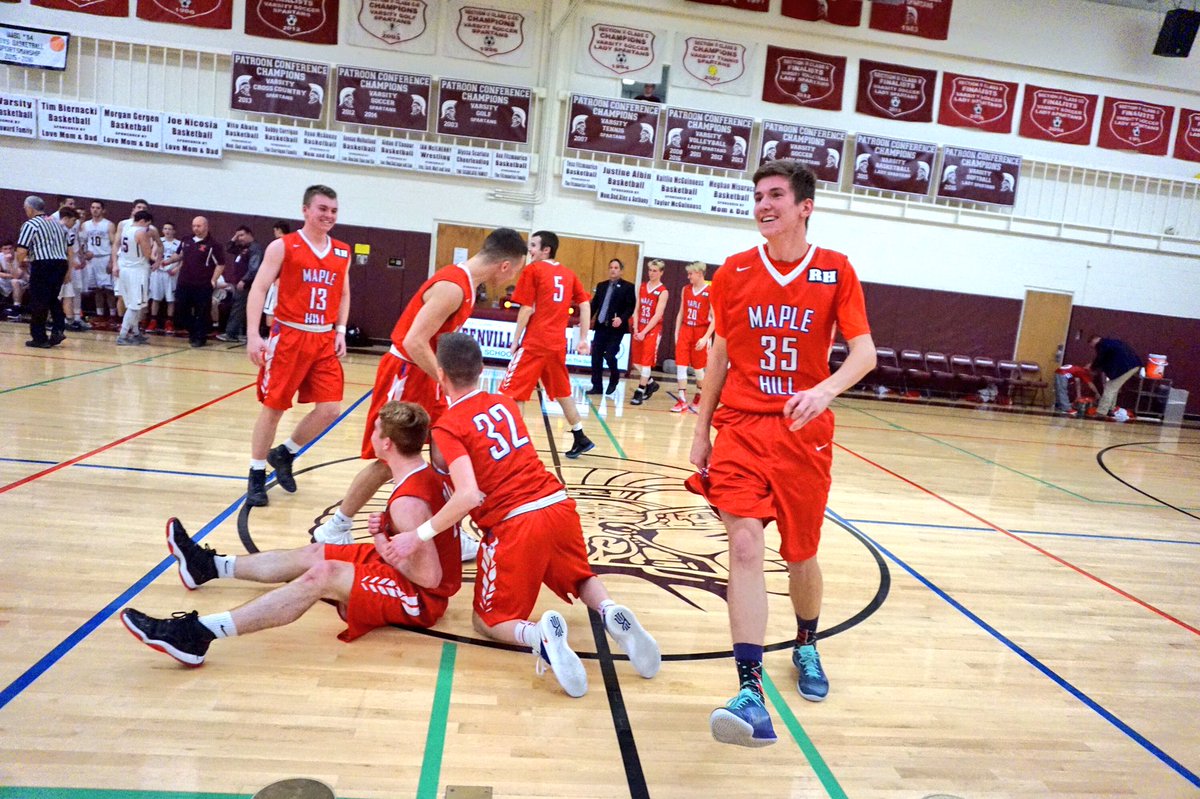 Greenville, NY — Maple Hill and Greenville might not have football programs, but Tuesday's Class C Sectional boys' basketball game certainly felt like that of a Friday Night Lights showdown between a pair of bitter rivals.
Greenville (16-4,12-4 PC) entered the evening as heavy favorites given their seeding position, No.3, 11 spots higher than Maple Hill at No.14, on top of taking both regular season matchups with the Wildcats. But as Greenville showed Maple Hill in the 2015 boys' soccer season, beating a team three times in the same year is easier said than done.
On the same night FOX misfielded its World Series Coverage, the Maple Hill boys' soccer team saw its decorated season come to a close off a Sectional semifinal defeat to a team they had beaten twice in the regular season. That team was Greenville, and it was a season-ending blow one Maple Hill junior would never forget.
Fast forward 19 or so months to Tuesday, February 21, and that Maple Hill junior, now a senior dropped a game-high 24 points on the town that ended his eleventh-grade soccer season.
This mystery player is Maple Hill senior forward Garrett Axtmann, who dug his team out of a hole that could've given Greenville a chance to end a Maple Hill season once more.
Axtmann, a leader on the soccer team, turned into a warrior on the hardwood, converting clutch shots down the stretch and helping to push the Wildcats to a 61-52 victory — punching their ticket to the Class C quarterfinals.
"It was real scary. We were up by 10 points, and they just kept clawing their way back," said Axtmann." This is the last time I'm going to play them in a team sport and [to go out like this] it feels great."
Despite Maple Hill possessing a lead for much of the night, support from the Greenville student section never wavered and at times reflected that of Duke's Cameron Crazies.
"I knew the atmosphere was gonna be crazy. Their fans were great, even though they don't like us. It's a fun place to play, and our fans came up huge too," Axtmann went on to say.
"it was awesome. Crazy right from the tip," said Maple Hill coach Scott Hanrahan."How could you ask for a better place to play?"
The Wildcats advance to take on No.11 Mechanicville, a school they beat in the first round of the Sectional boys' soccer tournament this year, at Hudson Valley Community College on Saturday, at 11:00 a.m.
-Dylan Rossiter – @ByDylanRossiter – Rossiter@518Sports.com–