Why get excited about new Knicks head coach?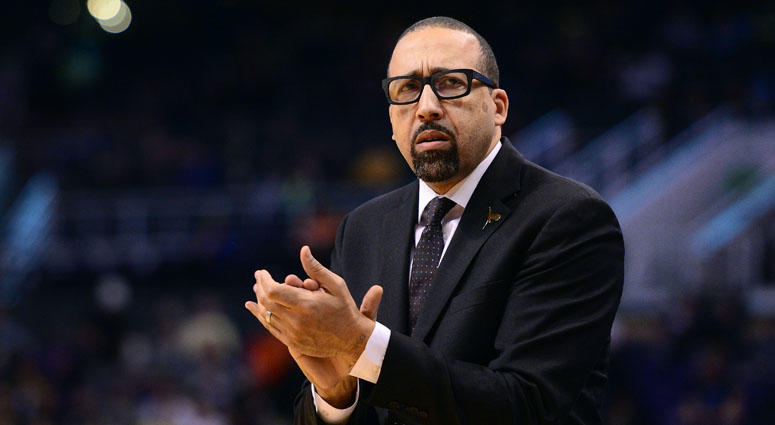 After interviewing 11 candidates for the Knicks head coaching job, a head coach was hired. His name is David Fizdale. He and the Knicks agreed on a four-year contract on Thursday afternoon.
Sure, the Knicks are going to give another tired pomp and circumstances about the virtues of their new coaching hire. Just like they did with Larry Brown, Isiah Thomas, Mike D'Antoni, Mike Woodson, Derek Fisher and Jeff Hornacek just for all of them to flame out. The Knicks will go out and sell hope to desperate rubes who still want to believe in this team.
Look, the hire is a fine choice. Fizdale checks all the boxes to be qualified as a Knicks head coach by relating to the players, being a player development coach and aligning himself with the Knicks braintrust Scott Perry and Scott Mills. He also was suckered enough to actually want to coach the team, so that pleases Knicks CEO James Dolan.
The problem is the Knicks hired coaches that boast great resumes just to flop in the end. They even hired Phil Jackson of 11 rings as an executive to lead the team out of the morass, and that turned out to be a disaster with more of the same in losing and plenty of political backstabbing. So what makes anyone think Fizdale will be any different than his predecessors that tried to make it work?
It's going to be hard for the new coach to do well if he does not have the players as his predecessors discovered. He is not going to work out if the Knicks front office has no clue how to create a winning culture and building a team that is about basketball rather than nonsense. He won't make much of a difference if ownership gives up on him after a year.
As much as the Knicks want to say Fizdale will be different than his predecessors, the truth of the matter is the Knicks front office have to put him in a position to succeed. No one has any clue what Perry will do as an executive since he got here, but everyone has a clue of what Dolan and Mills do since they have been constants to bad basketball for the last 20 years. It's funny these great executives and head coaches come and go yet Dolan and Mills stay.
The point of this column is a new coach won't make much of a difference as long as Dolan and Mills are around. The Knicks hierarchy has given bad basketball for decades now, and they are still here. What makes anyone want to believe things will be different now when it has been more of the same for 20 years? This is why it's hard to be excited about this new Knicks head coach or if candidates such as Mike Budenholzer, David Blatt and Mark Jackson were the new Knicks head coach.
There are already reports Fizdale was hired as a way to lure LeBron James to play for the Knicks next season. If that's the case, that's a stupid reason to hire him. The Knicks should have hired him because they believe he fits the organization's goals of leading them back to prominence, not because he can bring James here.
It's hard to believe James is going to waste his talent and his remaining prime years to the Knicks, even if he and Fizdale are close friends. The Cleveland Cavaliers star is trying to match Michael Jordan for six championships, and the Knicks are not going to give him that chance to fulfill his goal when there are better options for him such as the Houston Rockets.
James did not want to play for the Knicks the first time he had a chance because of Dolan in 2010, so what will be different the second time around? Only rubes would think that would happen, and even then the rubes can't be this stupid, right?
It's already troubling the Knicks hired Fizdale just for that only rather than believe in his acumen to lead the team to the glory years. It's also troubling the Knicks hired a smooth-talking head coach that would treat fans as if they are stupid.
It's fair to wonder what's his motives to coach the Knicks. This team is not winning anytime soon. The Knicks are going to be bad for the next two seasons tops, so one has to wonder what was the point of hiring him. If he is here only for the money, that is not a great thing. The Knicks should hire a coach who will be obsessed about turning the Knicks around.
Fizdale will say all the right things, but no one will care if the results are not there. The Knicks fans are tired of hearing promises after promises.
The head coach is irrelevant to be honest. If the Knicks make a quantum leap to prominence, it will be because Perry and Mills have done a good job of scouting talent that will make the head coach better. In other words, a chef needs the right ingredients for him or her to make a good dish.
Also, Perry, Mills and Fizdale have to agree on almost everything to build this team. That means there can't be sniping among one another. There can't be different philosophies. There can't be change of plans whatsoever.
Good luck to that happening. The saying goes a leopard can't change its spots. At the Garden of Evil, it's hard to believe it will happen.
Forgive me for being indifferent about the new head coach.
After 17 years, the Garden can't sell me or any knowledgeable Knicks fan as a sucker anymore.