What if Porzingis is brittle for NBA?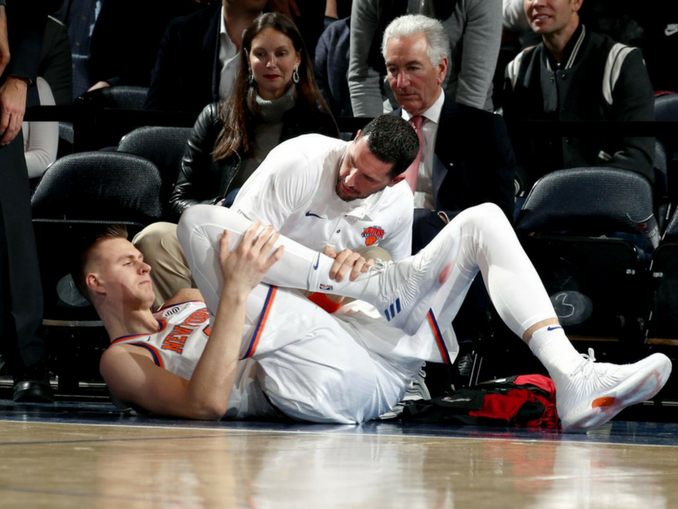 The Knicks snapping their three-game losing streak by taking a 115-86 victory over the Miami Heat on Wednesday night at Madison Square Garden was not the big story.
It was Kristaps Porzingis suffering a right ankle sprain. He left the game just three minutes into the game after Justise Winslow stepped on his right foot while both were pursuing the loose ball.
As soon as Porzingis fell down in pain, the Madison Square Garden crowd and the viewers at home or at a salon knew he was going to be out of the game. It can't be surprising for anyone since he is always injury-prone. Fortunately for him and the Knicks, X-rays were negative. He could have came back and played, but the Knicks wisely decided not to play him for the rest of the night with the team being off for the next three days starting Thursday.
Who knows if he is going to play Sunday night against the Magic or Monday night against the Pacers? Either way, the Knicks are not going to be foolish in rushing him back. That means he may miss a week or so.
Whether he comes back to play or not, doubts won't go away about whether or not the Knicks 7-foot-3 franchise cornerstone can play an 82-game season. Remember he recently had a back injury that has affected his shooting. He also had an ankle injury that had him miss games earlier this season. He has suffered six different injuries from January of 2016 until February 2017 such as his left Achilles, left groin, left leg, right shoulder, right ankle and right foot.
No wonder Madison Square Garden was like a morgue for the rest of the game. No wonder people were worked into a frenzied lather in Twitterland. The Knicks fans know about Porzingis' history of injuries.
It's a reasonable concern. Remember scouts wondered if his body can handle the rigors of playing an 82-game season prior to the draft. HIs game stems from going above the rim, so that means he is going to have to his exert pressure from his aching back to be productive.  It's one of the few reasons why I questioned the Knicks pick, and I am not trying to start revisionist history when I say it. It's always should be the mind of a fan whether or not a player can play a long season, especially for a big man like Porzingis.
It's a risk the Knicks had to take at the time. He was one of the best players in the draft couple of years ago. He has validated Knicks scout Clarence Gaines Jr.'s belief in him by showing he can play in the NBA. He has relished the role of being a franchise player with Carmelo Anthony being discarded to the Oklahoma City Thunder. He enjoys the responsibility of being the star of the New York Knicks. He is one of the few players that can handle playing in New York.
It would be a shame if all of that is negated from his inability to stay healthy. It's alarming he has been playing in pain in this early season. Normally, he starts getting hurt in January. When he is hurt, not only he is going to miss games, but he becomes useless trying to play hurt. Part of his shooting struggles lately is because he is playing through back pain which may have contributed to him falling down Wednesday night.
The concern should be legitimate. A big man like Porzingis can be broken down by injuries to the point his career could be short-lived. Ask Brad Daugherty, Andrew Bynum, Ralph Sampson, Yao Ming, Todd MacCullouch and Greg Oden, who had their promising careers cut short.
For now, Porzingis and the Knicks are not concerned. What choice do they have? Being concerned now would mean being in a state of panic from the Knicks' perspective. The last thing the Knicks star needs to have on his mind is when he will get hurt again.
Knicks fans have every reason to be concerned, though. It just seems everything bad always happens to the Knicks ever since James Dolan took stewardship of the team in 2001. Sometimes one wonder if it's karma for the way Dolan has treated employees that work at Madison Square Garden.
The older generation of Knicks fans enjoyed a good fortune of Patrick Ewing being healthy for the most part of his career. The new generation doesn't know that feeling since they never experienced it. They are latching their hopes on the Unicorn, and eventually, they are going to be cynical the more he gets hurt.
The Knicks are at a crossroads. They need to build a foundation as soon as possible. That means they need Porzingis to be on the court, not on the injured list. They need him to play at least 75 games each year for this franchise to take a step forward. All they can do is hope and pray.
Porzingis will do all he can to stay healthy. He may have to train himself a little bit better such as maybe being careful in how to use his body. He is trying to get a big deal by the Knicks or some other team. He is not going to get it by getting hurt, so he has an incentive to put himself in a position to be healthy.
If that does not happen, Porzingis will have to look at new line of work and the Knicks will have to search for the next franchise savior all over again.