ValleyCats offense comes alive, snaps losing streak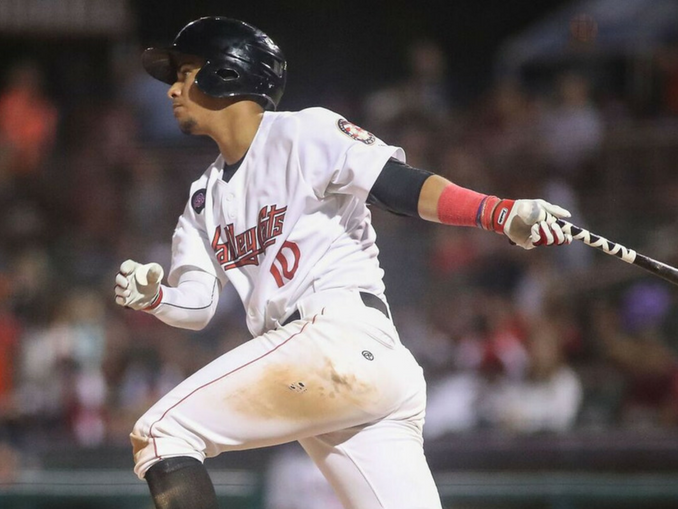 TROY — The ValleyCats used clutch pitching in the late innings and a big fifth frame and carried that to salvage a win in the final game of their homestand, a 9-2 victory over the Hudson Valley Renegades on Saturday night.
The ValleyCats hit the board first in the fourth inning as they took a 1-0 lead on an RBI single from Michael Wielansky.
The next inning was the big one. Trey Dawson led off with a single, and two batters later Alex Holderbach came up with the first big hit of the frame as he sent a single into right field, scoring Dawson and making it 2-0. Overall, Dawson had a big night as he went 4-4 including two doubles, two RBI's and three runs scored.
The next batter, Alex McKenna, singled for his first professional hit in his first game. Two batters later it was Gilberto Celestino coming up with a clutch hit, a two-run double that extended the lead to 4-0. Juan Pineda tacked on a fifth RBI with a single to make it a five-run advantage for the 'Cats.
"It was definitely needed. It was kind of a pressured game, there was lots of baserunners by both teams and so even though we had the lead it was never like we had full control, so that was definitely a big inning," ValleyCats manager Jason Bell said.
On the other side of the ball, the Renegades threatened in two straight innings, getting out of no out, bases loaded jams in two consecutive innings, and only allowing one run as the Renegades sent a combined 14 hitters to the plate between the two innings. Juan Pablo Lopez came up big in each of those two innings, getting the last out in the sixth inning after Shawn Dubin left with the bases loaded and worked himself into and out of trouble in the seventh.
"Obviously, we're not always going to have our best stuff when we're out there, so it was nice to see him compete and battle, even when it was bases loaded, nobody out. That was a nice job just to limit," Bell said.
McKenna, the Astros' fourth-round draft pick this year, was making his professional debut in Saturday's game. He went 1-4, also adding on a sacrifice fly in the sixth inning that extended the ValleyCat lead.
"It was cool. Definitely a cool day, I'll remember it for a long time," McKenna said of his professional debut.
After McKenna's sacrifice fly in the sixth that made it 6-2, the 'Cats tacked on three more runs on three hits in the seventh inning, featuring RBI hits from Dawson and Jose Carrillo. Seven of the nine ValleyCat starters drove in runs, and eight had a hit.
The ValleyCats end up taking one of three from Hudson Valley, upping their season record to 8-7. They are on the road for the next three days, heading up to Vermont to play the Lake Monsters. They will actually be playing six straight games against Vermont, as after the three in Burlington, the two teams will come back to Troy for three more. Game one of that series is set for July 4th at Joe Bruno Stadium and first pitch is set for 6:30 p.m.