UAlbany final non-conference schedule predictions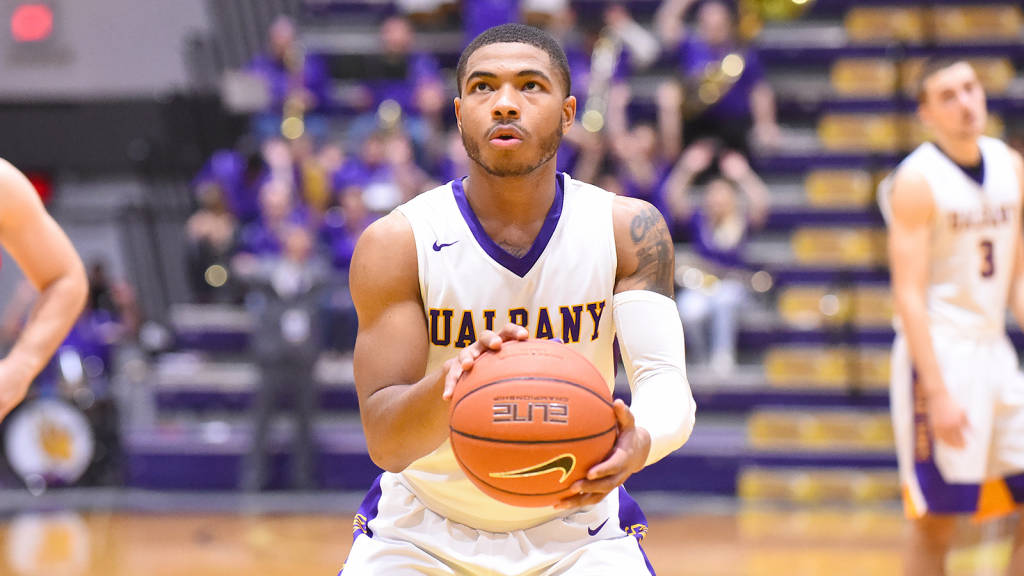 The University of Albany Great Danes men's basketball have looked quite stellar to start the 2017/2018 season and now after a close 75-69 win against Colgate last Wednesday at SEFCU Arena, they improved to 7-1 overall. They are now halfway through non conference play and are favored in five of the next seven games. Here is how the Great Danes match up and a possible outcome of what their record will be heading into America East conference play.
Coming up next this Saturday for the Great Danes is Columbia University. Columbia will head to Albany, New York, losers of four straight, with a record of 1-5 and coming off a tough loss to the University of Connecticut. I applaud Columbia for scheduling tough teams in Villanova, Penn State, Connecticut and Colgate so far and keeping the games close at times but UAlbany shouldn't have a tough time with them. According to ESPN's Matchup Predictor UAlbany has a 76.6% chance of coming out with a win. They're also at home which will play a big part especially if the game gets a little close. Predicted final score: UAlbany 82 – Columbia 72.
Next up is Bryant University. Bryant is currently 1-6 on the year so far and probably won't give the Great Danes a hard time either. Bryant is coming off a loss to Yale and UAlbany has already handed Yale a loss this year. ESPN is giving UAlbany a 92% chance of a win. The Great Danes should not take this for granted because Bryant does have a few players who can break loose and score 20+ points so they must be aware of those players and play excellent defense. Predicted final score: UAlbany 85 – Bryant 67.
December 9th is a matchup against Siena College for the Albany Cup crown and bragging rights for the best college basketball game in the Capital Region. As of today, Siena is 1-5 and just does not look like they have a chance against the Great Danes. UAlbany has a size advantage which shows as they average more rebounds per game than Siena does. UAlbany shoots the ball better and averages ten more points per game so there is no surprise ESPN's Matchup Predictor gives the Great Danes a 75% chance of winning and taking the Albany Cup for the second straight year. Predicted final score: UAlbany 88 – Siena 70.
Now this will be UAlbany's toughest test this year to this point. They will travel to Memphis, Tennessee to take on the University of Memphis Tigers. Memphis has tradition of winning and currently sit at 3-2 with one loss coming to the University of Alabama who is currently ranked in the top 25 and the other to University of Alabama at Birmingham last night. Memphis definitely has the size advantage in this matchup with three of their five starters at 6' 8'' or taller. With this I wouldn't be surprised if Memphis uses this to their advantage and attacks the paint on a consistent basis. However, the Great Danes are a tough group of guys and will fight to the very end and keep the pressure on Memphis and throw multiple defensive looks at them. This game should be close until the very end but simply Memphis is just too big and will pull away late. Predicted final score: Memphis 75 – UAlbany 68.
After a tough loss to Memphis, UAlbany will have four days off to get ready for Canisius College back home at SEFCU Arena on December 16th. Canisius is sitting with a 3-4 record and are predicted to finish near the bottom of the MAAC Conference this season. The Great Danes will bounce back and grab a win against Canisius after returning home from a tough hard-fought loss. Predicted final score: UAlbany 81 – Canisius 72.
UAlbany will then face off against the University of Louisville Cardinals. Louisville's current record is 4-1 and sits at number 17 in this week's top 25. Louisville is given an 84.3% chance to win this game according to ESPN's Matchup Predictor and that is probably a good prediction. UAlbany has always had troubles with top-tier Division I (non-conference regular season games and NCAA tournament games) teams and this match up will be no different especially since the Great Danes will be on the road. The Cardinals are a great defensive team. They allow only 63.8 points per game and average 6.6 steals per game. Because of sheer size they average close to four more rebounds per game than UAlbany does. Expect the Great Danes to be overwhelmed and fall behind early and not really recover. Predicted final score: Louisville 82 – UAlbany 64.
UAlbany should be able to finish non conference play on a good note as they face off against Kent State University who is currently 4-3. This will be the Great Danes' last home non conference game and they have a 73.8% chance to come out of the winning end. Predicted final score: UAlbany 80 – Kent State 73.
The University of Albany Great Danes men's basketball team will come out of the back half of their non conference play with five wins and two losses and extend their current record to 12-3 heading into conference play. Now, the Great Danes are predicted to finish second in the America East right behind Vermont. Two games against Vermont, one on January 24th and the second on February 2nd will determine who wins the conference. If UAlbany can squeak out one (or two which would be a bonus) of those games they will have a great chance of pulling out in first play for the America East regular season crown.