Thursday's Frozen Four Preview and Predictions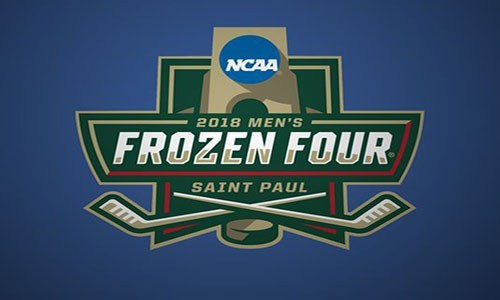 As the teams prepare to make the trip to St. Paul, Minnesota for the 2018 NCAA men's hockey Frozen Four, we take a look at the matchups.
#1 Notre Dame (27-9-2) vs #2 Michigan (22-14-3)
Notre Dame has dominated the Big Ten all year, winning the regular season title as well as the conference championship. They were one of the favorites to win the national title heading into the tournament, and are absolutely the favorite to win right now. The Irish have a lot of high-end talent, led by forwards Jake Evans (team-leading 42 points) and Andrew Oglevie (2nd on team with 36 points). They're deep in the forward department, with other contributors like Dylan Malmquist, Cam Morrison, Cal Burke, and Colin Theisen. Their offense certainly does not come at the expense of their defense, however. Notre Dame boasts arguably the best defensive corps in the country, led by senior Jordan Gross, who scored the game-winning overtime goal in their first round matchup with Michigan Tech. If the puck somehow manages to get through the defense, they have pretty decent insurance in the form of goaltender Cale Morris. Morris leads the country with a .945 save percentage, and has posted 4 shutouts, all of this while playing in arguably the best conference in the nation. For Michigan, they started the season 8-10-2 under first-year head coach Mel Pearson before making an absolutely remarkable turnaround. They're 14-4-1 since, and are making their first Frozen Four appearance since 2011. The Wolverines have a dynamic top line of Dexter Dancs, Cooper Marody, and Tony Calderone, and also boast quite possibly the best defenseman in the country (Sorry, Cale Makar) in freshman Quinn Hughes, who should be a surefire top 5 pick in the 2018 NHL Draft. The only question mark for Michigan would be in net, where sophomore goaltender Hayden Lavigne has recorded a save percentage of .908%, the lowest among the Frozen Four goalies. He's played very well in this tournament, however, and he stopped 69 of 71 shots (.972%) in a weekend set with Notre Dame earlier this season, so he can definitely handle the Irish. With all of this being said, it's still extremely hard to pick against Notre Dame.
#1 Ohio State (26-9-5) vs #3 Minnesota-Duluth (23-16-3)
Ohio State became the third Big Ten team to reach the Frozen Four this year, when they blew out the defending champions, Denver, to the tune of a 5-1 victory. This might be the best team in the Buckeye's program history, and they're in the hunt for the team's first-ever national title. Flyers draft pick Tanner Laczynski has been dynamite for this team all year long, leading the way with 46 points. They have a very balanced top 6, with the aforementioned Laczynski leading the way along with the team's leading goal scorer, Mason Jobst (21 goals). However, a player worth highlighting is Dakota Joshua. The junior has a career-high 15 goals, and anchors the second line very well. Not to mention that this team is doing all of this without senior forward Matthew Weis, who had 37 points in 37 games before his season ended just prior to the Big Ten tournament due to an undisclosed arm injury. Sean Romeo has also been great in net, posting a .927 save percentage on the season. For Duluth, they're making their second consecutive Frozen Four appearance, and hunting for their second national title, having previously won in 2011. The Bulldogs boast some of the top talent in the nation, with Scott Perunovich, Joey Anderson, and Riley Tufte. If those names sound familiar, that's because all three skated for Team USA in the World Junior tournament this past fall. They have a ton of forwards who can get it done offensively, including Karson Kuhlman, Peter Kreiger, Jared Thomas, and Parker Mackay. They have a dynamic set of defensemen, with Perunovich, Nick Wolff, Dylan Samberg, and Mikey Anderson, among others. Goaltender Hunter Shepard has been stout all season long, with a .924 save percentage. The Bulldogs reached the title game last season, and I'll say they do it again this year.