There was no honeymoon for Boone in Yankees' home opener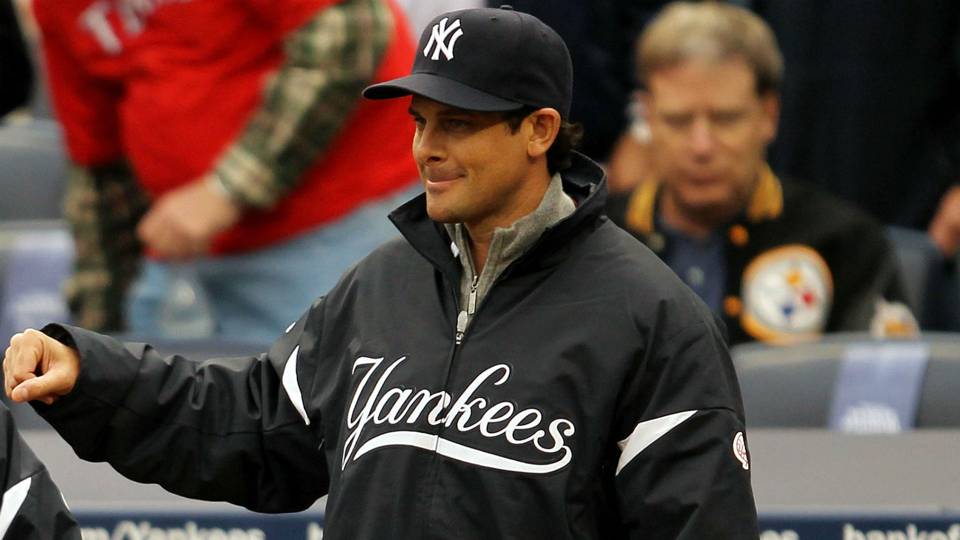 Aaron Boone knew what he was in for when he was named the 33rd Yankees manager in franchise history. Yankees general manager Brian Cashman also knew what he was in for when he made that hire to replace a great manager in Joe Girardi.
There would be interesting managerial moments from the neophyte this season. There was no way around it being that Boone never managed or coached a day in his life.
It couldn't be surprising it was this soon already. It's been five games, and already Boone is on the spotlight for his managerial moves. He has made questionable moves when it comes to managing a bullpen during the Toronto Blue Jays series and in the Yankees' 11-4 home opener victory over the Tampa Bay Rays Tuesday afternoon at Yankee Stadium.
Not surprisingly, the New York media and Yankees fans took Boone to task. There are already fans pining for Girardi to come back from listening to sports radio and reading social media after Sunday's Yankees' 7-4 loss to the Blue Jays.
It started on Sunday with the Yankees clinging to a 4-3 lead over the Blue Jays in the eighth inning with two men on and two outs, Boone decided to have David Robertson walk Josh Donaldson to load the bases and have his reliever face Justin Smoak. That burned him since Smoak hit a grand slam that gave the Blue Jays a 7-4 lead.
It was an interesting decision with Donaldson struggling in the series and Smoak playing well. The manager applied using analytics by walking Donaldson to face Smoak, who struggles against Robertson. It sounded like it made sense, but there's where analytics can be screwy. The numbers may say one thing, but not all one thing is going to be the same. Sooner or later, the hitter will figure a pitcher out.
Smoak hit six times in the series prior to that grand slam. It did not make sense to face a hitter who was in a groove, especially with the bases loaded. Donaldson has been struggling with his shoulder hurting, so it made sense to take a chance to face him rather than face a hot hitter. This is what we call common sense.
This is where Boone has to use his brain here. This is where experience comes to play. Intuitive moves also matter when it comes to managing a game. It's about using common sense to make a move. This is where the Yankees manager has to be held accountable.
Boone did not apologize for making that move. He mentioned he went with his gut by using the numbers in play rather than look at the situation. He said that's the way it goes in sports.
Let's chalk this up to inexperience. If the Yankees manager had to do it again, he would have not have his reliever face a hot hitter with the bases loaded. He will learn through experience.
With the Yankees taking a 4-1 lead over the Rays in the sixth inning, Boone made a move that had everyone first-guessing him on social media. He took Jordan Montgomery out after 80 pitches in five innings, and he put in Jonathan Holder, who does not inspire the fear of anyone.
Here's why it was understandable to take Montgomery out for two reasons: The Rays were facing him for the third straight time, so Boone did not want to have him out there again. Plus, he was likely told by Cashman not to overextend Montgomery this early in the season with the weather being cold. It was not taking the starter out that elicit criticism.
His decision to use Holder was an eye-opener. He's not an effective reliever in a tight game. His reliever had nothing from the start. His command wasn't there, and not surprisingly, the Rays feasted on him by getting four hits and driving in a run. It was the end of his day when he had the bases loaded with one out in the sixth inning.
Boone was going to use Tommy Kahnle in the seventh inning, but he had to use him out of desperation to keep the lead despite the bases loaded. That did not turn out well. Denard Span hit a two-run, two-out double off Kahnle that would tie the game at 4.
The boos were loud. There was no question it was directed at Holder and Boone for having this game tied.
He was better off using Kahnle to throw for two innings in this game if he was going to take his starter off. There was no reason to use Holder out there in a tight game. This is where he let analytics get in the way again. It was common sense to use Kahnle to start the sixth rather than use him to inherit the mess that Holder created. In a tight game, there was no reason to use a C-level reliever.
Fortunately for Boone, it was no harm no foul. The Yankees created a big inning of their own in the seventh by having Tyler Austin start the inning with a double and Brett Gardner being on second on a throwing error, scoring Austin that would give the Yankees a 5-4 lead. From there, Aaron Judge hit a single that would set the stage for Didi Gregorius to hit a three-run home run in extending the Yankees' lead to 8-4.
Still, Yankees fans won't let him forget it. It's how they are. They expect perfection from their team. They always think ahead with the postseason in mind, and these moves make one worry about Boone.
Their reasons should be justified. For all of Girardi's warts, one thing about him is he knew how to manage a bullpen, which is a trait of a good manager. It remains to be seen if Boone can do that.
Hiring Boone was a risk. Cashman understood that, and he realized that. Still, he wanted to find his next Dave Roberts or A.J. Hinch, so he thought Boone was that guy. Maybe he turns out to be right. We have to wait and see since Boone is going through trial and error.
Boone knows there is no learning curve or grace period. Yankees fans have been impatient as it is that their team is on a nine-year championship drought already. They are not going to wait anymore. He understands there's always going to be scrutiny when it comes to managing a Major League Baseball team. He has been around the game forever to know that since he saw his father managed the Kansas City Royals and Cincinnati Reds.
Yankees fans demand Boone to get better. The expectation is championship or bust. The Yankees should have gone to the World Series last year, but they choked a 3-2 series lead to the Houston Astros in the American League Championship Series and bowed out.
Boone knew that going in when he took the job, so he is not seeking sympathy or empathy.
Cashman knows the blame will be on him for firing a successful general manager, so there won't be grace period for him.
There was never a honeymoon for Boone. He understood that. Such is life as a Yankees manager. He was reminded of that loud and clear in the Yankees' home opener.