Sooner or later, Mets have to trade deGrom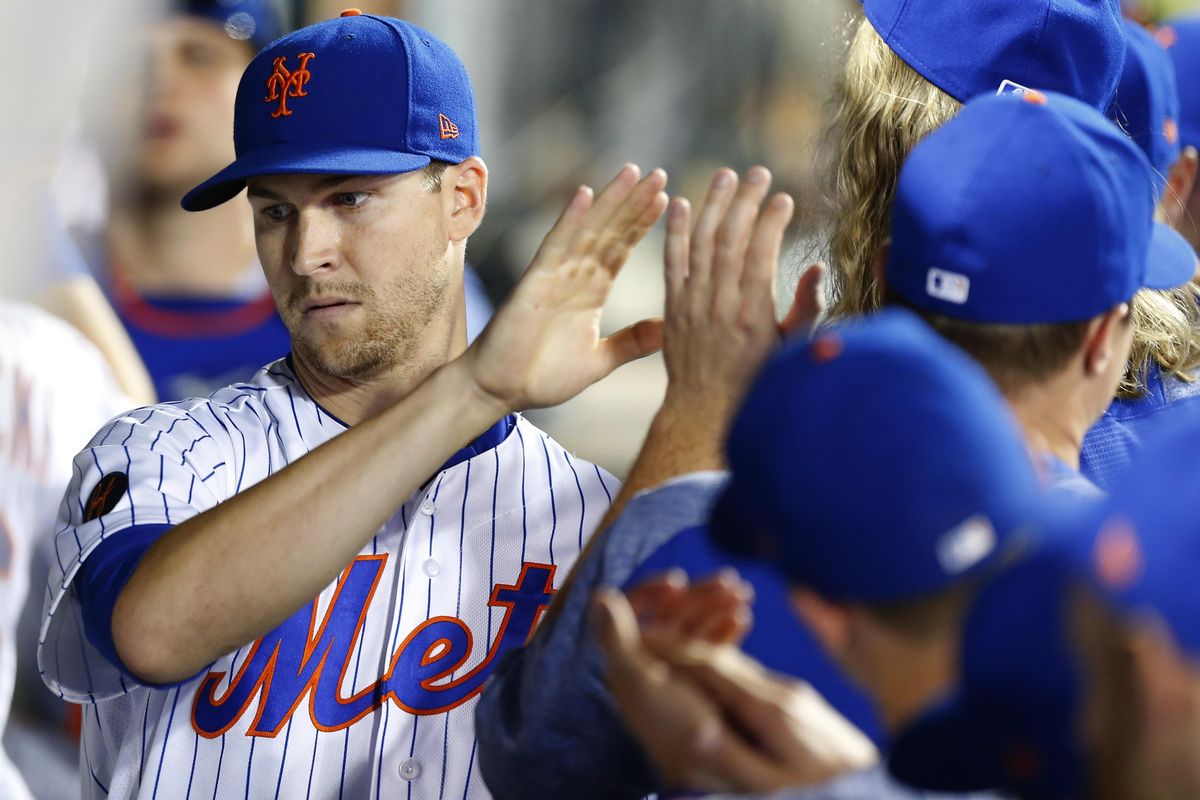 Mets ace Jacob deGrom put on his usual masterpiece Wednesday night at Citi Field.
He pitched eight shutout innings and allowed only five hits and one walk while striking out seven in his start against the Philadelphia Phillies. He finished his night by throwing 113 pitches that prevented him from going nine innings.
Of course fate would have it that deGrom would get no run support. That has been the case in most of his starts this season, which he would pitch well but not get run support. He has had 10 no-decisions and two losses as a result. At least he can feel good knowing his ERA has been lowered to major-league leading 1.68.
It would have been a waste of another brilliant start had Brandon Nimmo not hit a three-run pinch-hit game-winning home run off Mark Leiter Jr. in the 10th inning that gave the Mets a 3-0 victory over the Phillies.
The Mets lone All-Star predictably said the right things about he only cares about his team winning and his mindset is not to give up a run when he is on the mound when he spoke to the media after the game. He said that so many times this year that one would think it's a cliche.
Deep down, he has to be frustrated that he is pitching for a team that is terrible and won't be getting better anytime soon. He is only human, and the best pitchers don't want to waste the prime of their career on a bad team. He is 30 years old, and no one knows if he can sustain this great run forever. He has given the Mets five great years of service, and he has put himself in a position where his number could be retired at Citi Field one day.
He is two years away from being a free agent, so pitching for a World Series contender is going to be appealing to him. With the Mets being in a horrible predicament, they will have to make a tough decision of whether or not they trade their star.
deGrom won't be traded this season because he is the only reason to watch the games on television and at Citi Field. The Wilpons know SportsNet New York is their cash cow, and if they trade their starter now, SNY's ratings would be hideous, and that means the Wilpons would lose revenue out of it. Also, with the Mets in transition of finding a new general manager, they are in no position to trade him until the offseason, which is the right tact to take.
But sooner or later, the Mets can't stall on trading deGrom. This is their best opportunity to trade him since he has a team-friendly deal. He can help a team for awhile, which makes it easy to trade him. It's going to be hard to trade him in his final year of his deal.
Mets interim general manager John Ricco believes his team can contend next season if players such as Yoenis Cespedes and Noah Syndergaard are healthy and if Michael Conforto can bounce back from an awful season and if Amed Rosario and Dominic Smith develop into stars. So many ifs which makes it a flawed theory. Plus, no one can ever trust what a front office official is going to say publicly.
Ricco is not qualified to be the next general manager, but he is not stupid, either. He knows the Mets have to replenish their farm system and they need to get established young players, and the only way to do that is to trade deGrom for guys who can contribute now and in the future. Certainly if the Mets hire a general manager outside the organization this offseason, he is going to trade deGrom to build a blueprint for the future.
The Mets can sign deGrom to an extension, but he is going to want to be paid like one of the top pitchers in baseball, and he earned it. It's not ideal for the Mets since they are not going to pay him and give that many years in his 30s, which does not make sense for any team. It's also fantasy thinking since the Wilpons are not in the business of overpaying guys to stay.
Trading the Mets ace is the right way to go whether the Mets coaches and players like it or not. The Mets fans are realistic to know the only way the team can accelerate the rebuilding process is to trade him.
There's no point keeping deGrom when the Mets are going to be awful for the next two or three years despite the denial of the Wilpons. There's no reason for him to be with the Mets if fans don't show up to Citi Field to watch him pitch, which was the case against the Phillies. If fans are apathetic about watching their star player pitch every fifth day on television, this should make it easy for the Mets to trade him.
Watching deGrom dissect the Phillies lineup all night long by averaging 14 pitches per eight innings, it's sad to see his work be wasted on a bad team. He shouldn't be subjected to this, and the Mets shouldn't have to watch this, either.
For the Mets not to give him run support, it's an indictment of the job Sandy Alderson did in building the Mets in his tenure as Mets general manager. That's why trading their best pitcher since Dwight Gooden would mean a fresh start for him and the new Mets general manager.
Something has to give sooner or later or else the Mets can see deGrom do his thing for the Yankees when he is a free agent.