Siena's season ends at hands of Quinnipiac in conference tournament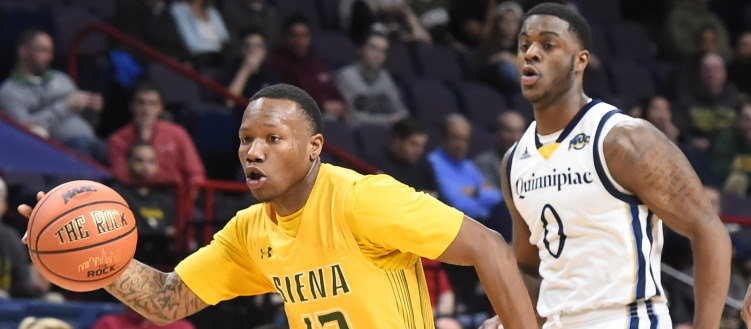 ALBANY — Siena made a run in the second half but were no match for Quinnipiac's dominance in the first as they fell in the opening round of the 2018 MAAC Tournament on Thursday night at the Times Union Center, 67-58.
The Bobcats came out strong in the first minutes of the game, hitting each of their first eight shots to take a commanding 21-5 lead. Their first miss came just over six minutes into the contest. That run was even more damaging for the Saints due to the fact that five of those eight shots were threes, two of which came from freshman Jacob Rigoni who had eight points during that run. Two more came from Cameron Young, while the fifth was courtesy of Rich Kelly. All in all, Quinnipiac hit seven threes in the first half.
"We just had an aggressive mindset, that's what we've been talking about to end the season," Quinnipiac coach Baker Dunleavy said. "I was excited about the aggressiveness that we opened with really on both sides of the ball, and I felt like we were really aided offensively by the way we defended early."
Meanwhile, Siena really struggled shooting the ball in the first half, just 22% from the field in the first and 1-10 from behind the three-point arc. Due to this, they found themselves trailing by 24 at halftime, 40-16.
"They came out with a lot of energy and (were) ready to go," Siena coach Jimmy Patsos said of Quinnipiac's first half. "They just weren't going to miss. We tried every defense."
In the second half, the Saints came out much better as they cut into their deficit. They were down eight with the ball with under two minutes to go but were never able to claw any closer than that. It did not help matters that Prince Oduro fouled out with just under eight minutes to play, and Siena went without their big man in the middle. He finished with eight points in the final game of his first collegiate season. Khalil Richard finished with 12 points, and Jordan Horn had 10.
"Proud of my guys for fighting the way they did in the second half," Patsos said.
After all of this, the standout statistic was one of three-point shooting. Siena shot 4-20, while Quinnipiac went 11-26. Horn, Siena's usual sharpshooter, had an off night as he finished 2-8 from behind the arc. It was Quinnipiac's Rigoni with the big night from behind the line as he went 5-8 as part of a 17-point performance. He finished with the second-most points on his team, only behind Kelly, who had 18.
Siena's season is over following the loss, finishing the season with a final record of 8-24.
Quinnipiac will advance to the quarterfinals of the conference tournament, earning their first MAAC tournament win since 2014.
"It's a good thing for our program, it's a good thing for our fans, our students, everybody involved, and we take pride in being able to come in here and get a win," Dunleavy said, who is in his first season as the team's head coach.
The quarterfinal game will be played on Friday night as Quinnipiac takes on the #2 seed Canisius at the Times Union Center. Tip-off is set for approximately 9:30 p.m.