Siena falls in Franciscan Cup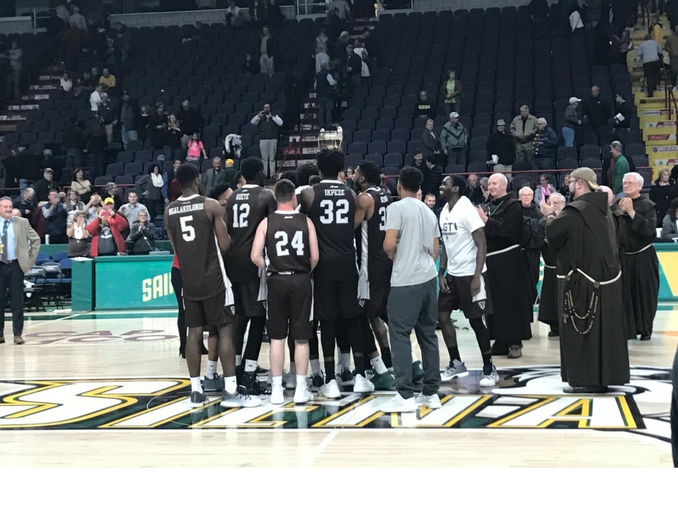 ALBANY — A career night from Ahsante Shivers was not enough for Siena in the 2017 edition of the Franciscan Cup against St. Bonaventure as they fell on Wednesday night at the Times Union Center, 75-55.
The game was close for most of the first half as the score was 22-20 Bonnies with less than five minutes left in the first frame. Matt Mobley hit a three for St. Bonaventure to make it 25-20, and then Josh Ayeni made it 27-20. That is when the wheels fell off for the Saints as freshman Christian Bentley had a three-pointer go in and out.
St. Bonaventure capitalized after that, going on a 13-1 run to end the first half and heading into the locker room with a 14-point lead after being up by just two late in the half.
"We have to finish the first half better," Siena freshman point guard Roman Penn said. "Those last four minutes we had to play better than that. They made a run, we didn't respond."
The Saints shot 6-25 in the first half and 1-9 from three-point range during the first 20 minutes of the contest. They finished the game 4-20 from three.
"A couple shots didn't go in that were key for a young team to hang around, and that's when it got to around 18, 20. I'm proud of my guys not quitting. The second half was much better," Siena head coach Jimmy Patsos said.
On the bright side for the Saints, they saw sophomore Ahsante Shivers finish with a career-high 19 points, topping his previous record of 16, set earlier this season against Lehigh on November 17. He shot 5-14, hitting a pair of three-pointers, and went 7-9 from the foul line.
"Shivers just gave it all he had," Patsos said.
Siena began a comeback effort in the second half, but the Bonnies pulled away to secure the victory for their second straight Franciscan Cup game victory, their fifth overall since the series was renewed in 2010. They have a 5-3 edge in the annual meeting.
With the win, St. Bonaventure improves to 4-2 on the season. They will be back in action on Saturday, December 2, as they continue their road trip for a tilt against SUNY Buffalo. That game will begin at 2 p.m.
Siena falls to 1-5 on the year. They will also play again on Saturday, taking on Robert Morris as the Saints conclude their three-game homestand. That game will also begin at 2 p.m.