Siena embracing underdog role in 2018 MAAC Tournament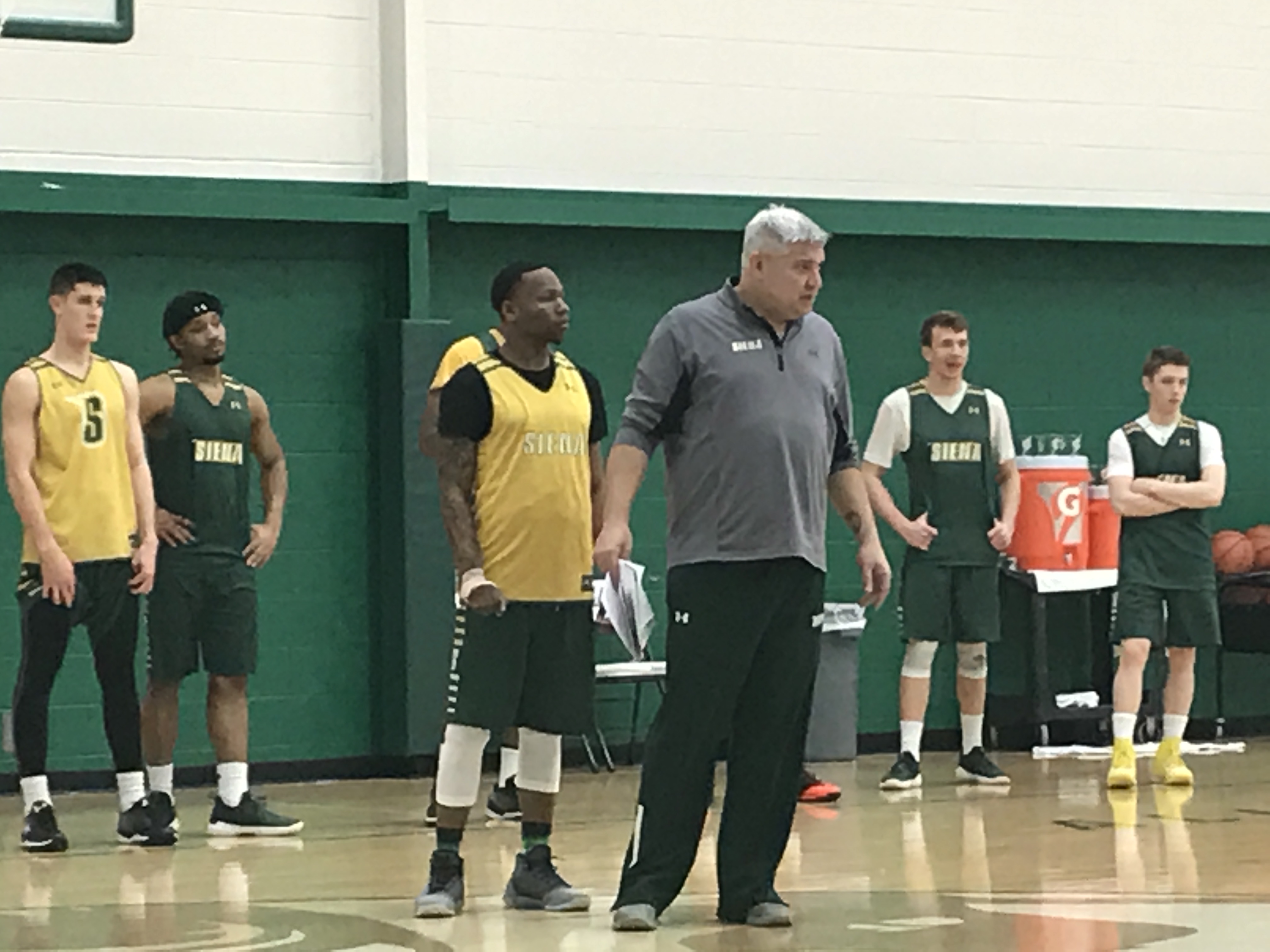 LOUDONVILLE — Siena's regular season did not go as well as they had planned it to. Luckily for them, a whole new season for a team that finished 4-14 in conference play begins on Thursday night.
They come into the 2018 MAAC Tournament as the #10 seed out of 11 teams, finishing only ahead of Marist via tiebreakers. With a very young group with many key players playing in their first conference tournament, they believe that being an underdog is good for them going in.
"I think we have an underdog mentality, but now everyone's 0-0, nothing about records or anything. It's everyone just trying to fight to stay alive," Saints freshman forward Prince Oduro said on Wednesday. Oduro earned an all-MAAC honor on Monday, being named to the conference's all-rookie team.
The #10 seed marks the lowest seeding for Siena since the 2005 edition of the tournament, when the team also held the #10 seed. Then, the MAAC had 10 teams as opposed to the 11 current teams.
The Saints come into this year's conference tournament on the heels of a heartbreaking loss in the conference final last year to Iona, losing in overtime. However, this year's group did not have the kind of success that last year's did, but the Saints are looking to wipe that slate clean.
"Everybody's in the same situation, fighting for a (NCAA Tournament) bid by winning their conference championship," Siena coach Jimmy Patsos said Wednesday.
Siena redshirt junior Kadeem Smithen echoed that statement. "It's like a completely different season. Zero, zero, clean slate."
Siena will be playing on the first night of the tournament for the first time since 2015 and will be taking on Quinnipiac. The Bobcats swept the season series against the Saints, winning in Albany on January 1 in a tight 71-70 tilt that ended in Siena's final shot being blocked. The rematch came on January 21 in Hamden with Quinnipiac winning 76-69.
At that point in the season, Quinnipiac was in the conversation to finish in the top five in the conference and earn a bye to the quarterfinals. However, they have been on a downward spiral in the month of February, going 1-7 in the final month of the regular season and finishing the year on a three-game losing streak, finally earning the #7 seed following a double overtime loss to Manhattan last Sunday. They finished the regular season with a conference record of 7-11.
They have three players that average 10+ points per game, a balanced offensive attack. Cameron Young is the leader with 18.9 PPG to go along with 6.6 rebounds per game. Chaise Daniels averages 11.4 points per game, while freshman guard Rich Kelly has earned his keep all year with 10.9 PPG, unanimously being named to the MAAC all-rookie team.
"I think we were a little lackluster in our effort, I don't know why, down there," Patsos said. "Here, it was a forty-minute game. We can play with them. I'm just saying, when you look at their record, they're sneaky good, they're a very good team."
The opening-round game between the Saints and Quinnipiac will be at the Times Union Center on Thursday and will begin at approximately 7:30 p.m., a half hour following the conclusion of the first mens' game of the night, Saint Peter's against Monmouth. The game will not be televised, but can be streamed online with ESPN3.