Boys' Basketball: Saratoga grabs big win over Shaker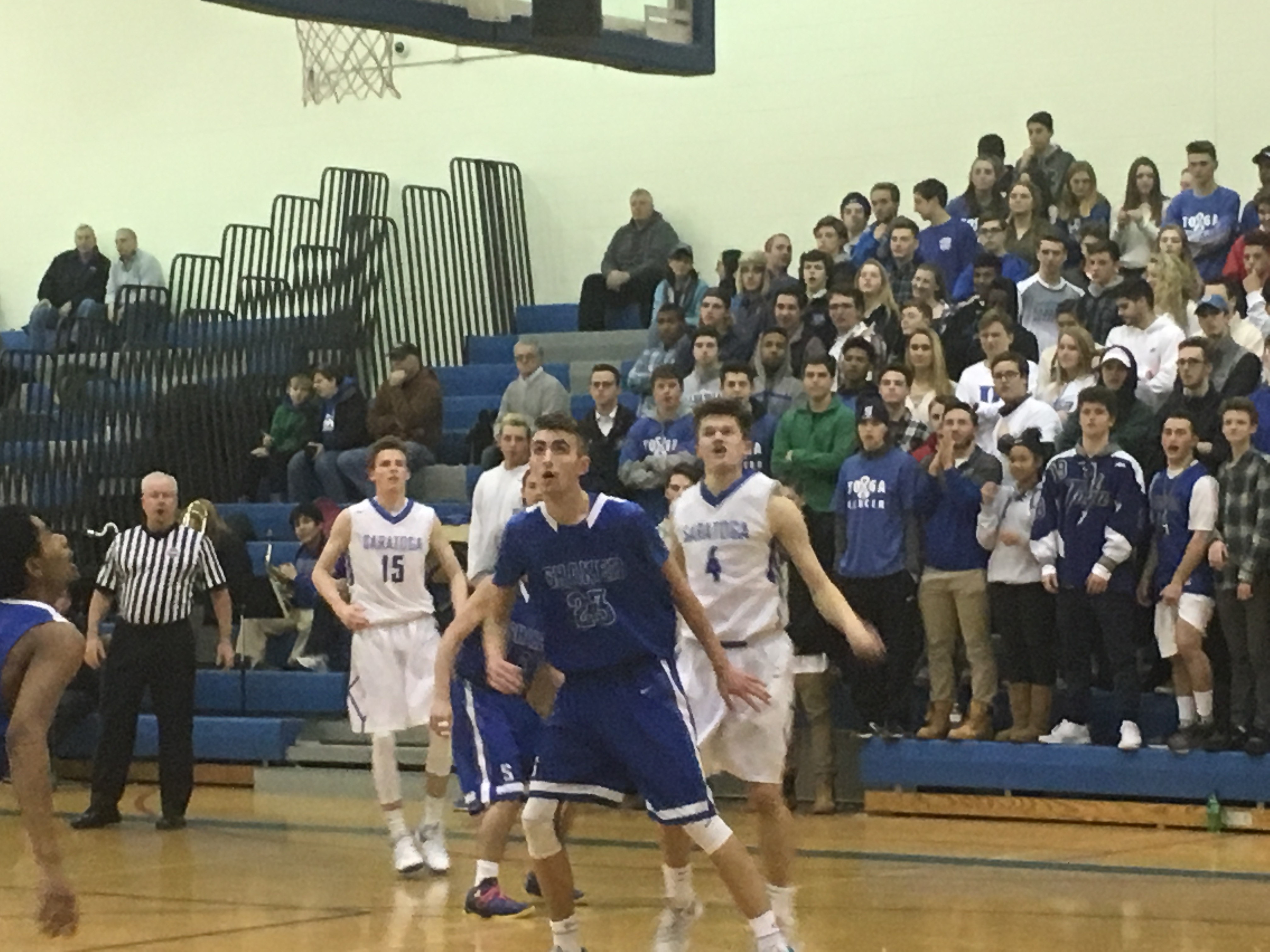 Saratoga Springs, NY — After Shaker made it a close game, Saratoga came up with clutch shots late to secure a victory on Friday night at Saratoga High School by a final score of 65-57 in a battle of two of the top teams in the Suburban Council.
Being up by just two at the end of the third quarter, Saratoga would have to turn things around after having as much as an 11-point lead during the first half, and Shaker was closing in quickly. The two squads exchanged runs for the majority of the fourth quarter, until Matt Larkin hit a huge three-pointer with 2:29 to play that made it 60-55 and put Saratoga up for good.
"The guys worked hard. They hit shots when they needed to, they executed on both ends of the floor, so it was a pretty clean game overall. We were pretty happy with it," Saratoga head coach Matt Usher said.
Larkin's three-pointer was a little bit of déjà vu for the Blue Streaks, as AJ Lawton had set the tone for the final quarter of play by hitting a three with 2:04 left in the third to put Saratoga up 45-40 at that point.
The momentum of the contest had been going in the direction of Saratoga nearly the whole way, as they had jumped out to a big lead early and led by seven at the end of the first quarter of the evening. That would end up playing a key role en route to Saratoga's fifth consecutive victory.
"The kids were jacked up, you could tell they were ready to play tonight. Credit to Shaker, they made a run, they hit some shots, they cut into the lead. I was glad to see us weather the storm," Usher said.
On the offensive side of the ball, Saratoga was led by Brian Hart who scored 21 points Friday. Adam Anderson scored 20, and AJ Lawton had 11, continuing a season-long trend of having multiple scorers in double-figures.
"It's great because if they key in on one guy, another guy can go off that easily. It's great, I love it," Anderson said.
Hart added, "Once the game gets going, we know who has a hot hand, and we try to look for them and get them shots, and if they keep making them, we're going to keep giving them the ball."
Shaker was led by Sloan Seymour who had 12 points. Jack O'Donnell and Jake Cook had 11 each for the Bison, and Devin Mahoney had 10.
Shaker falls to 10-6 in the section and 12-7 overall. They will close out the regular season on Tuesday at 7 PM taking on Niskayuna on the road.
Saratoga improves to 12-5 in the league and 14-5 overall, and have now won five in a row dating back to January 31. They close out their season at home on Tuesday taking on bitter rival Shenendehowa. That game will start at 7:30 PM following the girls' game. Tuesday will also be "Toga vs Cancer" night at the school, with proceeds through T-Shirt sales going towards brain tumor research at Albany Medical Center.