Saratoga Beats Shaker to Advance to Section II Semifinals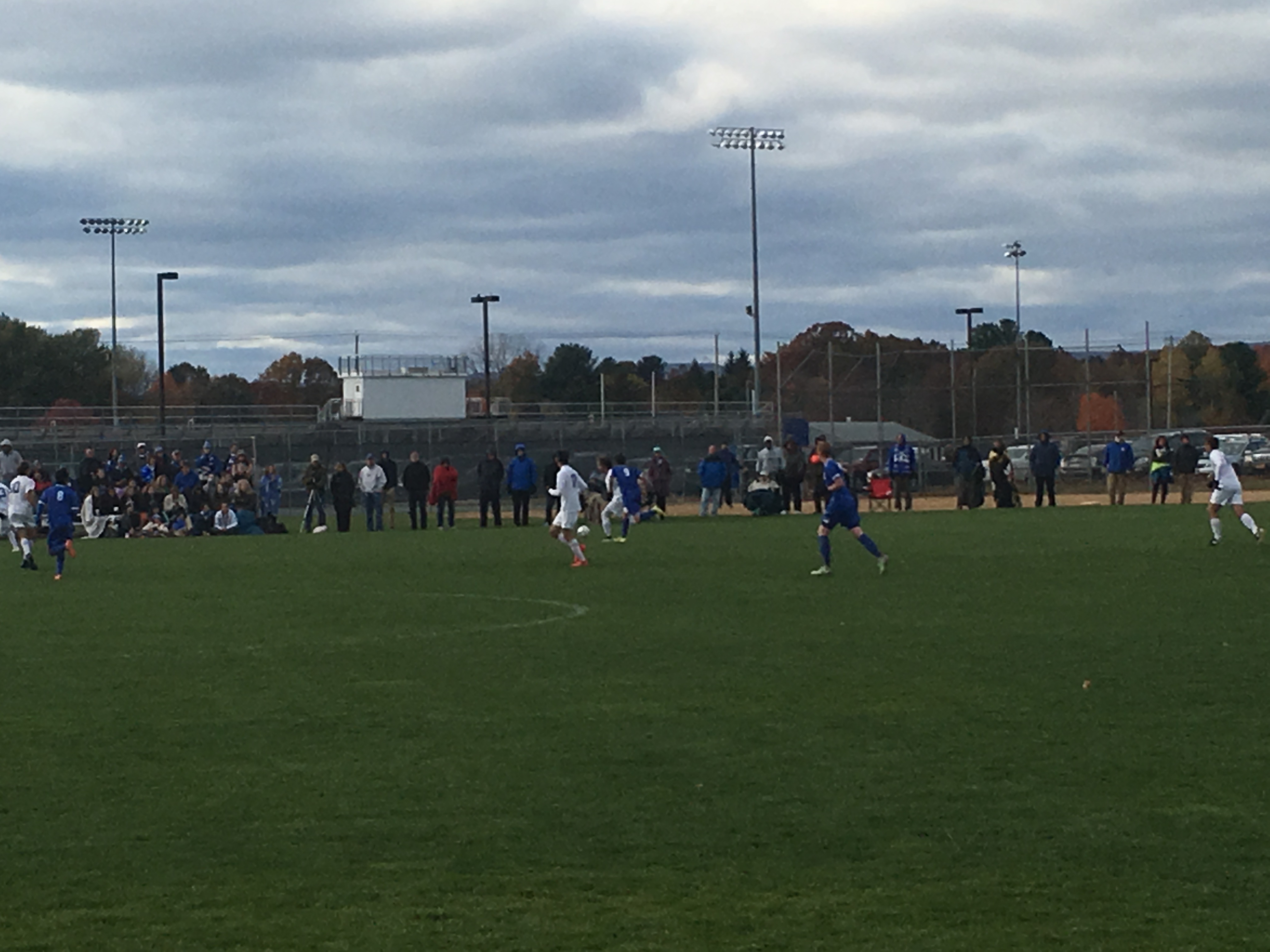 Saratoga, NY — After two evenly matched teams went toe-to-toe for 80 minutes, nothing was solved. They needed 82.
The Saratoga Blue Streaks defeated the Shaker Blue Bison on Tuesday afternoon at Saratoga High School in the Section 2 boys soccer sectional quarterfinals by a score of 1-0 in overtime.
In the closing minutes of regulation, both teams had chances on corner kicks. Shaker had their chance with five minutes remaining after a kick off Saratoga went out of bounds. Shaker had a corner kick and almost scored off a header, but it was picked up by goalkeeper Hunter Choy who had a masterful afternoon, recording three saves.
Saratoga had a chance about a minute later with a shot of their own as Gabe Olsen just missed a shot wide. They would get one final chance in the closing seconds of regulation with not one, but two corner kicks in the final 30 seconds of the game. The second of those came closer to scoring, going just in front of the net and Shaker goalkeeper Keegan Flaherty as time expired to send the game into the sudden-death overtime period.
Saratoga made sure that overtime was short. Just one minute into the 15-minute allotted time, senior Nick Cavotta got a pass from midfielder Simon Smith and got on a breakaway. He got the ball passed Flaherty and into the goal at the 1:16 mark of overtime, sending the Blue Streaks to the sectional semifinals and the crowd into a frenzy.
"We wanted to come out hard in overtime. I saw the gap. My speed's always been something I've relied on. He (Smith) played me a great ball," Cavotta said. "It was just a hard-fought battle by both teams."
That shot was Saratoga's first shot on goal in overtime, and their ninth overall, as they played a very offensive game.
"The first half was back-and-forth, and we didn't really settle into our game. The second half was our game. We played well and were pressuring, doing everything we're supposed to," Saratoga head coach Jake Zanetti said.
Saratoga did outshoot the Blue Bison in the first half 4-3, and both teams had a shot within the first three minutes of the contest.
Saratoga had two huge chances to get on the board in the first 40 minutes as a shot from Aidan Rice was blocked by a Shaker defender, and then Cavotta himself put one off the post just about three and a half minutes later. Shaker came closest to scoring with 14 minutes left in the first half as Jack Murray had a shot blocked by Choy. That would end up being the final shot on goal by the Blue Bison as they did not have any in the second half.
"Our guys played with everything we had, but we couldn't generate that chance that could put us through," Shaker head coach Dan Fountain said.
With this loss, Shaker is eliminated from the Section 2 playoffs.
Following the victory, Saratoga advances to the sectional semifinals as the 4th seed. They will play top-seeded and undefeated Bethlehem in the semifinals. The game will be played on Thursday at Colonie High School. A start time is set for 7 p.m., following the contest between 2nd-seeded Guilderland and 3rd-seeded Shenendehowa.