Riders punch ticket to semifinals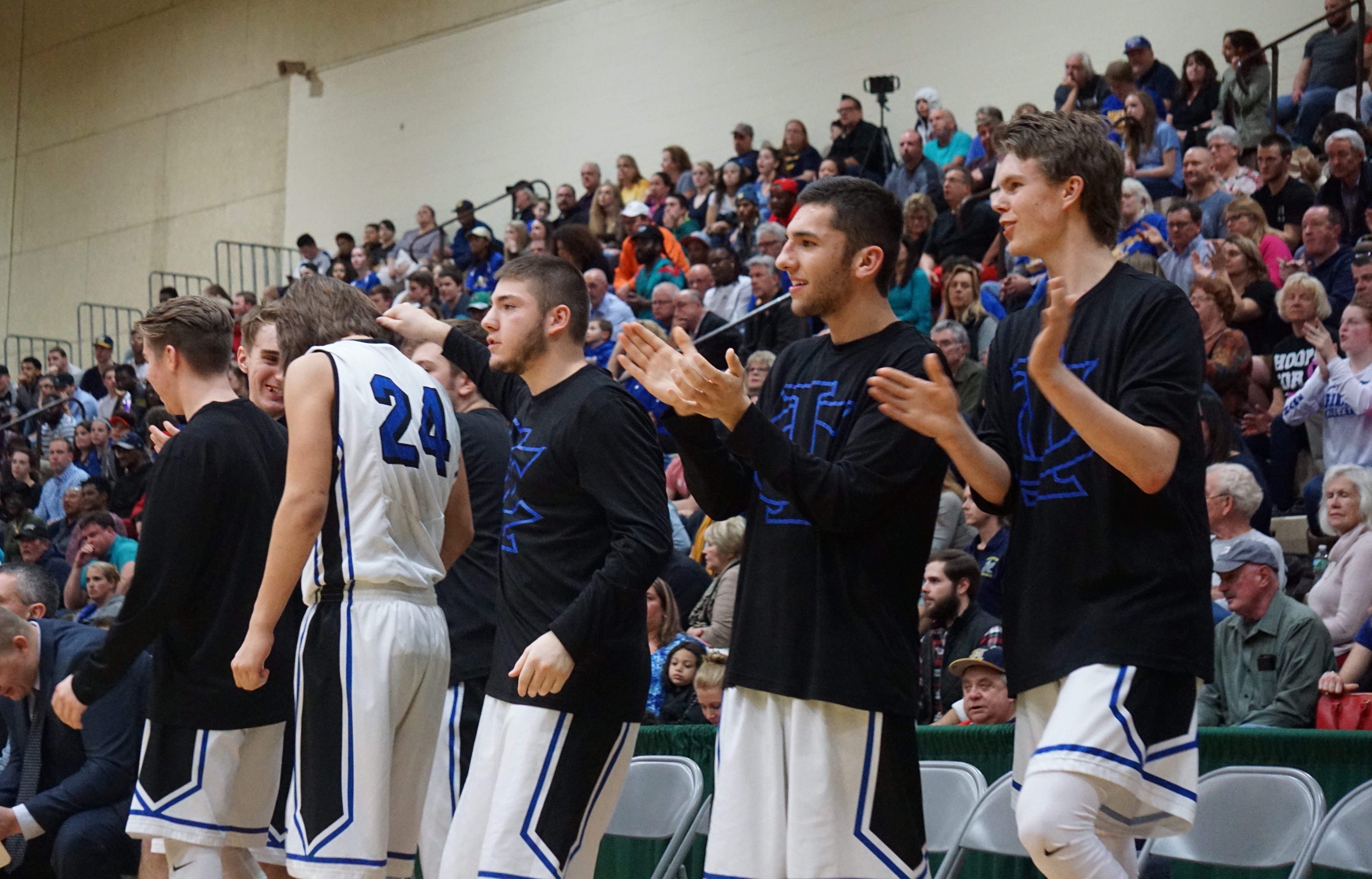 Troy NY — It's been over a decade since an Ichabod Crane boys' basketball team has stepped foot inside the historic confines of Glens Falls Civic Center, but on Friday night the Riders punched their ticket back to the Northcountry.
Ichabod (18-4,10-4 Colonial Council), seeded No.4 in Class B, snook past longtime foe Hudson, seeded No.5 in Class B, 60-53, putting the lid on last year's state runner-ups.
"it's awesome. We haven't been there since 2005," head coach Will Ferguson said. "I'm glad to be there and if we can get another win that would be awesome."
Senior guard Peter Volkman put the Riders on top early, scoring a field goal just 48 seconds into the contest. That started what would become a 14-0 IC run before the Bluehawks could muster a single digit on the scoreboard.
"We wanted to get to Glens Falls," said Volkman who had 18 points in the first half alone. "As a team, we were on today."
With Hudson down 31-19 at the half, some, including your humble correspondent began to wonder who was really wearing the blue and gold uniforms, and what did they do with the explosive blue hawks we knew.
Well, the ransom payment must have come threw between the third and fourth quarters because all of a sudden we had a nailbiter. Hudson's Justin Oliveras, Willie Jones, Tyler Dellavec, Mike Aler and Ellis Richardson combined for 15 quick points to make it a six points game with 3:01 remaining, outscoring Ichabod 15-6 in the opening 12 minutes of the quarter.
"You have to weather every storm they bring to you, and they bring you a storm all four quarters," Ferguson said. "When we got that lead in the first quarter, 14, I told myself this wasn't even close to being over. I took nothing for granted."
While Hudson's run brought the blue hawks within reach of a victory; they were forced to play the foul/time stoppage game down the stretch, an area where Volkman capitalized. Going four for six from the line in the closing 130 seconds, the senior power player brought home the W.
"To us, Pete's where he is, and that's Pete," Ferguson went on to say.
The Riders will take on No.1 seeded Glens Falls at the Civic Center at 8:00 p.m. on Monday. The winner will earn a spot in the Class B Championship game.
-Dylan Rossiter – @ByDylanRossiter – Rossiter@518Sports.com