Red Sox great reflects on time spent in New York-Penn League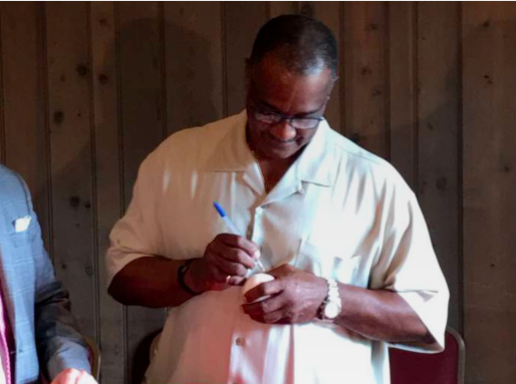 Albany- Hall of fame outfielder Jim Rice spoke with members of the media Tuesday morning at the Desmond hotel in Albany ahead of the New York-Penn League all-star luncheon. There, he discussed his time as a young player in the longest running Class A league, the fundamentals of baseball, and much more.
For those who are not as familiar with Jim Rice, he played his entire 16-year career with the Boston Red Sox which included him winning the 1978 AL MVP award as well as entering the baseball hall of fame in 2009. Jim Rice is also the only player in MLB history to record over 200 hits while hitting 39 or more home runs for three consecutive seasons, doing so from 1977-1979.
Rice began by discussing how vital it was to play with older players when entered the NYPL with Williamsport Red Sox straight out of high school in 1971. "From my experience, when you play with older guys in any sport it will only make you better because of the experience they already have," Rice said.
Rice went on to speak about all the extra work he put in so he could become more of a leader as opposed to a follower, just as his high school coach imbedded in his head to do. This got him talking about the lack of devotion out of players today. "To me, a lot of the young guys waste too much time and don't dedicate themselves," Rice said. Ironically, Rice mentioned how if he could go back and change one thing it would be to work harder so he could have been the best, just as he always wanted to be in everything.
He also pointed out the lack of fundamentals in baseball today which could be in large part to the lack of dedication from players like he mentioned. "You see it with the all-stars…wearing baggy clothes, tossing their bats…no, it's a bad example for the kids. Play the game the right way," Rice said.
Rice also mentioned how he doesn't understand the need for all the extra statistics and shifting in baseball today. "We never did this, you've got guys now with paper in their pants telling them how to play a guy. It's not that difficult. Did you see Carl Yastrzermski, Hank Aaron, Mickey Mantle with anything in their pocket? No. The game is going a different way," Rice said in reference to what he has seen Tampa Bay and other clubs do with their players.
Rice also spoke about his time as a current analyst for the Red Sox and how much he enjoys it, as well as how much more meaningful it was to be inducted into the hall of fame rather than winning a world title with Boston.
After the media session, Rice spoke with this years NYPL all-stars at the luncheon which was also at the Desmond hotel in Albany. You can catch the NYPL home run derby at approximately 5:45 p.m. followed by the all-star game at approximately 7:00 p.m. at Joe Bruno Stadium Tuesday night.