Promising Mets season turning into nightmare
Awful back end of the rotation and slumping hitters have put the Mets in a bind after a 12-2 start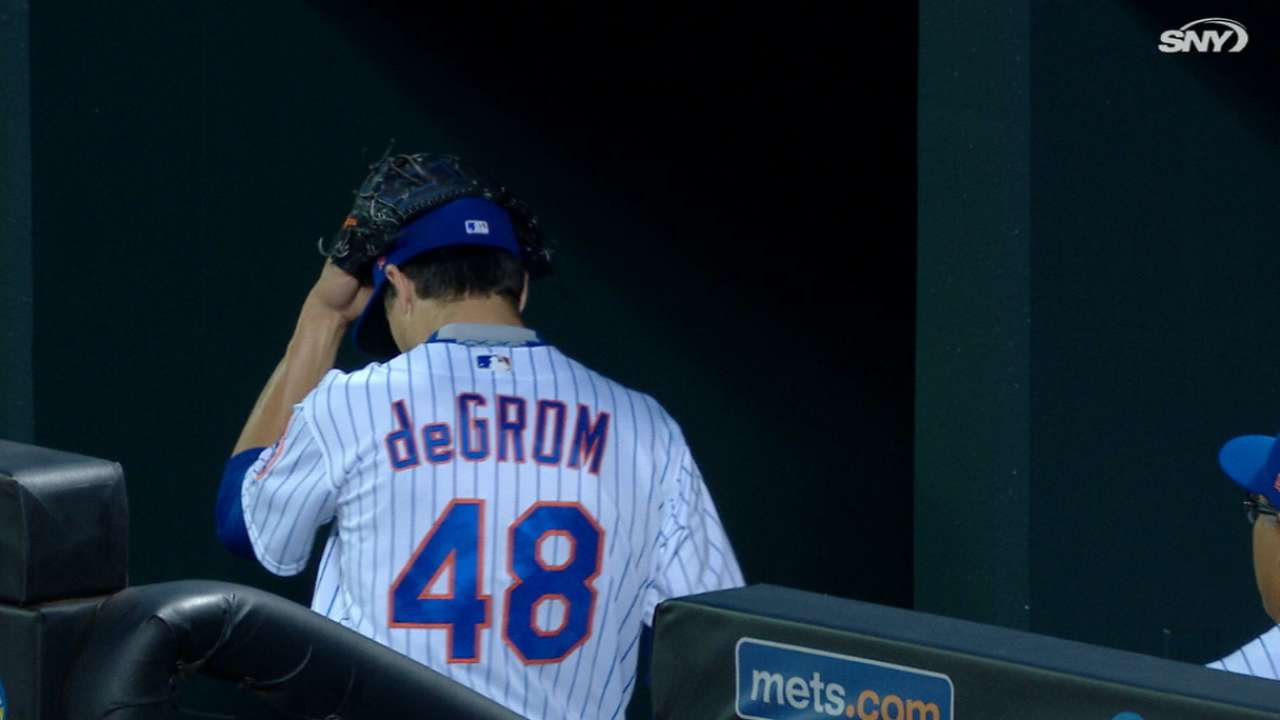 That Mets 12-2 start was fun, wasn't it?
This may be as good as it gets for the Mets. Since then, times have been tough as they have gone 5-9 after a 7-0 loss to the Atlanta Braves Wednesday night at Citi Field. They have not pitch and hit well. It has resulted from them abdicating their first place throne to the Braves. From ecstasy to Panic City.
Another crisis came Wednesday night when Jacob deGrom left the game against the Braves after the fourth inning. He hyperextended his right elbow while swinging the bat in the third inning.
This is the type of news that was not good for the Mets' morale, as they struggled to hit against Braves starter Sean Newcomb, who pitched like Don Newcombe by allowing no runs on two hits in seven innings, striking out eight and walking only one. At one point, the Braves retired 18 Mets hitters in a row until Wilmer Flores ended it by hitting a double off Braves reliever Peter Moylan in the ninth inning.
The outcome was irrelevant after the game. All everyone wanted to know is what's next for deGrom. Already, there was speculation from the likes of New York Post's Joel Sherman that he would miss time, but the Mets confirmed that an MRI of deGrom's elbow did not show any structural damage Thursday morning, so he will make his next start. After what has gone on with the team lately, they will take this good news and count their blessings. But the Mets' issues are not going away.
The starting rotation was supposed to be the Mets' strength heading to 2018. The idea was they could make the playoffs if their starting rotation was healthy and productive. There was this vision the Mets would trot out deGrom, Noah Syndergaard, Zack Wheeler, Matt Harvey and Steven Matz for the first time ever. At least, that happened, but not so long. Not when Harvey was demoted to the bullpen after awful couple of starts.
It turned out the rotation has become a problem for this team. Outside of deGrom and Syndergaard, the back end of the rotation has become unreliable, which was a question mark to begin with to start the season. Harvey is a lost cause since his fastball has given up on him, and he can't throw any secondary pitches. Wheeler and Matz have been inconsistent, and it could be this is who they are as pitchers based on what they have done as Mets. It's only a matter of time until either (Matz's back is acting up to the point his start was moved to Saturday against the Colorado Rockies) or both are on the disabled list. Vargas flopped in his first Mets start of the season on Saturday by giving up nine runs on nine hits in 3 ⅔ innings.
That's why losing deGrom for any amount of time would have been devastating for the Mets. It's hard to replace his skillset. The team does not have any rotation depth to compensate for his absence, and putting Harvey to replace him would be cruel for Mets fans. He is a guy that is given for the Mets to win when he is out there, even though he has not gotten run support in his starts that would have him qualified for the win. Just recently, the Mets lost a well-pitched game by him just for him to get a no-decision in the team's 4-3 loss to the Braves on April 22.
The Mets will not be a playoff team if their back end of the rotation does not provide better results, even if deGrom was healthy. It can't be a situation where it's deGrom and Syndergaard and pray for rain the rest of the week.
The offense hasn't given any Mets fan a reason to be excited. They averaged 1.6 runs per game when they lost six of their nine games recently. Their best hitters have been scuffling by striking out rather than moving runners in scoring position. They haven't gotten much out of their leadoff hitters. Amed Rosario has played like he should be playing in Triple-A Las Vegas rather than playing for the Mets with the way he whiffs at the plate.
Watching the hitters give in last night after deGrom was out of the game was disgusting. It was on them to give this team a lift Wednesday night, and they didn't get it done. This shows these guys are pressing and they are clueless.
With the weather heating up in New York, there's no reason for the hitters to continue to be putrid. Offense runs hot-and-cold in baseball, so this has to be one of those moments. Still, the Mets can't wait forever to snap out of it.
No Mets fan realistically thought the Mets would sustain that 12-2 start. This was a team that started off hot at the right time. There were many flaws on this team that indicate they would get back to the norm, and it is showing now.
The Mets are good enough to win at least in the mid-80s this season. If they were going to reach 90 wins, it would be because everyone on the rotation would be productive. That is likely not going to be the case. At least, the bullpen has been efficient.
Now that the Mets are out of first place, they have to wonder how good they really are. This is a team that does not seem like they are snapping out of it anytime soon. They know the Washington Nationals will eventually jumpstart themselves since they have the best starting rotation in the division and a productive lineup, and the Braves have such a dynamic lineup with the likes of Met-killer Freddie Freeman, hot-hitting prospect Ronald Acuna Jr. and Ender Inciarte. Those two teams are better than the Mets.
The Mets are right now in survival mode.
The only question is this: How much worse it's going to get before it gets better?