Onus on Vigneault to change goaltenders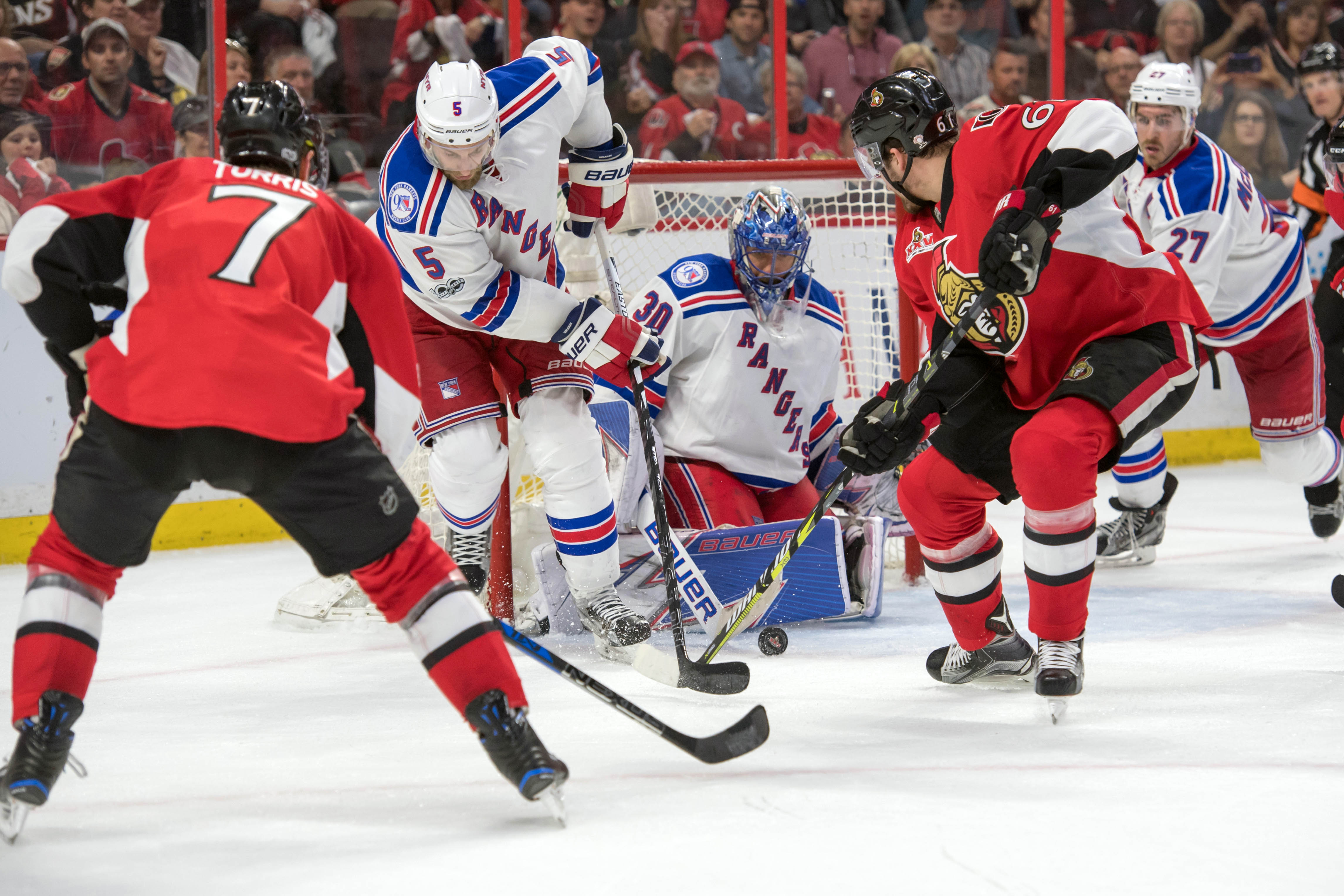 The New York Rangers dominated the Ottawa Senators for most of Saturday's game 2 in the best-of-seven Eastern Conference semifinals. They played like a desperate team that wanted no part of being behind by two games in this playoff series.
Then, the remarkable happened. Jean-Gabriel Pageau scored the last two goals (four goals overall) of the third period, getting the Senators to tie the game at 5 and forcing overtime. It was only fitting Pageau finished the job by scoring the game-winner in second overtime, giving the Senators an improbable 6-5 victory over the Rangers at Canadian Tire Centre.
Instead of evening the series, the Rangers head to Madison Square Garden being down 0-2 against the Senators. This loss has to be lingering over the team the last two days. How could it not be after playing so well?
Let's put the blame where it belongs: Rangers goaltender Henrik Lundqvist. Fair or not, it's on him for not protecting a 5-3 lead in the third period. This is a lead that a goaltender has to protect. There are no ifs, ands or buts, especially for an allegedly elite goaltender in the Rangers netminder. That's what he is being paid to do.
This isn't anything new by the King. He has a history of blowing big leads in a playoff game. He demonstrated that in Games 1, 2 and 5 of the 2014 Stanley Cup Final, which the Rangers went on to lose those games against the Kings. He blew leads against the Devils in the 2012 Eastern Conference final. He blew a lead in Game 3 of the 2015 Eastern Conference final. Notice a trend?
That's why it wasn't surprising he choked in another big stage. It's who he is. That's the reputation he richly deserves when he has a history of doing this in the playoffs. This is not what the Rangers should be expecting from him in the second season.
At some point, Rangers coach Alain Vigneault has to do something. If he can't trust Lundqvist to come up big in the playoffs, he needs to find someone else that can. He has one in Antti Raanta.
Yes, it's risky to use Raanta in the playoffs when he never experienced a playoff action. But Vigneault needs to think outside the box here. He has to jumpstart his team. He has to show his team that he means business, and that he is not going to tolerate bad play. Lundqvist shouldn't be above being benched if he is going to be unreliable.
The Rangers starting goaltender will play in Game 3, but if he has a bad game again, Vigneault shouldn't hesitate to make a goaltending change. He has to do what's best for the team, not worry about his starting goaltender's psyche or the locker room. He needs to make the tough decisions as coach, even if it's not a popular one.
The Rangers have no more room for error. They can't afford another gutless playoff performance by their goaltender. Time has come where enough is enough. This should be Lundqvist's last stand. Quite frankly, it should have been after Saturday's heartbreaking loss.
In this town, we have a propensity to make excuses for Lundqvist. His defense gets the blame if he gives up so many goals, and the offense takes a hit if he loses when his bobos say he does not have any offensive support. It's mind-boggling that people will go at length to defend him. He is New York's sacred cow, and it's getting tiring to see him being treated like one when he doesn't deserve it.
If Lundqvist played in an era during the 60s, 70s, 80s and 90s, fans and the local media would be on him for not getting it done. It's a different world we live in these days. The local media plays favorites with athletes and coaches in this town, and the younger generation of fans give these guys the benefit of the doubt no matter what.
It does not help that Rangers fans are loyal to the players they root for. In their mind, they can do no wrong no matter what.
It's time for the Rangers star to be held accountable from fans and the local media, and most importantly, the Rangers head coach.
To say the Rangers goalie is the Rangers' version of Patrick Ewing is insulting to the Knicks star. Ewing had gone through tough luck of not winning a championship because he had to go up against Michael Jordan every time. There's no excuse for Lundqvist. He should be able to protect leads and win games by himself. A great goaltender can change the complexion of the game.
It's more appropriate to say Lundqvist is the Rangers' version of Carmelo Anthony. Both continue on a false premise that they can lead their teams to championship despite not getting it done.
This can't go on forever. Sooner or later, something has to give. Either Lundqvist needs to do better or the Rangers need to do better than offer him as their starting goaltender. It's too common when he comes up lame in the playoffs, and that's why it wasn't surprising he blew a 5-3 lead Saturday afternoon.
Depending on Lundqvist to win the Stanley Cup is the definition of insanity when it comes to doing something over and over and expecting a different result. He has had so many chances, and he can't get it done. It's like watching one-time Mets closer Armando Benitez implode in a big spot, which Mets fans expected.
Vigneault has to wonder when he has to pull the trigger of changing goaltenders. He had to see enough to know he can't trust the King. He needs to be bold and make the move.
It should happen now, not when the Rangers are in the brink of elimination.